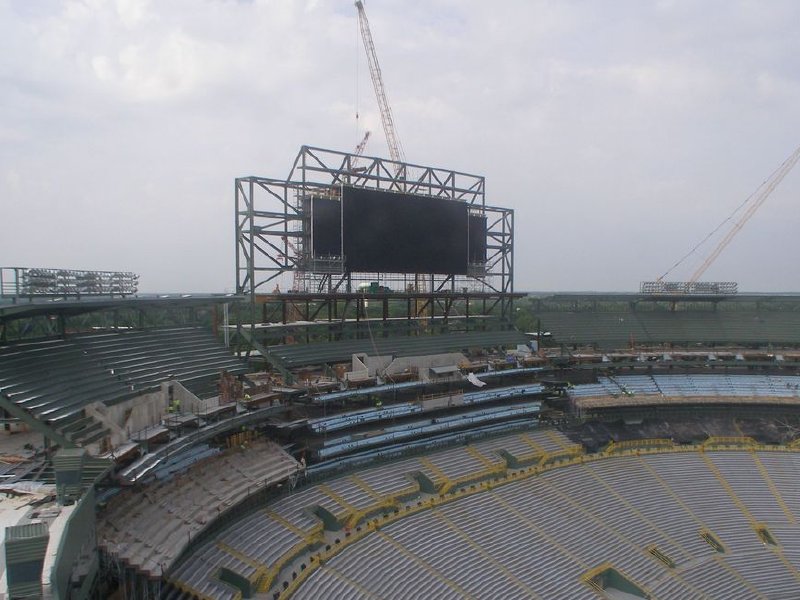 My own Lambeau island
Do ever get the feeling that you're out on your own island?
Before we get to that, we need to step back to 2011.
One year ago, the Packers announced that they were moving forward with an expansion of 6,600 seats built above the south end zone. The renovation also includes a new scoreboard and sound system and a rooftop terrace above the north end zone, all to be paid for by a proposed stock sale rather than tax dollars.
The goal of the expansion was simple; to try to cram as many people into Lambeau Field as possible, increasing revenues and offering more fans the chance to experience Green Bay's incredible game day atmosphere.
The Green Bay/Brown County Professional Football Stadium District estimates that an extra $1 million per game will be pumped into the local economy with the increased capacity because local restaurants and hotels will be even fuller than they are now during weekends of home games.
When Lambeau Field (originally called new City Stadium) opened in 1957, there was room for 32,150 fans. After four separate expansions in the 1960s, seating swelled to 56,267. Realizing that last time the venerable stadium was not sold out was on Nov. 22, 1959, having too many seats has never been a problem.
In 1985, the first luxury boxes were installed, eventually enclosing the upper ring of the stadium ten years later.
The most radical renovation was the addition of Lambeau's atrium and complete rebuild of the suite level, offices, and Packers Pro Shop. After the 2002 expansion, capacity of football's most hallowed ground was a robust 73,128.
There were two overriding factors that then-Packers president and CEO Bob Harlan considered in choosing the ultimate design more than a decade ago. No. 1, would this design allow the Packers to compete financially with the rest of the NFL? And No. 2, would the integrity of the traditional seating bowl remain intact?
Mission gloriously accomplished on both fronts.
For decades, visitors have marveled at the majesty of NFL glory contained within the walls of Lambeau Field. Football fans worldwide place our treasure above all others as the one venue they must visit at least once before they die. Lambeau Field's understated elegance and stunning simplicity hearken back to when Lombardi stalked the sidelines underneath the dulcet poetry of John Facenda, the very Voice of God himself.
Lambeau Field is football. It is the game's heart; it's very soul. Contained within her walls lies the battlefield of the greatest gladiators known to athletic competition. At Lambeau Field, even in 2012, time stands still.
Except, of course, for that monstrosity arching into the heavens beyond the south end zone.
"We want to make sure everything we do is consistent with the current stadium," Packers President Mark Murphy said in unveiling the plans last year.
They failed.
Well, let me amend that. They failed me. Back to my island.
Tuesday, we really got our first good look at what the new expansion will look like at the annual shareholders meeting. And while we have seen renderings, one cannot really ever tell for certain how they feel about a building until the plans are not on paper but rather in steel.
I hate it.
Lambeau Field has become the one thing I never wanted it to be: just another stadium. Yet another antiseptic, double-decker that serves function over form. Upon completion, the highest seats will not be between the end zones, but rather in one of them. Eschewing the tradition of the one ring of incredible sightlines, it looks as though they just found a place to slap some seats up wherever they could find room, aesthetics be damned.
As it turns out, mine apparently is a very lonely opinion.
Page 1 of 2 (view all on one page)
Next >>
wbrsyabw
Facebook Comments
Disclaimer: Please note that Facebook comments are posted through Facebook and cannot be approved, edited or declined by OnMilwaukee.com. The opinions expressed in Facebook comments do not necessarily reflect those of OnMilwaukee.com or its staff.