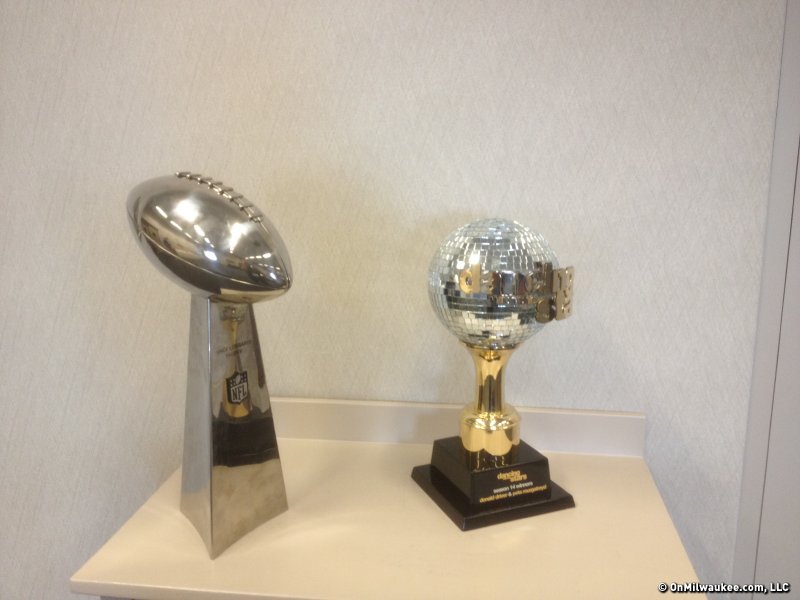 Driver's popularity reaches new heights
There was no better way for Donald Driver to make an entrance at a Northwestern Mutual employee event two weeks ago then through a sea of people wearing green and gold and dancing to music.
Now, despite the Super Bowl ring he proudly wears and a Green Bay Packers' Hall of Fame career, Driver is just as well known for his ability to move on a dance floor.
Former Dancing With The Stars champion and IndyCar driver Helio Castroneves joked during his time at the Milwaukee Mile that Driver will get a lot more attention from "moms and grandmas" than he ever had.
Its recognition Driver knew would come, but he feels it stretches beyond even his turn on DWTS or a Super Bowl championship.
"It's very flattering," he said. "I think the people love the person that gives back to the community and loves what they do on and off the field. I think what I've done on and off the field has truly been something special here in this community."
Clearly a fan of dancing but never a participant in such formal training, Driver said his eyes were opened to the activity as sport and as a productive outlet for children. He said he'd encourage his son Christian to take up formal dancing if he wanted to get into it.
To that end, Driver was impressed to watch a group of students from MPS' Siefert Elementary School perform the jitterbug and Argentine tango during the Northwestern Mutual event. The kids were part of a city-wide campaign by Dancworks' Mad Hot Ballroom and Tap to teach over 2,000 children to dance, leading up to a competition at the BMO Harris Bradley Center.
Danceworks is a member of the United Performing Arts Fund, which is a major charity for Northwestern Mutual.
"It was truly something special, truly amazing for six beautiful kids to get up there and dance in front of a couple hundred people," Driver said. "I danced this offseason in front of millions and it was nerve wracking so I know they went out there and did their best. They looked great. I told them they could be the next cast on Dancing With The Stars – I promise you that."
By winning the DWTS title with Peta Murgatroyd this past season, it put a different kind of spotlight onto his contract situation with the Packers as well. Ever since the end of the 2011 season, Packers fans were wondering how the 14-year veteran fit on a roster that had budding receivers waiting for playing time.
It seemed like only a Wisconsin talking point – a 37-year-old receiver with seemingly no other options hoping for one last shot versus giving an unproven player time. But the longer he lasted on the show and moved his way into the hearts of the non-football viewing public; his "other" job gained more national attention.
Driver remained positive throughout, and sure enough he and the Packers re-worked his deal, allowing him to remain in Green Bay for at least another season.
Some wondered if the Packers felt a bit of pressure to keep the legend, especially on the heels of such national acclaim, but Driver feels his time spent dancing has better prepared his body for another productive season in the NFL.
"I feel good," Driver said. "When you just work on football, that's all you focus on. You don't focus on anything else. You're running your routes and catching balls. But this offseason I was able to focus on flexibility, make sure I was in great shape when I came back, and also do football as well.
I told Peta that working with her was truly something because she stretched all the time. She's very flexible and she taught me how to stretch and continue to stay flexible. The routines that we did, you had to be flexible, you had to be able to move your hips to do those routines. I'm much more flexible than I was before."
Now, the all-time Packers leader in receptions and receiving yards attention can turn to what made him famous in the first place – winning
"We've got to continue to improve," he said. "Going 15-1 is nice, but to lose in the playoffs was very tough. It sits in your stomach for a long time. Our goal right now is to make sure that we bounce back and we get to the postseason. If you get to the postseason, it starts all over again. If we get back to the Super Bowl, that would be great. It took 13 years to win my first one, I don't want it to take another 13 years before I win another one."
Facebook Comments
Disclaimer: Please note that Facebook comments are posted through Facebook and cannot be approved, edited or declined by OnMilwaukee.com. The opinions expressed in Facebook comments do not necessarily reflect those of OnMilwaukee.com or its staff.