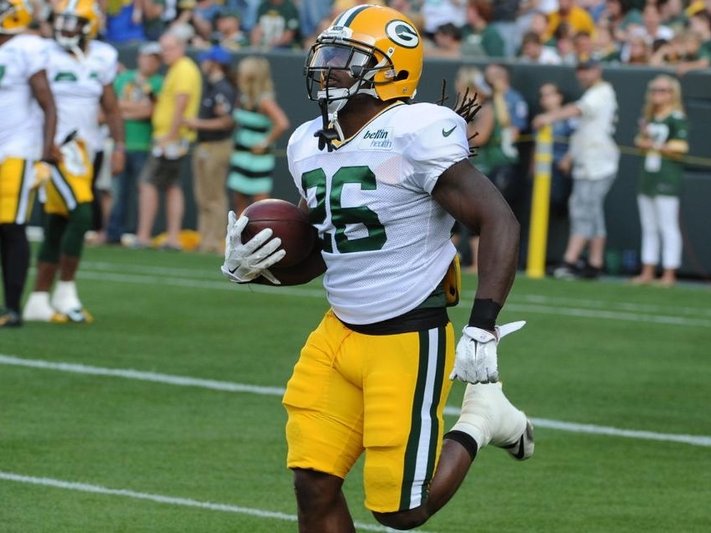 Harris looks to recapture magic of 2012
GREEN BAY – Time, as it pertains to the National Football League, is always short. It's why Dec. 9, 2012 feels like two lifetimes ago.
Green Bay edged Detroit, 27-20, at Lambeau Field that day. Today, less than two years later, 10 members of the Packers who started are no longer with the team. An additional four offensive players who appeared in the box score are gone, too. One may be done with football forever.
Three members of the Lions starting unit have since retired.
That date signified the start of DuJuan Harris' official career in Green Bay (his first game action), starting and gaining 31 yards on seven carries and scoring his first career NFL touchdown on a 14-yard fourth quarter run that proved to be the game-winner.
He would finish the regular season that year rushing for 157 yards on 34 carries and two scores, and was a contributor in two playoff games – adding another 164 yards of total offense and scoring four total touchdowns in a wild card win over Minnesota and a divisional round loss to San Francisco.
"I did everything I could to help the team win games (in 2012)," Harris said. "I was just at home waiting for a team to call and then I just had an opportunity and I just wanted to take advantage of it.
"I was just patient. Good things come in time. I was just being patient, and I finally got my opportunity and I wanted to make the most of it."
The 5-foot, 8-inch, 203-pounder not only did that, but he captured Wisconsin's imagination.
His story was out of Hollywood – cut in training camp by Jacksonville, cut again after four days in Pittsburgh, and working in car dealership until the Packers called in late October with a practice squad spot.
His production captured head coach Mike McCarthy's. Even with the drafting of Eddie Lacy in the second round, McCarthy insisted in the offseason leading into 2013 that if Harris wasn't the starter, he was going to split time with the bigger Lacy.
But Harris aggravated his patellar tendon during his offseason workouts, then missed minicamp when a cyst was discovered on his lung. He was then placed on injured reserve just over a year ago when he re-injured the knee in the Packers' third preseason game.
In the context of time in the NFL, a year ago is a lifetime ago.
With Harris watching from the sidelines, Lacy became the league's Rookie of the Year, rushing for 1,178 yards and earning a trip to the Pro Bowl.
But the fact that Harris back healthy this year and still in Green Bay proves that McCarthy wasn't paying lip service, and it mattered greatly to his rehabbing 25-year-old running back.
"It meant a lot," Harris said. "I thank coach for it. It shows the type of guy he is. He's certainly – definitely – a coach guys want to play for."
That doesn't mean the team was going to give him anything, however. James Starks was re-signed this offseason, as was fullback John Kuhn. Fullback Ina Liaina was also signed.
Fellow running backs Michael Hill, Rajion Neal and LaDarius Perkins were brought in as well for camp, and now Harris has to battle them out – as well as the numbers game across the rest of the offense – for another shot.
He doesn't feel any pressure, however.
"No, never," he said. "You might hear some things here and there, people might have this or that to say about it and try to create pressure for you, but it's really you going through it, not them. So, I'm not going to create any more pressure for me. I know how I need to approach it and that's how I'm going to do it."
Perhaps it's because of the fact that Harris has proven it in crunch time – even way back in 2012. Especially since that is the only information new running backs coach Sam Gash had on him coming in.
"He's a talented runner," said Gash, who watched Harris run against Detroit in 2012 as a Lions coach. "He's a guy that has real good ability. Physically he's strong, he's quick, he's fast and he just has to make sure we stay on top of the game every day and stuff, but he's got ability."
"You see he's got good balance on contact, and that's something that you look for in runners. And most of the successful runners can stay on their feet through contact. He has a knack for that. He's a compactly built guy that can use all the skills and gifts God blessed him with."
As with every player on the Packers, Harris can separate himself in the classroom, and with his knowledge of the offense.
"Just to be technically sound in his assignments and adjustments make sure that he knows who he has, who he's blocking, what he's supposed to be blocking and stuff," Gash said. "That's kind of what I look for. The physical ability, runner's run. Point 'em in the right direction and go. So I expect all the guys to be successful runners."
For Harris, he feels his time off was a benefit, even if he wasn't able to ride the momentum of a strong finish nearly two years ago.
"I don't really view it as me missing an opportunity," he said. "I just look at it as things happen for a reason, and I probably needed some time to grow. God took it away from me so I can sit back and think about things. It probably made me a better player. It made me a better person. I look at all negatives as a positive."
Facebook Comments
Disclaimer: Please note that Facebook comments are posted through Facebook and cannot be approved, edited or declined by OnMilwaukee.com. The opinions expressed in Facebook comments do not necessarily reflect those of OnMilwaukee.com or its staff.