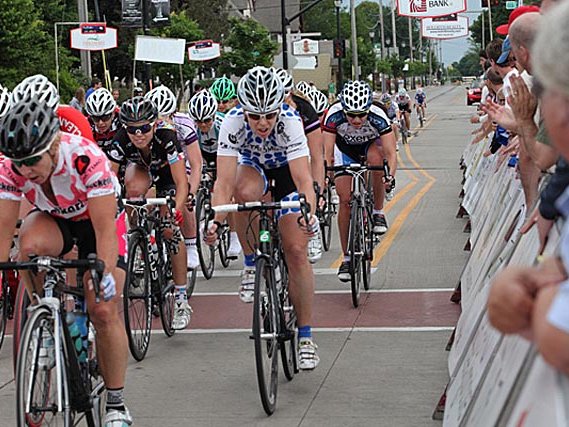 East Tosa follows Downer Avenue bike race blueprint
Even on a gray day in February, with sub-zero wind chills, Ed Haydin envisions rows of people cheering along North Ave. in Wauwatosa, professional cyclists speeding down the street and a building block for a neighborhood.
An architect and one of the principals in creating the East Tosa Gran Prix, Haydin has a blueprint to follow in Milwaukee's Downer Ave., both as an exciting venue for a successful bike race and a walkable, bike-able, thriving business district.
Haydin and the East Tosa Alliance have a start.
They will be the local organizers of the final race in the 2013 Tour of America's Dairyland, the 11-race series that offers roughly $140,000 in cash prizes and attracted close to 30,000 spectators for its premier race, the ISCorp Downer Classic in 2012.
"Last year I put my local alderman and the mayor (Kathleen Ehley) in the pace car for the Downer Ave. race," Haydin said. "They got to see what 30,000 people look like up close.
"We want to be the complement to Downer," Haydin said. "We hope to be as big as they are. We want to be a major race in the next couple years."
The East Tosa Gran Prix will be held June 30 and utilize a .6-mile course with the start and finish on W. North Ave., just east of N. 72nd St. Riders will turn laps in a criterium format and spectators will gather in a business district ready to be showcased.
"They'll come and see this is a great area, a hidden neighborhood," Haydin said. "Ultimately, we hope to end up with people who want to live here We're trying to grow a livable neighborhood, and it's pretty progressive to have a bike race in it."
Haydin and the East Tosa Alliance staff will devote the next four months to raising money from sponsors and putting the finishing pieces together on the course and events tied to the Gran Prix. Interested supporters should contact Haydin at etgp.racechair@gmail.com.
Series schedule: The 2013 Tour of America's Dairyland recently finalized its 2013 schedule and will open on June 20, with the Shorewood Criterium Cycling Classic, centered on N. Oakland Ave.
In addition to the East Tosa Gran Prix, the tour will have one new race at an old venue, the Road America race track in Elkhart Lake.
"We did a race there three years ago, and it was very well-liked, but you can't always get the track," said Tom Schuler, a founder of TOAD and principal in the series promoter, Midwest Cycling Series LLC. "It's a fun course, a really fun course to ride."
Schuler has been pleased with the growth of the series in its first four years, and the response from the host cities. The picnickers lining the course in Grafton and the businesses opening their doors in Shorewood have found the races to be community assets, he said.
In 2013, the series will focus on attracting large numbers of riders in the masters (35 years old and up) categories and the junior ranks. Taking advantage of the rare opportunity to race in an 11-day series, the older and younger riders pushed the daily fields to roughly 400 in 2012.
Facebook Comments
Disclaimer: Please note that Facebook comments are posted through Facebook and cannot be approved, edited or declined by OnMilwaukee.com. The opinions expressed in Facebook comments do not necessarily reflect those of OnMilwaukee.com or its staff.