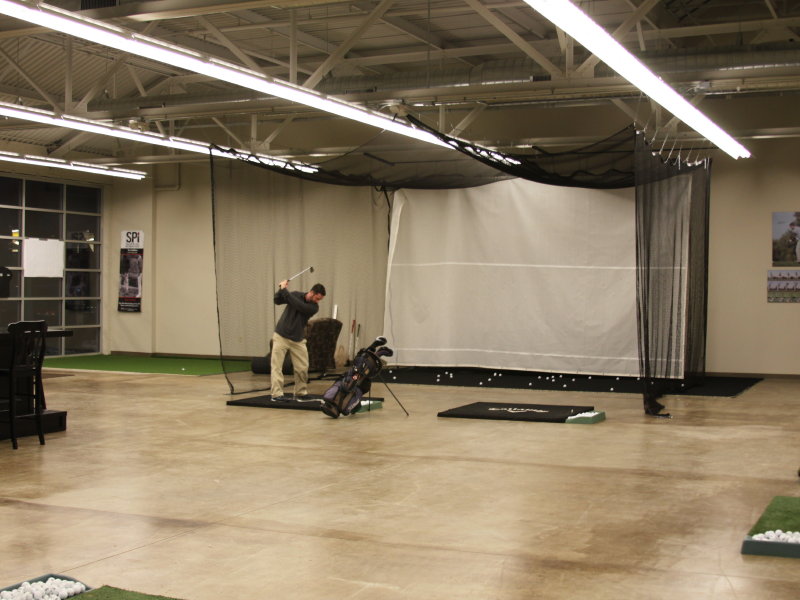 Fore! Milwaukee opens in Third Ward to give golfers indoor option
There are plenty of people watching what can be done in Milwaukee's Historic Third Ward, as it's rapidly become one of the places businesses and residents want to locate to. Soon, one of the sights seen up and down Broadway, Erie and Chicago streets will be people with a golf bag slung over their shoulder, or a maybe a handful of clubs tucked under an arm.
Fore! Milwaukee aims to capitalize on the burgeoning community and the state's passion for golf by offering an all-inclusive indoor practice and teaching facility for golfers to utilize year round.
Tim Grogan, who served as Marquette University head men's golf coach for 19 years and was the 2009 Wisconsin PGA Teacher of the Year, operates the facility and expects it to fill a gap in the Milwaukee golf scene.
"There's nothing close by, Downtown, Third Ward where it's easy to get to," Grogan said. "You've got all these people living in the condo's down here, that's part of it. A lot of people work Downtown can get here in less than five minutes rather than go out to the suburbs where everything is."
Fore! Milwaukee is open now, but will host its formal Grand Opening on Thursday, Jan. 17 from 4:30 to 10 p.m. Complimentary appetizers and golf instruction will be available.
Grogan, who heads up the instructional program at Missing Links in Mequon, plans for Fore! Milwaukee to serve multiple needs.
"That was the thing – bring it close by, bring it close to everybody," Grogan said.
"There really isn't anything like it downtown where you can come during your lunch hour. Then after work they can come down here. It makes it easy for them to hit golf balls. Our base clientele will be the guy after work who wants to hit balls for a while, have a beer or two afterwards, watch the Golf Channel or 'SportsCenter' and head home."
The facility has nine hitting bays, a video station, launch monitor and the See More Putting Institute where the putting stroke can be analyzed on a green that measures over 250 square feet. The video program allows for students to have their video and analysis emailed directly to them. Grogan also said lesson programs will be customized for each individual.
Memberships will be available, but the facility will also offer city golfers the chance to come in and practice. They can hit balls and pay by the time spent, from just 30 minutes all the way up to two hours.
It's affordable, too. A half-hour practice session is just $10, 45 minutes is $14 and an hour costs $18. Any time after that just goes up $2. A player could practice for two hours and pay less than $30.
And added amenity is the lounge area with a bar and televisions to watch sporting events.
"Talking to some of the people you give lessons to and some of your friends they're like you know, that'd be a perfect place," Grogan said. "You can't play outside right now, so I just thought it was a nice niche."
Wisconsin consistently is rated as having one of the highest populations of golfers per capita in the country, and now its biggest city has an indoor option to work on that passion year-round.
Facebook Comments
Disclaimer: Please note that Facebook comments are posted through Facebook and cannot be approved, edited or declined by OnMilwaukee.com. The opinions expressed in Facebook comments do not necessarily reflect those of OnMilwaukee.com or its staff.