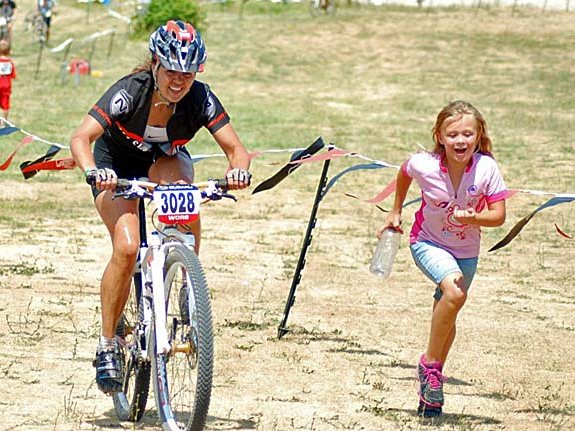 Mountain bike park gains traction on ski hill in Franklin
For a time, Milwaukee-area mountain bikers feared they would be shut out in the redevelopment of the Crystal Ridge Ski Hill into a sports complex, featuring a dozen baseball fields.
There were few guarantees of continued access to the property and its popular trails in the lease deal Milwaukee County approved with developer and baseball enthusiast Michael Zimmerman and Zimmerman Ventures LLC.
Those worries have been replaced by enthusiasm for Zimmerman's commitment to build a mountain bike park featuring downhill runs, flow trails and pump tracks on what is to be known as The Rock Sports Complex. Zimmerman has brought in trail consultants from Gravity Logic, the group that built out the mountain bike terrain parks at Whistler and Winter Park, to design and build world-class terrain on the ski slopes in Franklin.
At 245 feet from top bottom, the Rock can't offer world-class vertical, but the inclusion of Gravity Logic suggests it could provide top-end design in a small area.
Marty Weigel, a West Allis alderman and officer in the Metro Mountain Bikers Milwaukee Chapter of IMBA, helped lobby county officials to preserve cycling on and around The Rock, including the Alpha Trail, the Milwaukee BMX track and the Wisconsin Off Road Series Race. He also worked with Zimmerman Ventures and has been encouraged by the response to date.
"All in all, I'm very optimistic," Weigel said. "It will change the complexion of mountain biking here.
"He's going to build it into something that people are willing to pay to ride, similar to how they're willing to pay to ride at Ray's Indoor Mountain Bike Park," Weigel said. "These kinds of bikes parks are being built all over the place."
Under the current plan, the Alpha Trail built in the parkway adjacent to the ski hill would remain open for riding with no fee required. Riders would likely pay to access the downhill runs and chairlifts.
According to Weigel, the mountain bike park in Franklin likely would most resemble the Valmont Bike Park, opened one year ago in Boulder, Colo.
That park also was built on a capped landfill, and has limited vertical but a wide range of riding challenges.
Downhill mountain biking is similar to downhill skiing, with a range of skill levels, options and obstacles; and a ride to the top via chairlift.
"Imagine building a bike trail down a hill that you never have to brake, all the way down," said Weigel, who has ridden at Whistler and similar locations. "They're usually very gentle grades, rollers that your roll over slowly, some jump gaps and easy ways around them; taple tops. Bermed turns a really big. Whistler, by the third day, I was doing stuff I never thought I would be doing."
Thomas Johns, the general manager of The Rock Sports Complex LLC, said the chairlifts in place now would be modified to accommodate bikes.
Under the current plan, the earth-moving and other work to build the trails would start in Spring and finish in July.
The decision to create a mountain bike park at The Rock grew out of plans for winter recreation on the ski hill. The limited elevation makes it more of a terrain park, with obstacles and trick elements, than a downhill run.
Zimmerman Ventures hired Arena Snow Parks to design changes to the ski hill, and the consultants from Whistler suggested a mountain bike park for summer use.
Facebook Comments
Disclaimer: Please note that Facebook comments are posted through Facebook and cannot be approved, edited or declined by OnMilwaukee.com. The opinions expressed in Facebook comments do not necessarily reflect those of OnMilwaukee.com or its staff.