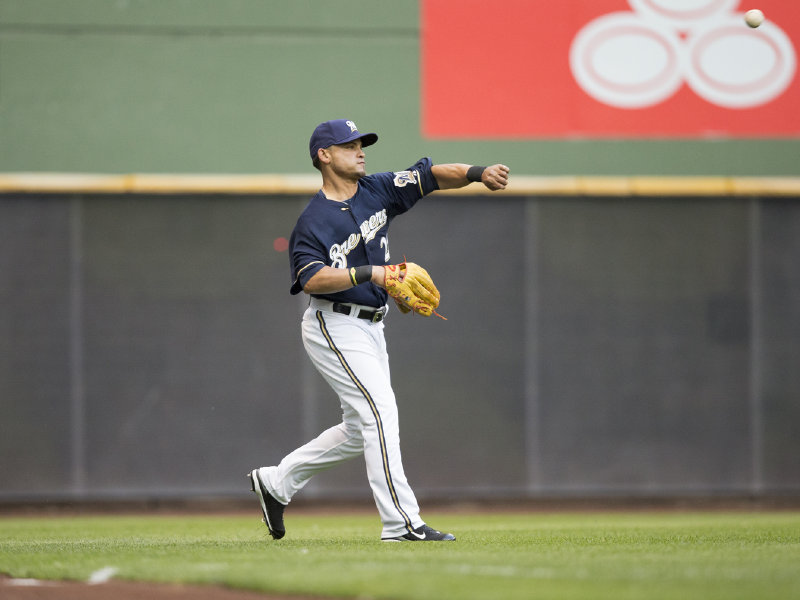 Parra brings stellar defense to Brewers outfield
It wasn't the move anyone expected, and it certainly wasn't the one many who root for the Milwaukee Brewers hoped for, but the non-waiver trade deadline acquisition of Gerardo Parra has paid immediate dividends for a club that needed a veteran, left-handed bat and a stellar defensive option at either corner of the outfield.
Parra came over from Arizona for two prospects on July 31, and made his Brewers debut on the road in St. Louis on Aug. 1.
His Miller Park debut came four days later, and he proceeded to make an improbable sliding catch in foul territory in a cut out area along the left field fence where he had to come in, angling to his right, and negotiate the slide and the wall.
He also homered in the game to secure the win for the Brewers, and he's helped with the bat since. But for Parra, it's always about the glove work.
"That's perfect (to homer) but I think the catch is better," he said. "The catch was a big one because men on first, second, one-out and when I catch the ball they're at least better, everybody feel better, and (reliever Jeremy Jeffress) feel more comfortable on the mound."
After the game, manager Roenicke admitted he didn't "think Khris Davis probably gets to that ball. And it's just a matter of foot speed. Parra runs well, did a great job knowing where he was with the wall and going to the little slide there. Not many left fielders are going to make that play."
Just hours before making that catch, Parra had been asked about negotiating the angles (and the sun and shades) within Miller Park.
"I've played here in left field and I played in right field – I know the stadium," he said. "I know the stadium. Yeah (I'm comfortable with the angles). I feel more and more comfortable. I work a little bit. I've played here before. I know everything here (in) the outfield."
That is true, but over his career Parra had only played 16 games in the ballpark prior to his Brewers home debut on Aug. 5.
Yet top-level defenders make sure to do pre-game field work during batting practice to get a feel for such plays, even if they're not diving around.
And Parra takes it to another extreme in that he uses a small glove during batting practice to sharpen his eye.
Gerardo Parra's tiny practice glove.
It all helps.
By the FanGraphs "Inside Edge" defensive metrics, Parra always makes the defensive plays he should make. According to the site and the scouting service it uses to determine the playability of balls in play, Parra has never missed a ball deemed being successfully fielded 60 to 100 percent of the time.
Parra's also very effective at making outs on balls that one would normally think falls for base hits, though he may not get to all of them, like the guy next to him in center.
"He's not like a really fast guy – if he was fast like me, probably he'd be the best outfielder in baseball," new teammate Carlos Gomez said with a smile.
Parra will be used mostly in left field in Milwaukee (save the occasional off day for Ryan Braun), but over his six-year career it has proven to be the weaker of the two corner spots for him – which is saying something considering he won a Gold Glove playing left in 2011.
In his career he's accumulated 28 Total Defensive Runs Saved above average (DRS) and a career Ultimate Zone Rating of 21.9 in left field. His best years in left were in 2010 (11.7) and 2011 (10.6) and has fallen well off that pace the last three seasons. His UZR/150 in left field is 10.6.
Parra is a much better defensive right fielder, and he won another Gold Glove in 2013 primarily manning that spot in Arizona. He posted a 26.6 UZR that year and has a 16.9 UZR/150 with a 48 DRS in right field.
"He's got everything in the outfield," Gomez said. "He's really good defensively. Great arm and always throws the ball on the money."

So, what do all those metrics and acronyms really mean?
Let's bring it to Milwaukee and look at Gomez, the Brewers' Gold Glove centerfielder.
Gomez had a career-high 24.4 UZR last year (his best ever) and is a career 15.6 UZR/150. Only two other times in his career had he topped double-digits in UZR.
Parra has done it three times at two different outfield spots.
Gomez grinned when asked about the caliber of defensive player Parra is.
"Oh man, he's a Gold Glove – what (else) am I going to tell you?"
Facebook Comments
Disclaimer: Please note that Facebook comments are posted through Facebook and cannot be approved, edited or declined by OnMilwaukee.com. The opinions expressed in Facebook comments do not necessarily reflect those of OnMilwaukee.com or its staff.