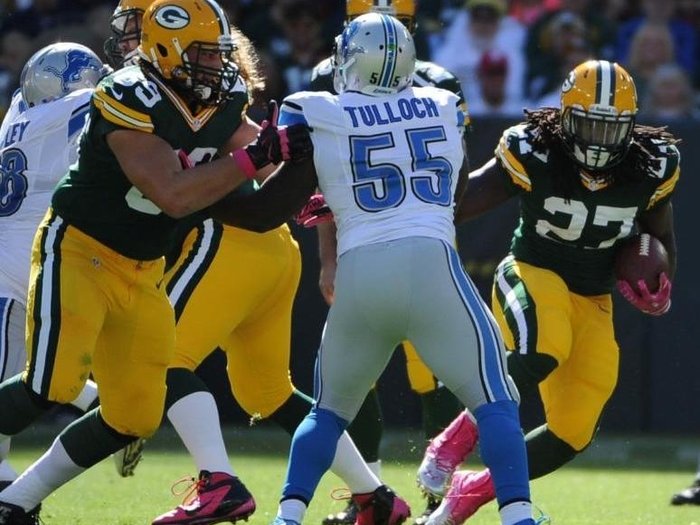 Packers offensive line muscles up in win over Lions
GREEN BAY – Across the field and away from the action, Ezekial Ansah gave David Bakhtiari a little jab to the facemask. Fellow Detroit defensive linemen Israel Idonije, Ndamukong Suh and Nick Fairley also took turns pushing, yanking on and prodding other members of the Green Bay offensive line in the Packers' 22-9 victory Sunday afternoon at Lambeau Field.
There was always something extra, which was expected – the line talked about it all week.
"You've either got to match it or go above (their intensity), and that was kind of the whole ambience and mentality that we had leading up to this week, knowing this is what we need to do to perform," Bakhtiari said.
The unit of Bakhtiari, Josh Sitton, Evan Dietrich-Smith, T.J. Lang and Don Barclay kept their cool during and after the whistle and set an edge not just for Eddie Lacy to run around, but in attitude along the line.
"I think so," Sitton said. "It's what I said going into the game – we knew their style of play but we knew that it was our job up front to dictate the tempo and the aggressiveness of the game and I think we did that."
They couldn't just "do it," however.
Aggression on the offensive line begins more on the passive side, and it can't really be unleashed without the prompting by a Lions' defensive look or the play coming into quarterback Aaron Rodgers' headset from Packers head coach Mike McCarthy.
"Certain plays we can be a little more aggressive than others, depending what the call is," Dietrich-Smith said earlier in the week. "I'm not really going to get into specifics on that but it just all depends. We've got certain plays we know we can maybe jump a guy or something like that.
"But when we get those moments, we definitely take advantage of them."
Some of those calls this week included tweaks to the blocking scheme to account for Fairley and Suh, and there was an extra attention to detail across the line on combination blocks. It worked, as Suh had three tackles (and one for loss), while Fairley was nearly shut out (one tackle).
"The biggest thing for us was you've got to understand where your help is coming from," Lang said. "If you've got help on a play you might want to be more aggressive because you know if he goes inside you've got a little help. A big part of our game plan was making sure we were trying to get as many 2-on-1's and 3-on-2's as we could against these guys because we feel like their D-line is the strength of their team and when their team is successful."
Oft criticized for being too finesse a bunch, they can only do so much. When sliding out in pass protection, they can't extend their arms and initiate contact too often, or they'll find themselves off balance and exposed.
But, they do have their moments to "lean" on an opponent, and doing so on Sunday often created an advantage against Detroit's talented front four.
This was illustrated in the third quarter when Randall Cobb took a Rodgers handoff behind Bakhtiari and Sitton for 67 yards. On the next play, Cobb took a handoff the opposite side behind Lang and Barclay. Then, there was a quick pass to Jermichael Finley. It was a drive that resulted in one of five Mason Crosby field goals.
That series of plays – and those like it throughout the contest – allowed the offensive lineman to let loose. If they knew the ball is coming out of Rodgers' hands quickly, they were able to jump off the ball and not necessarily worry about a counter. And of course, there were the run plays – all 33 of them, totaling 180 yards.
No one is perfect, of course, as all of the linemen allowed after the win. There will be things to correct. Ansah got to Rodgers on a coverage sack in the Lions redzone that led to a Packers field goal, one of several trips inside the Detroit 20 that did not result in a touchdown. Suh coaxed a tripping penalty; Fairley a hold and the Lions made six tackles for loss.
For the majority of the game however, Rodgers (20 for 30, 274 yards, 1 TD) had time to throw, spreading the ball to five different receivers. Lacy had room to run, finishing with 99 yards.
It the culmination of a weeklong effort to not only set a game plan against a feisty Lions front four, but execute it with controlled aggression.
"We did a lot of good things today – we ran the ball well and we protected well," Sitton said. "That's definitely satisfying."
Talkbacks
TosaJim | Oct. 6, 2013 at 6:57 p.m. (report)
The defense played great. I thought the game would be closer. Now I don't have to crabby all day tomorrow. :)
Facebook Comments
Disclaimer: Please note that Facebook comments are posted through Facebook and cannot be approved, edited or declined by OnMilwaukee.com. The opinions expressed in Facebook comments do not necessarily reflect those of OnMilwaukee.com or its staff.