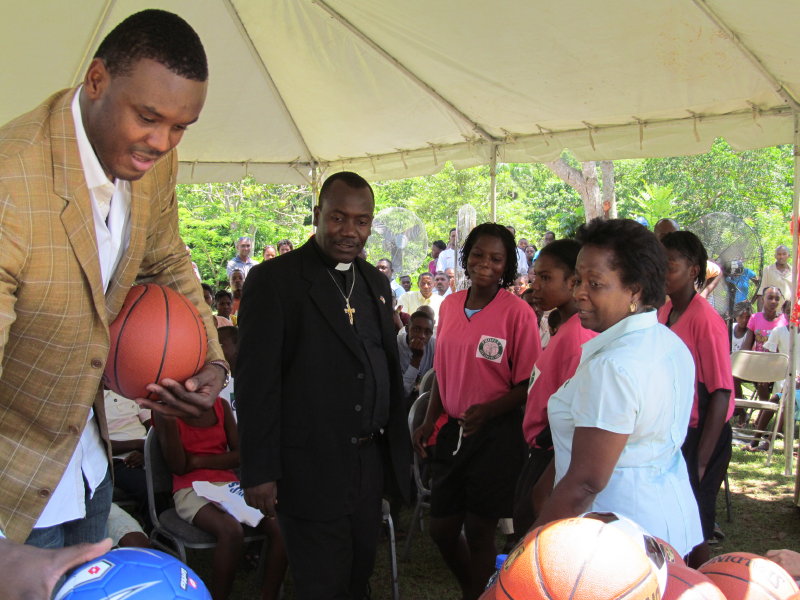 Packers, Bucks remain dedicated to Haiti relief three years after quake
Marshall Newhouse represented the biggest of teddy bears. He's got an easy way about him, and at 6 feet, 4 inches and 319 pounds, he's unlike anyone the kids in Haiti had ever seen.
Bright-eyed, they tugged his shorts, touched his legs. Was he real? They wanted to be held. They climbed his arms and shoulders, laughed and smiled.
Titanyen, Haiti, should be no home for such unbridled joy, such easy love. This is the Valley of Death, a town long used as the burial site of dictatorial murder squads. Then, following a massive earthquake on January 12, 2010, uncounted thousands of victims were buried en masse in ditches in the town about 17 miles from the Haitian capital of Port-au- Prince.
Hauled in dump trucks, no one knew who they were, where they came from. The substantial death and destruction led to a cholera outbreak that killed thousands more.
Not much had changed when Newhouse visited on a mission trip in May 2011. Despite millions of dollars of aid that flowed in following the earthquake, the country remains crippled by illness and poverty.
Yet the children smile. In a country where the median age of the population is just over 20 years old, many have no parents, no older siblings or relatives. Yet they love, needing only the simple joy of human contact.
"They'd see you and they'd just want some affection. They'd want to see you smile," Newhouse said, his eyes softening. "They'd want you to pick 'em up and show them some attention. Day to day for them it's 'What am I going to eat? Can I get clean? Maybe, but most likely not. Can I keep from getting yellow fever or something?' Then seeing people come through whether they're white, black or indifferent and having that tactile, that physical presence, it brings a lot of joy for them definitely."
"A piece of my heart"
Following the Green Bay Packers 2010 Super Bowl championship season, the owners of the National Football League locked out their players in a contentious labor dispute. Like so many of his teammates, Newhouse took the time away from the game to reconnect with family and friends – but he wanted to give back as well.
A former roommate at Texas Christian University suggested he come along on a mission trip to Haiti. He gladly accepted, looking not only to serve his faith but to take himself out of his comfort zone.
He arrived in Port-au- Prince and was overwhelmed by a crush of chaos leaving the airport. Cars, motorcycles and buses pushed through the choked streets, honking at one another, cyclists and pedestrians. The physical aftermath of the earthquake remained, piles of garbage and rubble a pock on the capital city.
People rushed the visitors, some curious, some selling wares. Newhouse was prepped for this, but reality outdistanced anything he could've read, watched or heard.
"There's still people on the street with no jobs, there's just trash lining the street," he said. "There are people who were selling goods but there's no one to buy those goods. There's no one who has money to buy those goods. We saw that the entire way. Then of course you get to the tent cities, miles and miles and endless, endless tent cities. You're like..."
He stopped talking, and his eyes shot to the ceiling. Looking for the words, Newhouse could only sigh. After a brief pause, he continued.
"Even our homeless in America, it seems like they are living a somewhat lavish lifestyle because they're getting homeless shelter. It's just like wow, these people live in this day to day."
Such abject poverty, such proximity to death, could break your heart and your spirit. Yet the people of this country who are so routinely beaten back by natural disasters and an inept government don't allow for it.
Those who visit aren't broken by the experience, because the Haitians aren't.
Newhouse went to Titanyen with a Mission of Hope group to provide a spiritual and physical uplift, yet the children and a visit to church services showed him that the Haitian people, who have experienced so much pain, had already found it.
Slacks, collared shirts, ties and dresses - whatever the Sunday best could be - were broken out. Worship, often conducted in Creole, is jubilant, masses punctuated with song and dance. And the smiles. They never seem to dampen. Joy was always present.
"I was listening to it and it was all in Creole and I wasn't exactly sure what they were saying but there was a vibrancy and absolute excitement about everyone in this place," Newhouse said. "I was like man, we've got it all wrong over here. I feel we've got it all wrong. For us it's like oh, I've got to get up and go and for them it's like I get to go and worship."
Like so many others who have traveled there, Newhouse wants to return. His professional demands will push back his next trip a bit, but he has developed a permanent connection with the tiny island in the Caribbean.
"You feel like you left a piece of your heart there," he said. "It's something that definitely draws you back. There's a couple kids I correspond with still just occasionally. It's definitely a place that's dear to me now."
Page 1 of 2 (view all on one page)
Next >>
Talkbacks
Midwest | Jan. 11, 2013 at 12:47 p.m. (report)
Really good stuff.
Facebook Comments
Disclaimer: Please note that Facebook comments are posted through Facebook and cannot be approved, edited or declined by OnMilwaukee.com. The opinions expressed in Facebook comments do not necessarily reflect those of OnMilwaukee.com or its staff.