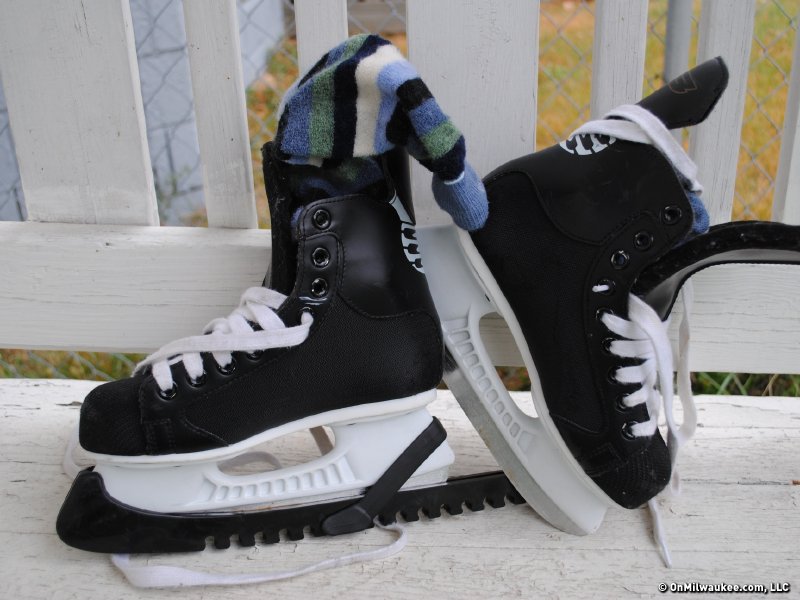 Benefits outweigh sacrifices for local "hockey moms"
We're all familiar with the soccer mom stereotype: the minivan-driving mama with a to-go cup steaming with strong coffee who carts around cleat-wearing kids and has a "way back" filled with balls. But there's another brand of mom that spends even more time and money on their kid's sport of choice and yet, gets seemingly way less attention.
Riverwest's Anne Dawidziak is a hockey mom. Her 9-year-old son, Hudson, has played hockey for the University School's Winter Club league since he was 7, and last season, her 4-year-old daughter started playing, too.
"I do sacrifice a lot of time for hockey," says Dawidziak. "Practice is typically twice a week but there have been some weeks that it is three times a week. There are two or three games every weekend. Many games are within the greater Milwaukee area but some are farther, like Beaver Dam and Sheboygan for example. There is also a tournament once a season that involves staying a weekend in a hotel in whatever city the tournamnet is in."
The season runs from October until the end of March and it costs $1,200 for her older son to participate and $500 for her younger daughter. Dawidziak says the cost of equipment could be pricey, but she buys most of the needed attire at second-hand sporting goods shops like Play It Again Sports. Plus, there's the gas expense with all of the practices and games in various parts of the city and beyond.
And yet Dawidziak, along with her partner, Rob, are committed to the sport because they believe it has been a valuable experience for their children.
"I think he is learning a lot about the game and about teamwork," she says. "He is learning about commitment to a team and so am I, especially because of those 8 a.m. practices in Waukesha or even farther away games."
Kara Prach is a hockey mom, too. Her son, Loyal, started skating at the Pettit Center when he was 4 years old, and suited up for hockey at the age of 5, also at the University School. Prach says although the season runs from, basically, Halloween to St. Patrick's Day, there are pre-season camps and training, so the season actually starts for them around Labor Day.
Prach's husband, Jeremy, is the coach of Loyal's team. He is an adult hockey player who pours a rink in his yard every winter and originally introduced his son to the game.
"Jeremy loves to skate with Loyal, especially one-on-one. They both love being out there," she says.
Both Prach and Dawidziak do not find the sport too rough and none of their kids has been injured while playing the sport.
Prach says she doesn't mind the sacrifices because she enjoys attending the games and recognizes that with just about any sport, there are events that will have to be missed.
"We do miss parties or sleepovers at grandma's because of weekend games, but I'm sure every family with a child in a sport experiences that," she says.
"Hockey is beneficial for Loyal for lots of reasons. Physically, it is great. It helps wear down that endless energy a little. Loyal has become a really confident skater. Mentally, he has become better about handling his anxiety and I think it is good for him to learn to honor a commitment."
Talkbacks
KCD | Nov. 22, 2011 at 12:13 a.m. (report)
My son played for Winter Club. The time spent in the car on the way to games together was irreplaceable. I would highly recommend the referee program. It taught him how to study and apply the rules of the game and as a young man look an adult in the eyes and confidently say "That's my call and I'm sticking to it. He was always able to pick up a few bucks refereeing a game at college.
brewcitypaul | Nov. 21, 2011 at 4:44 p.m. (report)
$500 so a 4 year old girl can play hockey? Is this her dream or her moms?
Facebook Comments
Disclaimer: Please note that Facebook comments are posted through Facebook and cannot be approved, edited or declined by OnMilwaukee.com. The opinions expressed in Facebook comments do not necessarily reflect those of OnMilwaukee.com or its staff.