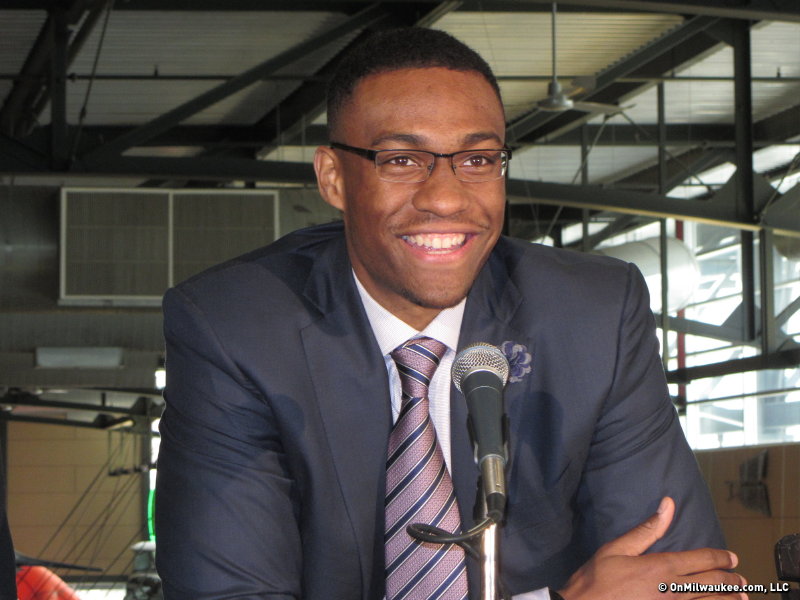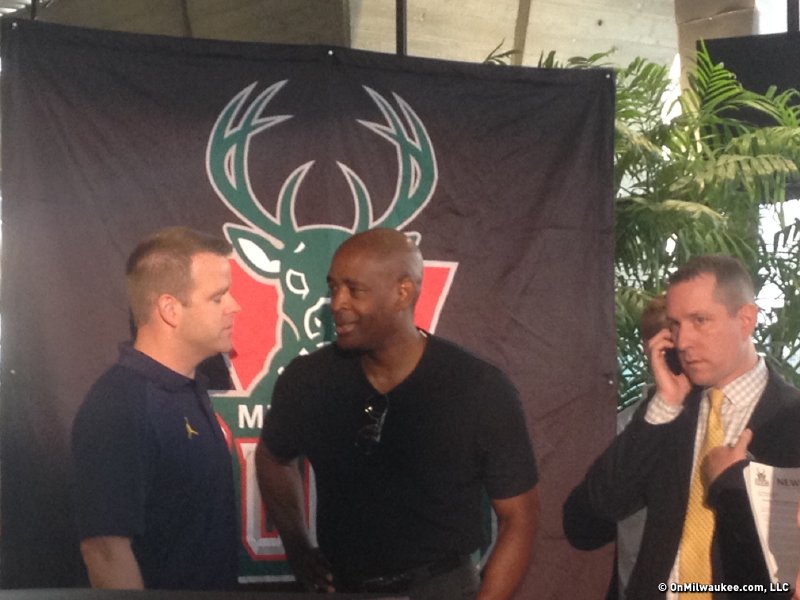 Man of the people: Jabari Parker brings Bucks, Milwaukee together
They crowded around the gates, wearing Duke University T-shirts, Chicago Blackhawks jerseys and Milwaukee Bucks gear. The new Marquette University head coach was in the front row, and "Go Marquette!" cheers could be heard over the din. Kids in Milwaukee Brewers gear and businessmen in ties climbed table tops.
Hundreds crowded the second floor Palm Garden Milwaukee Public Market to welcome new Milwaukee Buck Jabari Parker, the No. 2 pick of last night's NBA Draft.
He looked around and smiled.
Parker is the son of an NBA player, a four-time state champion at Simeon High School in the Southside of Chicago and McDonald's All-American. He was a first-team All-American at Duke University last year, the Atlantic Coast Conference's Rookie of the Year.
The NBA world has been waiting for him for over a year. The run-up to this draft was one of the most anticipated in recent memory.
But to this 19-year-old, there was no better fit, no better way to come into the league, and to meet Milwaukee, than where he was.
"There's no better place to be – I feel welcome," Parker said. "Humble beginnings. We at a market – there's no other place where I would like it."


During his nearly 20-minute introduction, Bucks coach Larry Drew often turned to watch Parker answer questions. When it was over, someone quipped to Bucks general manager John Hammond that Parker was closer to 39 years old than 19.
He was composed, direct. But he also showed a bit of humor, and flashed a smile that will become synonymous with the organization in the coming years.
"We got the man we really wanted," Drew said. "We really did."
Parker was accompanied by his father Sonny, who played six years for the Golden State Warriors from 1976 to '82, and mother Lola. His siblings also were attendance, as well as Simeon assistant coach Jeff Duncan, a childhood friend, and his agent and former Chicago Bulls guard B.J. Armstrong.
"It's good to have family, so I appreciate them being here," he said after introducing everyone to the city.
On Thursday, Parker endeared himself immediately to Milwaukee by stating his desire not only to come to the Bucks, but a hope to stay for his entire career.
He followed that Friday afternoon when asked if it was "just something to say" in the jubilation of draft night.
"I'm really honest," he said. "I don't look forward to leaving anytime soon, and I want to keep that in my heart because if I just look at it as a short term deal then things won't work out."
To Parker's left, Hammond clapped.
It wasn't a surprise statement, at least not anyone in the room who had spent significant time with Parker.
"They are going to be thrilled with first and foremost who he is as a person," Wojciechowski had said earlier in the month. "As a young person he's got an amazingly strong value system. He's a good person. That's not going to change. He is a good person through and through."
Hammond and Drew discovered that for themselves in the pre-draft process, spending several days with Parker in the Los Angeles area for workouts, and in Milwaukee.
"Forget the basketball part - this is a very humble young man who is driven," Drew said. His parents have done a phenomenal job with him. I knew that this was a guy we wanted here.
"Sitting down and getting to know him as a young man, I'd say it's a perfect fit. This city will be very proud to have a guy like Jabari Parker here."
And the Bucks have a player, and a family, who's proud to be here as well. Parker turned for pictures, so everyone in the horeshoe could get a shot. He signed autographs on the way out, and his mother thanked those in attendance, media included, for coming.
"I think they get a hard worker," Parker said of what the team, and the city, is getting in him. "I have a lot of integrity. I have a lot of pride. And I'll never be satisfied with anything that I'm doing. It's always on to the next. You'll never see me on social media bragging. I'm definitely going to be there in the gym all the time."
Facebook Comments
Disclaimer: Please note that Facebook comments are posted through Facebook and cannot be approved, edited or declined by OnMilwaukee.com. The opinions expressed in Facebook comments do not necessarily reflect those of OnMilwaukee.com or its staff.