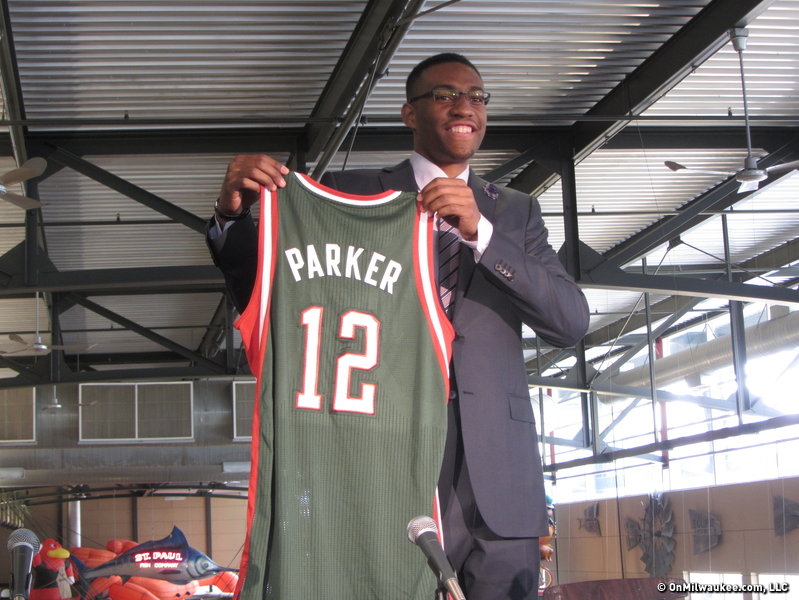 Parker's first summer with Bucks a whirlwind
Believe it or not, Jabari Parker has been a member of the Milwaukee Bucks for 36 days, give or take a few hours on NBA draft night on June 26.
As a potential No. 1 pick, and a surefire top three selection, his draft day in New York on June 26 was anything but subdued – and the run up seemed fairly tame compared to the following 30 hours.
Parker and his family jumped on a plane for Milwaukee, were introduced to the city on June 27 at the Public Market, then were whisked to Henry Maier Festival Park for more interviews and meet-and greets with fans, media and sponsors alike.
The sun set, and still on the grounds, who could blame him for wanting to take a moment for himself?
That very first day ended in front of over 10,000 at the BMO Harris Pavilion on the lakefront when he welcomed Third Eye Blind to the stage.
"Even though it was long, I'd rather be there with the fans who had a chance to go see me so we could establish some relationships as the season goes," he said.
Parker had spent some time in Milwaukee as a young player, and then another four days or so in the pre-draft process – but being tossed into the heat of Summerfest was a different experience.
"Summerfest was real, real good – I think it's real good for the people to be there all together," he said. "It was exciting and I was glad to be a part of it."
That stage paled in comparison to the over 40,000 who welcomed him to the mound at Miller Park for a ceremonial first pitch on June 28.
Three days later, he had a new head coach.
Seven days after that he signed his first NBA contract.
Three days after that? He finally hit the court as a member of the Milwaukee Bucks as part of the organization's summer league contingent.
The forward averaged 15.6 points and 8.2 rebounds per contest in league play, in which he worked on all facets of his game – looking to grow his skill set in an "unlimited" fashion.
"I looked at (the film) and I've seen some little stuff I can do (better), it's just a learning process," he said. "I just want to use the word 'unlimited' because that's the person and that's the player I want to strive to be, somebody without a lot of flaws, in order to be a big contributor to the organization."
The conclusion of summer league play finally gave the rookie a chance to breathe - even if it's just for a week back home in Chicago.
Up next is the NBA Rookie Transition Program, which typically takes place the first week of August.
He knows each stop along the way has been necessary – and that it's all building to the most important part of his year, the start of training camp and the 2014-15 NBA season.
"Really, just trying to work out, of course you're going to do individual work, stay on the court," Parker said of his plan over the next 35 or so days of his summer.
"I don't want to wear myself out because you've got 82 games, so it's not really going to be a lot of impact-related conditioning, more like prevention and just wanting to stay healthy."
Facebook Comments
Disclaimer: Please note that Facebook comments are posted through Facebook and cannot be approved, edited or declined by OnMilwaukee.com. The opinions expressed in Facebook comments do not necessarily reflect those of OnMilwaukee.com or its staff.