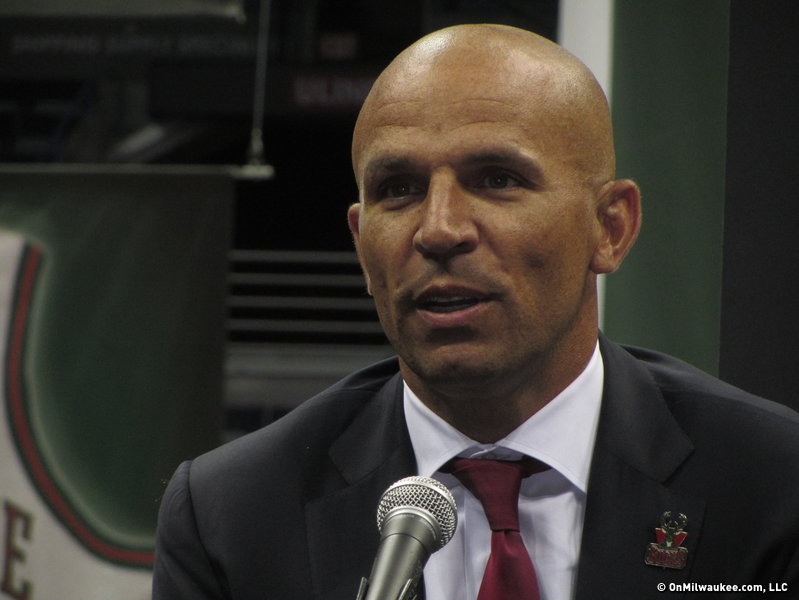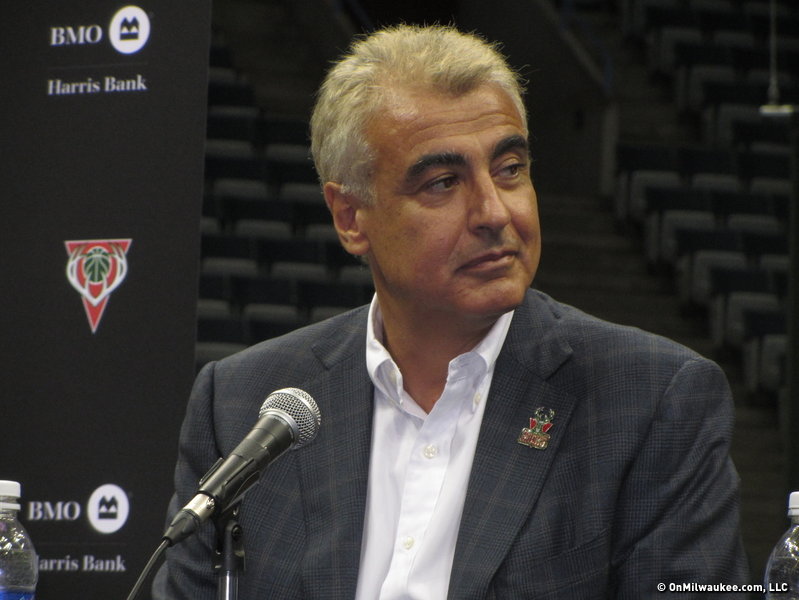 Bucks' strange week closes with Kidd's introduction as head coach
A grand stage was set for Jason Kidd at the BMO Harris Bradley Center Wednesday afternoon.
The rafters were emptied, the Milwaukee Bucks' 1971 NBA Championship banner and the retired jerseys that frame it having been lowered to the new, Robert Indiana-inspired floor. A table draped in black sat atop a riser at half court.
Yet when co-owners Marc Lasry, Wes Edens and general manager John Hammond accompanied the 14th coach in franchise history behind the table, the mood wasn't very celebratory, and answers to questions as to how they reached such a stage were relatively terse.
Late Saturday, reports broken out of New York stated that Kidd had made a play for more power within the Brooklyn Nets organization. Once rebuffed, his agent Jeff Schwartz asked Nets owner Mikhail Prokhorov for permission to speak with Edens and Lasry, and that request was granted.
Lasry clarified the timeline with selected media after the press conference: the Bucks sought permission from Prokhorov on June 25. It was granted, and Kidd said they met the next day, just before the NBA Draft.
Lasry admitted he and Edens were asked to keep those meetings confidential, which meant that Hammond – and incumbent coach Larry Drew – did not know they were taking place until the information leaked.
Drew was present during the post-draft press conference, and then on June 27 when top pick Jabari Parker was introduced.
"Once we got permission to speak to Jason, we spoke to him; Wes and I met with him," Lasry said. "We brought John in when the news had broken and then from that moment on John handled all of the discussions and negotiations as to what we should be doing.
"We were asked to keep it confidential and we did, and I think it was – obviously, in retrospect – that was a mistake. I think we've learned a lot the last couple days about sort of process and things. I think that was our fault and we should have done that."
Lasry chalked that mistake up to being new owners, as opposed to going back on previous statements of not wanting to run basketball operations.
"We've learned a lot in this process," he said. "I would tell you our view hasn't changed from the beginning, is that all the basketball operations and everything goes through John. I think in this process we learned we made a mistake and I think we've learned that pretty well."
As for whether or not he did make a play for more control in Brooklyn, Kidd told selected media after the press conference that those reports were "not true."
"When you look at myself, I'm a coach, and that's what it's all about," Kidd said.
Edens and Lasry admitted having a fondness for Kidd from his playing days, and after watching him direct the veteran-laden Nets to a 44-38 record and second round playoff appearance last season, Edens said they made the move because "We think he is the best young coaching talent in basketball."
To acquire him, the Bucks sent 2015 and 2019 second round draft picks to Brooklyn, though Lasry confirmed the Nets wanted a first round pick to let Kidd out of his contract.
As far as why his agent asked for permission to interview elsewhere after just one season and with three years remaining on his contract, Kidd smiled slightly and said:
"This is business. I think (Brooklyn general manager) Billy (King) said it best – it's business. That's what it comes down to."
On the court, Kidd inherits a Bucks team that will include three teenagers and the returning players have an average age of 24.
In Brooklyn, his key contributors were anywhere from 29 to 37 years old.
"For me, it's about what I was as a player, and my job was to make the guys around me better," he said. "So, I take the same approach as a coach. I want to make those 15 guys better. The one thing I told the guys I coached last year is to trust me and to respect me, and that's what I had. I got to see a lot last year as a rookie coach, but when you see the (former player) Shaun Livingston's of the world be able to have the season that he had, Alan Anderson's, the guys got better and are being rewarded. So, I feel I can do the same thing here."
Facebook Comments
Disclaimer: Please note that Facebook comments are posted through Facebook and cannot be approved, edited or declined by OnMilwaukee.com. The opinions expressed in Facebook comments do not necessarily reflect those of OnMilwaukee.com or its staff.