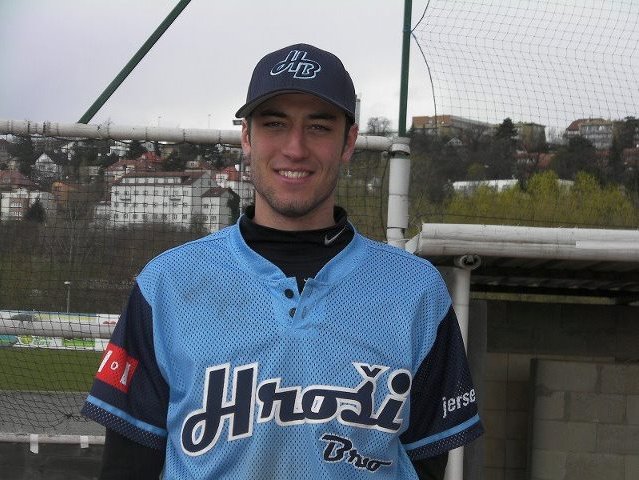 Former Warhawk Jeff Donovan keeps his game in "Czech"
Seven time zones away, Jeff Donovan is still living the diamond life.
The former Wauwatosa East three-sport athlete, who went on to rack up eye-popping numbers at UW-Whitewater in two sports, has finally boiled down his competitive juices, focused strictly on baseball in a country where the sport barely blips on the radar.
"My head coach at UW-Whitewater, John Vodenlich, does annual camps and clinics throughout Europe and has met many coaches in doing so," said Donovan. "I was approached by him with the idea of playing and coaching for a team in Brno, Czech Republic."
With his playing days for the Warhawks tucked away in the team media guide, Donovan is still young enough to chase his dream of playing professionally, but also mature enough to begin plotting a course for a potential career as a mentor. Acting as a player and coach at the "Academie" overseas helps satisfy both appetites.
"I play with a wide range of ages," said the 24-year-old Donovan. "Our 'A' team consists of a few young college-age kids, some mid- to late-20s and a few guys in their 30s. I coach the 'B' team, which basically consists of the same guys from the 'A' team that don't get playing time during our games.
"As far as the Academie, there are about eight kids I coach and they range from 12 to 15 years old. The game fields are very well-kept, which sort of shocked me initially. They treat the game with respect and although the talent may not be what we're used to, say, in Independent Ball or D-1 levels in America, the work ethic employed by these players is indeed worthy of respect."
The backdrop is Brno, the second-largest city in the Czech Republic, where Donovan fills his days either coaching up youngsters thrilled to have an American teacher or keeping his 6-foot-5-inch frame in game shape.
"Coaching both the 'B' team and pre-high school kids at the Academie is rewarding, being able to teach them drills and share knowledge I've been blessed to have obtained in my many years playing in the States," said Donovan. "The playing part is outstanding, because despite any language barriers we have, everyone can understand the crack of the bat and the smell of the grass.
"Baseball is uniting in that sense, so the experience on the field has been very enjoyable."
Donovan is fulfilling a need and a niche, helping to bring the fundamentals of the game to kids eager to absorb his knowledge, but also giving the former collegiate pitcher and infielder a place to tinker with his own game.
"The toughest thing to get across to the players that I coach is really just the complexity of the lesson I'm trying to teach," said Donovan. "There are only so many words and ideas that I can use to share my ideas with, sometimes having to compensate the true nature of the message or lesson with words they can understand, which may not truly indicate the idea I'm trying to get across.
"Many crucial details are, for lack of a better phrase, 'lost in translation'."
That roadblock hasn't detoured Donovan, and by season's end, he expects a clearer understanding between himself and his pupils. He also hopes to have a better grasp on which direction his own life should take.
"More plausible is that this will lead into a future in coaching," said Donovan. "I have really yet to hear of a player from the Czech leagues being taken seriously, even after a stellar year. Upon my return I will certainly test the waters with tryouts, because I will be a better athlete and I still would love to play for an organization. But just like at UW-Whitewater, I won't be holding my breath."
Why Donovan had to turn blue in the face is still a mystery to many. At Whitewater, Donovan was Mr. Everything. He was a standout quarterback on a Warhawks team that went to the Division III National Championship twice, winning it all in 2009 while he was under center. His resume also includes All American honors in baseball, where Donovan hit and pitched for a club that made a run to the 2008 Division III College World Series.
There were accolades galore and hardware for the mantle but never invites or tryouts at the next level ... in either sport.
"As far as football, I never really gave myself a chance to pursue anything beyond college due to my eligibility left in baseball," said Donovan. "Usually the period after your senior season is spent doing everything in your power to pursue any opportunity, while I spent that time finding my swing hitting off a tee and throwing bullpens.
"Baseball is perhaps a bit more perplexing, I have no qualified answer for the lack of interest, other than the obvious ... I suppose nobody was interested. I spoke to zero scouts throughout my entire tenure at Whitewater, which both puzzled and disappointed me." Page 1 of 2 (view all on one page)
Next >>
Facebook Comments
Disclaimer: Please note that Facebook comments are posted through Facebook and cannot be approved, edited or declined by OnMilwaukee.com. The opinions expressed in Facebook comments do not necessarily reflect those of OnMilwaukee.com or its staff.