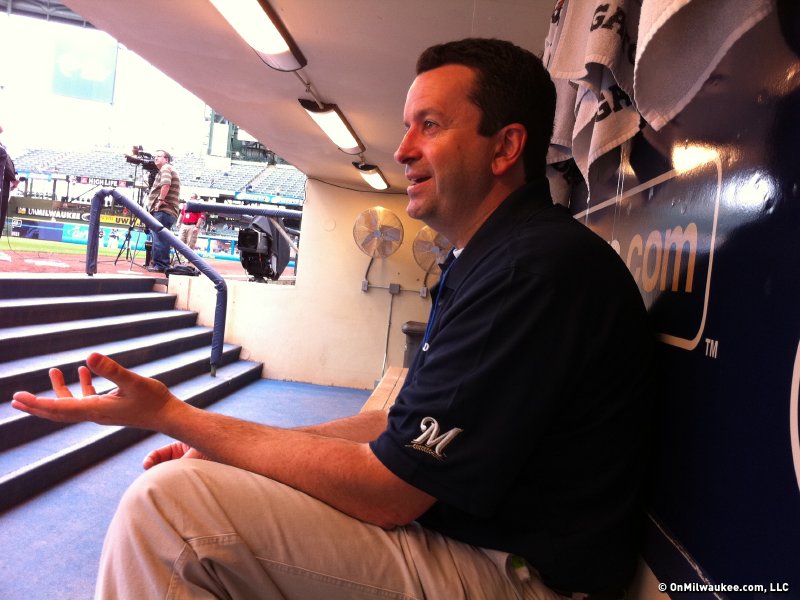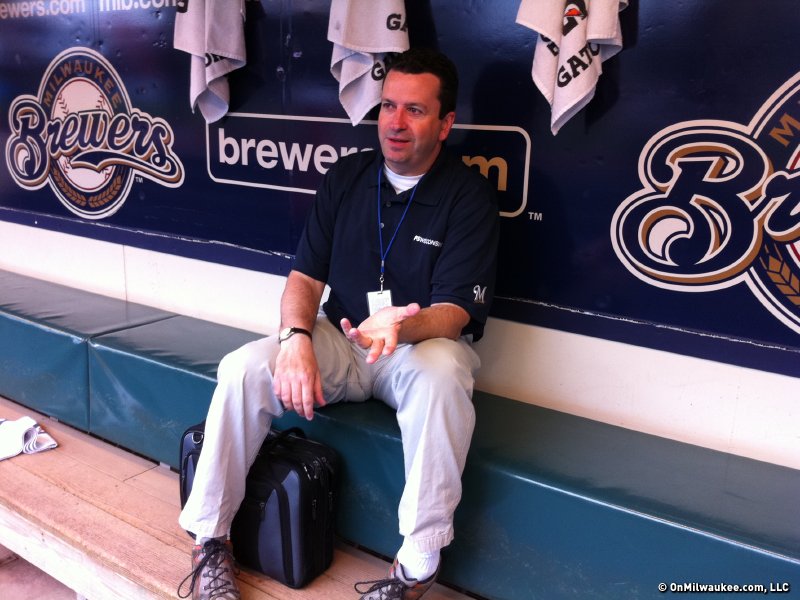 Milwaukee Talks: Fox Sports Wisconsin host Jeff Grayson
Jeff Grayson, the host of Brewers and Bucks pre- and post-game shows for Fox Sports Wisconsin, isn't afraid to admit he roots for the home teams – even though, technically speaking, he doesn't live or work in Wisconsin.
We say "technically," because the Wauwatosa native has not only spent most of his career covering Wisconsin sports, but a few hundred miles of physical distance between Milwaukee and Minneapolis haven't proven to be the slightest detriment to his job. In fact, with much more access than the average fan, Grayson can follow the Brewers and the Bucks more closely than any season ticket holder can.
Technology, in this case, has provided the UW-Milwaukee a chance to work with his favorite teams while raising a family in the Twin Cities.
Still, Grayson relishes the chance to come home, and we caught up with him in the Miller Park dugout before a recent game. In between hugs and handshakes from colleagues who talk to him every day but see him just a few times each year, Grayson talked about his mentors, his favorite sports memories and the long and winding road that brought him "back" to his hometown. Enjoy this latest Milwaukee Talks.
OnMilwaukee.com: What's a Tosa East guy doing living in Minneapolis, covering the Brewers and the Bucks?
Jeff Grayson: I'm a Milwaukee area guy, and I lived in Wauwatosa until I was 25. I graduated from UWM, and about half-way through, my late father implored me, "If you want to go into television, you've gotta get your foot in the door."
I called Channel 6 and met with the general manager and told him what I was interested in TV. I said I'll do maintenance work, anything. He said he'd put me in the sports department and pay me $4 an hour, 20 hours a week. "If they want coffee, you get it," he said.
This was a dream for me. I worked most with Tom Pipines, Andy Lescano and Mark Concannon, for three and a half years. Pip gave me chances to expand my horizons: I got to do Brewers/Bucks/Packers interviews as well as other stories, not on the air, but as a producer, and what a learning tool that was.
When my dad died a few months after I began at 6, Pip was at his best. He not only surprised me by coming to console my family, he told me to take as long as I needed to be away and help my mom. Pip had lost his dad as well at a younger age, and his compassion and understanding is what I think of most when Pip's name is mentioned.
I worked my way up to producer at 6, and with their help, I got my first on-air job in Green Bay, with the idea to come back (to Milwaukee). I wanted to be the next Hank Stoddard ... or Johnny Carson. But I knew wouldn't be able to advance in (Green Bay), so when a job came open in Minneapolis, I went and anchored at KMSP for 12 years. They made a change in 2005, so I worked in public relations and did on-air work for the Minnesota teams, and in summer of '07, Fox Sports Net called me. They said they were looking for a Milwaukee area native who lives in the Twin Cities. They said I would handle the road games, and I said absolutely.
OMC: You've sort of taken a triangular route, because effectively, you're back in Milwaukee, if not physically.
JG: I get to cover the teams I grew up watching.
OMC: How does your job now compare to being a reporter or anchor?
JG: It's a totally different role, and I had to be in it to recognize it fully. When you're doing the sports every night as a reporter, I don't know if intimacy is the right word, but if people like you, they come and find you. You're doing three minutes, and if the game isn't that exciting, you might show two highlights, and on you go to the other teams. This is a totally different role, because people aren't really coming to you to watch you. They're coming to watch an event and to learn about the Brewers. My job is kind of to get out of the way, to be a traffic cop.
OMC: What's a typical day like during Brewers or Bucks season?
JG: We have a morning conference call before every game with all the on-air people, producers and directors. We're in up to three cities: Minneapolis, Milwaukee and wherever the team is playing. The host is responsible for preparing game notes for the crew. We go over the show and what we want to cover. In the early afternoon, I work on the rundown and write down ideas. An hour before, I get to the studio and we're ready to go.
Page 1 of 2 (view all on one page)
Next >>
Facebook Comments
Disclaimer: Please note that Facebook comments are posted through Facebook and cannot be approved, edited or declined by OnMilwaukee.com. The opinions expressed in Facebook comments do not necessarily reflect those of OnMilwaukee.com or its staff.