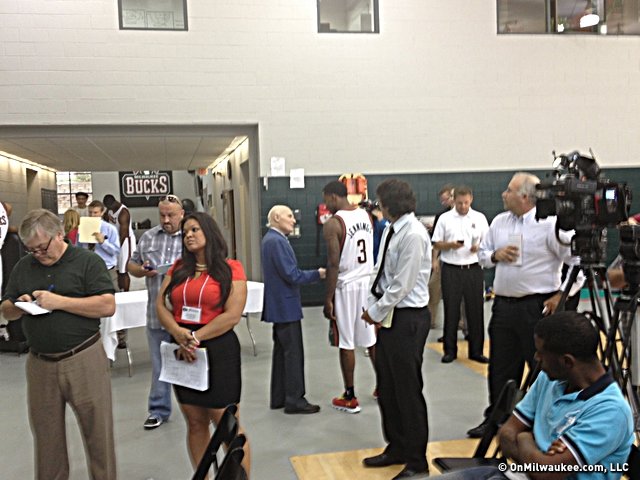 Does Jennings deserve a contract extension?
In seven days, the Milwaukee Bucks will play the first preseason game of the 2012-13 season. In 10 days, the people of Milwaukee can see the team for the first time when the Bucks host the Pistons. The regular season doesn't start for another 30 days, on the road in Boston.
Key points, all. It's the start of a new season, a new beginning.
But the most important date of this season – at least until the spring when a potential playoff berth is on the line – is in 28 days. Halloween.
That is the deadline by which the Bucks can extend fourth-year point guard Brandon Jennings. Bucks owner Sen. Herb Kohl doesn't have to offer the 23-year-old a deal – the Bucks can just make him a qualifying offer and match whatever the market sets for him.
That's not what Jennings wants, of course – the Bucks can offer him more years and more money than any other team.
Jennings had tried to use what little leverage he has, like floating it out in the public that he has "done research" on big market teams. But the dollars are here in Milwaukee, and he knows it. It's why since then, all he's talked about is staying here.
"I mean, why not?" he said at the end of last season. "If everything's right and my agent comes back and says this is what we should do, then I'm going to do it. At the end of the day, it's an NBA team. And if you ask any guy in the NBA 'Would you want to be the face of a franchise?' I'm sure 80% of them would say 'Yes' no matter where they're at."
At the team's media day on Monday, he smiled and politely refused to talk about the situation – saying that is why he has an agent (Bill Duffy). General manager John Hammond was similarly tight-lipped.
It seems like fans are split, however.
There is a segment of the base that wants the Bucks to jettison everyone – from Hammond to the ball boys – and start all over with lottery picks, a la Oklahoma City. Some are tired with bad, long-term contracts and feel Jennings isn't an elite point guard.
There is another segment that feels Jennings could be the first piece of an emerging contender, that at 23 he's only just scratched the surface.
The current NBA is a point guard league, but not your father's point guard. Today, the league's rules allow for the ball handler to not only facilitate, but to score.
Jennings has proven he can do that, increasing his scoring average in each of his first three seasons, from 15.5 points per game his rookie year to 19.1 last year. His assist total has fluctuated down a bit, from 5.7 to 4.8 to 5.5.
His turnover percentage has dropped however, from 13% his rookie year, to 10.6% last year.
His overall field goal percentage has improved, to a career best 41.8-percent last year, but his 3-point percentage has declined.
And for the sabermetricians out there, his overall win shares has increased up to 5.5, though his defensive win shares fell to a career low 1.8 last year.
Through three years, basketball-reference.com lists Eric Gordon, Rod Strickland, Joe Dumars and Doc Rivers as players most similar to Jennings. But, he also compares to Pooh Richardson and Chris Duhon.
This is what makes Jennings so confounding for fans. Is he going to be a Dumars or Strickland type, or is he going to just be an average NBA player like Richardson?
Too often Bucks fans (or the fans for any NBA franchise, really) has seen their team throw many years and many, many dollars at average – only to see that contract prevent any real growth down the line.
I don't feel that way with Jennings, however.
Skiles may point out all of the things Jennings still has to work on (defense, shot selection, shooting percentage) but at the same time calls him a true gym rat, and a player who takes his craft seriously.
There has been improvement since his rookie season in 2009-2010, though it may not be coming at the pace Bucks fans would like to see.
But have we seen enough? Is the career arc still on its way up to the point that locking Jennings up through his late 20s – his prime – a good idea?
It is.
Jennings is a top six point guard in the Eastern Conference. He's solidly behind Derrick Rose, Rajon Rondo, Deron Williams but some could argue his value with that of Kyrie Irving and John Wall. But that's it, as far as the East goes.
Other teams may have better supporting players around their middle-of-the-road point guards, but they all would take Jennings in a heartbeat.
By the time he's in his prime – in three, four years – can you count on Jennings not only being solidly in the top four in the East, but maybe top 10 in all the NBA? That's the $80 million dollar question Senator Herb Kohl has to answer.
I'm believer that the answer is "yes."
uqccwfstbeebwuxb
Talkbacks
LG | Oct. 3, 2012 at 3:09 p.m. (report)
Yes, I believe an extension might be fair given Brandon Jennings interest in staying in Milwaukee to be the face of the franchise and his continued path towards improvement. A max deal is not realistic and incentive based contract would be ideal. If Bucks want to build momentum and interest for a new arena in a small market, the pressure to win now will be important. There was a stale feeling about the Brewers for awhile until a new stadium and new owner rejuvenated the franchise and fan base.
TosaJim | Oct. 3, 2012 at 11:10 a.m. (report)
Too bad we can't have an incentive-based contract...a minimum salary and lots of extra money for producing on the court...too much money guaranteed and there is no "fire in the belly" anymore. Truthfully Milwaukee...does anyone really care about professional basketball anymore? I don't.
uqccwfstbeebwuxb
Facebook Comments
Disclaimer: Please note that Facebook comments are posted through Facebook and cannot be approved, edited or declined by OnMilwaukee.com. The opinions expressed in Facebook comments do not necessarily reflect those of OnMilwaukee.com or its staff.