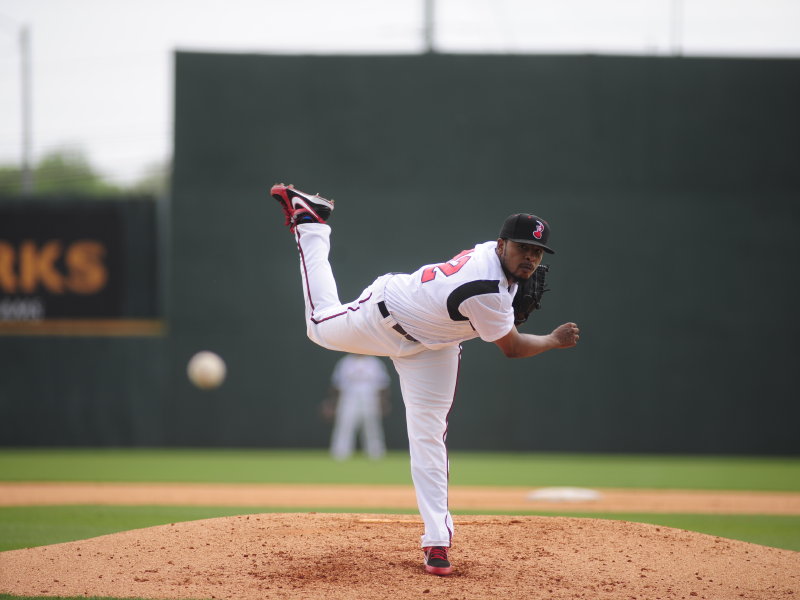 Brewers' former top prospect Jeffress finds way home again
Mike Guerrero looked out onto sun splashed infield at Miller Park as it was being readied for batting practice. He's been with the organization as a player, minor league manager and now major league coach – for nearly three decades.
For parts of four of those years, he managed a young Jeremy Jeffress. The first time was in West Virginia in 2007, then Brevard County in 2008 and 2009 and Huntsville in 2010. Guerrero didn't have the hard-throwing right-hander for parts of three of those seasons however, due to suspensions for positive drug tests.
Now, both are in Milwaukee as members of a first place team.
Guerrero's eyes narrowed in the light, and he spoke softly.
"He has been through a lot and hopefully he has matured and takes advantage of this opportunity," Guerrero said. "We all know he has an incredible arm, and I think it's a great opportunity for him. It's a matter of performance now."
Jeffress gets it. It is all about production now.
He'll be 27 in late September, and it's been over eight years since he was the million-dollar bonus baby drafted No. 16 overall straight out of Halifax County High School in tiny South Boston, Virginia in 2006.
Jeffress has been traded once and designated for assignment three times. His right arm could throw a baseball in the triple digits, but he often didn't know where it was going, resulting in a constant shuffle between minor league affiliates and major league stadiums.
He also began suffering seizures in 2008, a disability that affected him emotionally and physically – and one that wasn't properly diagnosed and treated until last year; the reason he said he self-medicated with marijuana.
Jeffress was arrested in January 2012 while a member of the Kansas City Royals, and required to complete community service. A lifetime ban by baseball loomed if he tested positive for "drugs of abuse" for a third time.
He considered leaving the game behind.
"I will tell you I was, because actually like two years ago, I just felt like giving up, like 'I can't be in this game,'" he said. "Especially in Triple-A getting up at four in the morning, getting on those flights to fly across country, I might have a seizure on the plane, what's going to happen then? I did feel like (that) every once in a while. I got family who keep me pushing, players who say 'Just put it in the past. You're healthy now, you're alright.'"
It always comes down to production in professional sports, but for Jeffress, his potential for production couldn't be realized until his medical and drug issues were separated out and handled. For too long it all had been tied together.
When it was, he could sleep better – literally – and it began to come together on the field last summer while a member of the Toronto Blue Jays organization. He adjusted his arm angle from an over the top to a more three-quarter delivery and walked 13 in 32 1/3 innings, but just one over his final 10 – earning another shot in the majors.
In 9 1/3 innings last September, Jeffress didn't allow a run while holding opposing batters to a .212 batting average while striking out 11 and walking three. Of his 159 pitches, 104 were strikes.
"Attacking instead of just trying to rear back and throw it," Jeffress said of his new approach on the mound. "I attack hitters better. I throw different pitches in different counts. I'm not just trying to strike everybody out. Pitching is a very strategic thing to do and you have to do it well to be in the big leagues."
Ultimately, the Blue Jays didn't have time for him to develop at that level. With a payroll north of $130 million and expectations of winning the American League East, Jeffress was designated for assignment after just three early outings this March and April in which he was touched for four earned runs in 3 1/3 innings.
He cleared waivers, but rather than return to the Toronto minor league system, he opted for free agency, and he specifically sought out the Brewers.
"They stuck with me for a long time," Jefress said of the organization. "The psychologist, Matt Krug, he's kept in contact with me through text messages and e-mail, just staying with me through medical situations and the usage back in the day."
The Brewers brought him back into the fold on April 18, and he posted a 4-1 record with a 1.51 earned run average in Triple A Nashville, walking just 18 in 41 2/3 innings thrown in a variety of relief roles.
"With the arm slot being a little bit lower, he has more movement on his fastball," Nashville pitching coach Fred Dabney said. "The velocity has pretty much stayed the same. It's a plus fastball. The consistency and the movement in the zone is much better than what it was when he was over the top. And he's more consistent with his breaking ball."
Jeffress touched triple digits last year for the Blue Jays, and his fastball still averages in the high 90s.
"Guys that throw that hard, it's rare," Dabney said. "I mean, you're talking about special guys, who are working in that 95 and above range, to have that type of movement and have that kind of action in the strike zone. Obviously that's the key for him to get an opportunity back up there. The consistency that he had when he left was in place. He's been doing it day in and day out."
Not coincidentally, Jeffress has been more consistent off the field, too.
Page 1 of 2 (view all on one page)
Next >>
Facebook Comments
Disclaimer: Please note that Facebook comments are posted through Facebook and cannot be approved, edited or declined by OnMilwaukee.com. The opinions expressed in Facebook comments do not necessarily reflect those of OnMilwaukee.com or its staff.