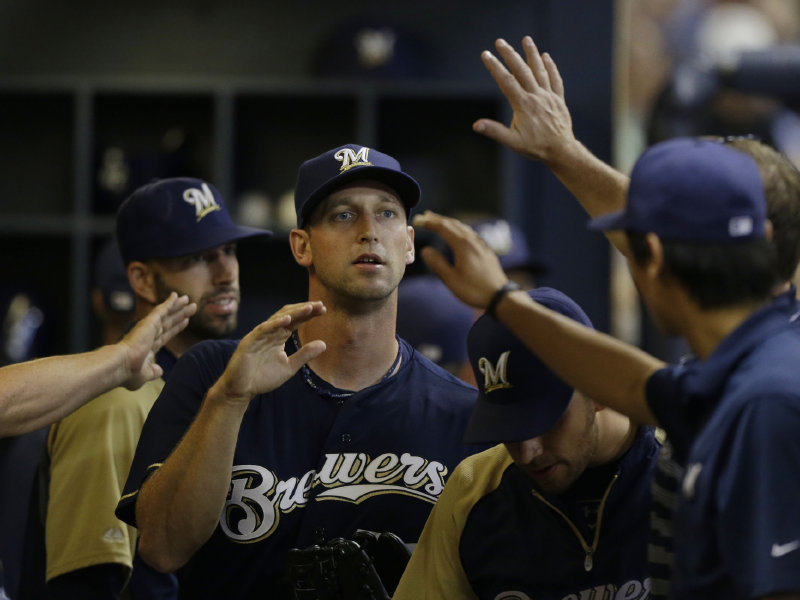 Brewers reliever Henderson has had a long road to the majors
It was a dream that Nashville Sounds pitching coach Fred Dabney had countless times.
Nearly a decade in the minors will do that. Utica, South Bend, Sarasota, Iowa, Nashville, all the same – you pitch well while the general manager sits rows off home plate. He had to notice.
Night would come, and the dream would be about the call. Except for Dabney, reality never quite aligned with the vision, those pitches in front of 30,000.
He rubbed his face, washed up and got ready for work. Why would a small bayou town be any different than the others?
Six feet, 5 inches doesn't really mesh too well with conversion vans, but Jim Henderson knows a thing or two about getting by the game's inconveniences. Ten years he's been a minor league baseball player, drafted by a team no longer in existence and playing with guys who were worried about finding prom dates when he broke into rookie ball in 2003.
Dabney looked at Henderson as the van made its way through Metairie, La. Something was different about that dream.
Dabney has been retired for 16 years; his last pitch coming for the Iowa Cubs in 1996. The dream he had – the call that came – wasn't for him. It was for the 29-year-old righthander folded into a seat nearby.
It was a first for Dabney. He's witnessed hundreds of transactions, good and bad, in his 15 years as a coach, but never once had his subconscious proffered such a scene.
Henderson wasn't quite Crash Davis, a converted starting pitcher with a career record of five games over .500 and an earned run average a shade under 4.00. He commanded respect nonetheless, even if he rarely raised his voice enough to hear his distinct Canadian accent.
The van started up, off to a workout during a series against the New Orleans Zephyrs of the Pacific Coast League.
Dabney told Henderson about his vision on the way to the workout. The quiet Canadian laughed.
"Well, hopefully your dream comes true," he said.
In the three-game series against the New Orleans Zephyrs, Henderson saved two games. He picked up his 15th save for the Sounds after an inning of shutout work against Memphis on July 24 back in Nashville, lowering his ERA to 1.69 and increasing his strikeouts per nine innings to 10.5.
Less than 24 hours later, Sounds manager Mike Guerrero called the team together.
Apparently, a tall Canadian was harassing some girls in the stands.
The team broke up at Henderson's expense, a prelude to the real news – he was headed to Milwaukee.
Dabney's vision had materialized just days later, and the veteran baseball man had to leave the room, choked with emotion.
Quitting time?

It's been a long road for Henderson, one that nearly ended in 2008. It was then when thoughts of quitting the game first crept into his head.
The year before, he appeared in 42 games for Class AA Tennessee in the Chicago Cubs organization, posting a 4-3 record with a 1.86 ERA. He earned a promotion to Class AAA Iowa, appearing in eight games with a 5.54 ERA.
The next year started slowly however, as he recovered from a herniated disc in his back. As he began to throw in extended spring training, he noticed he lacked punch in his throwing arm. He figured it would return as he built up his strength, but after eight games it gave out.
Torn labrum. Torn rotator cuff. Toss in a bone spur for good measure. Not surprisingly, the Cubs released him.
Only one team called – the Brewers.
Only one job was offered – a spot in the Class A Wisconsin bullpen in Appleton. He would close, and be expected to mentor a young pitching staff.
"I took it in stride as far as it's a job and I'm getting my shoulder healthy, but it was still a big mental battle going back to A ball and kind of starting all over again," Henderson said. "It was tough at that point."
It was not something a 26-year-old, six-year veteran could easily swallow. The team included four teenagers and five 20-year-olds. Yet whatever mental gymnastics Henderson had to work through to do the job, he did it internally.
Never once did any frustration seep out into the clubhouse, even as his teammates were earning promotions.
"He waited. He was patient," said Jeff Isom, the Timber Rattlers manager that year. "He was a good influence on the young pitchers. We never had any issues with that. Everything he did – even though mentally he was thinking 'Why am I not moving up?' He did not let that affect anything he did on the field or anything he did in a leadership role."
That attitude became Henderson's calling card over the last four years, from Appleton to Brevard County to Huntsville to Nashville. He pitched well enough to climb back up an organization's farm system, but never quite well enough to get the call to the majors.
As the Brewers bullpen imploded this year, and Henderson was dominating in Class AAA, he couldn't help but get antsy.
"Obviously there were times when other people would get called up and every player hopes it's them getting called up, so I know he was disappointed a few times," Dabney said. "But he didn't let it affect him and he kept doing his thing. I just told him to make sure he has everything in place so when he does get the call that he can go up there and have success."
Compound that anxiousness with the regular appearances of general manager Doug Melvin and assistant GM Gord Ash, Henderson got a crash course in handling nerves, as well.
"With the success I was having, it was kind of ... I was a bit nervous at times when I was pitching," Henderson admitted. "When Doug or Gord were in town I knew I was being evaluated, I knew my name was getting tossed around out here. I know one outing early in the season I was really nervous in front of Doug and I went home mad at myself like 'Don't mess that up.' I was lucky enough to come out and pitch the next day and came out relaxed. It was good to get that out of the way, but I realized that I needed to go and do my thing and not worry about possibilities."
The dream realized
Dreams do come true, even long after they feel like nothing but the taunt of water in the desert. Sometimes though, that watering hole does exist. Ten years, 313 games, 628 innings and one rebuilt shoulder later, Henderson found it, and dove in – with his head down.
After the bullpen gate at Miller Park opened and he jogged out for his debut, Henderson didn't lift his eyes until he was top the mound and staring at Jonathan Lucroy's glove. They don't make venues like Miller Park in the minors.
"My heart was in my throat," he laughed. "I've never had that before. But it settled down after the first pitch. The warmups, I was all over the place but once the batter stepped in it became a ball game again and I kind of settled in nicely."
He retired the side easily in his debut against Washington – coincidentally the same franchise that drafted him. His first out? A former teammate at Class A Savannah and Class A+ Potomac back in 2006, Roger Bernadina.
"When you play that long in the minors, it's hard to picture this right now," Henderson said, looking around the clubhouse. "You do it for so long and you kind of feel like you'll be in the minor leagues for life. Some guys do that and are happy with it but my goal has always been to be here. That's why I kept on plugging away and playing for so long.
As he talked, Mat Gamel couldn't help himself.
"Look at that smile," he said.
A decade in the minors will do that. Vermont, Potomac, Savannah, Iowa, Nashville, all the same. The roof over Miller Park, 30,000 fans, the pats on the back from Ryan Braun, Francisco Rodriguez and John Axford – that's what dreams are made of.
dareuwtydvdrvyvarb
Facebook Comments
Disclaimer: Please note that Facebook comments are posted through Facebook and cannot be approved, edited or declined by OnMilwaukee.com. The opinions expressed in Facebook comments do not necessarily reflect those of OnMilwaukee.com or its staff.
dareuwtydvdrvyvarb