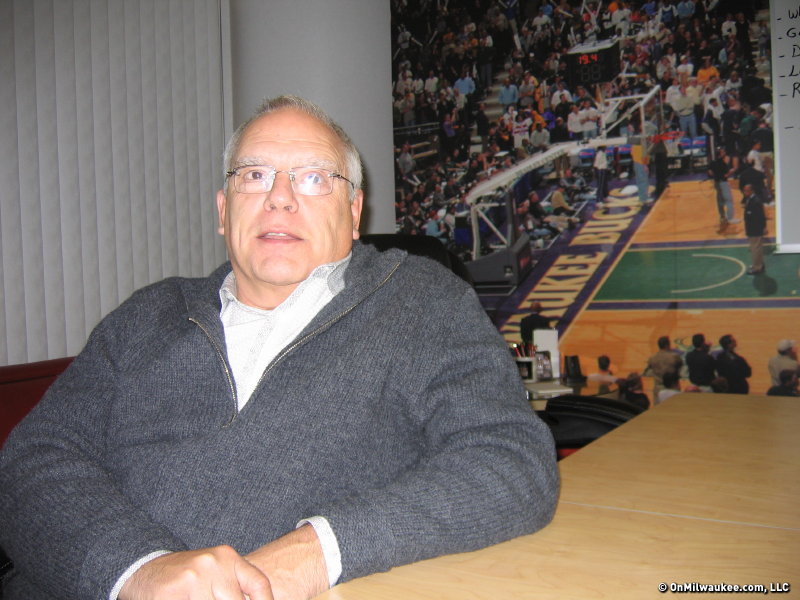 Milwaukee Talks: Bucks voice Jim Paschke
Podcast:
Jim Paschke talks about his favorite NBA cities, life on the road
Subscribe
to OnMilwaukee.com Podcasts
Jim Paschke is one of the "living legends" in Milwaukee sports media. With nearly 40 years in the industry, he's now in his 25th season with the Bucks.
Paschke works year-round with the Bucks and FS Wisconsin on many team projects, BucksTV.com, telecasts, television projects and other team broadcast ventures.
He's also a frequent speaker in the community, all-around good guy and a member of the Wisconsin Basketball Coaches Hall of Fame as "a Friend of Basketball."
I caught up with Paschke this week to talk basketball, broadcasting, Milwaukee and more in this Milwaukee Talks interview.
OnMilwaukee.com: Give us the brief Jim Paschke story -- you were born in Minnesota, right?
Jim Paschke: I was born in Rochester, Minn., and when I was a year old we moved to the Twin Cities. I grew up in Bloomington, Minn. I still have family there. Started working at the ballpark for Twins and Vikings games and next door for hockey games when I was 14 years old, so I've been around this my whole life. First day I ever worked for a living was the sixth game of the 1965 World Series between the Twins and the Dodgers. I've kind of been around sports for a while.
OMC: The WITI Channel 6 job -- is that what brought you to Milwaukee?
JP: Yes, I'd been in Madison for three years. I went there in 1977, worked there for three years; came here in 1980 to work with Earl Gillespie.
OMC: When did you start doing play by play?
JP: I had done some over the years -- I did Wisconsin football and basketball. I was a panelist on the radio networks and a sideline reporter on football. These two jobs -- the Bucks and the Brewers -- started in '86-87. I started my career in '87 and the prior fall I had started with the Bucks.
OMC: You've done play by play for almost everyone in the market. You did a little Marquette, some Admirals ...
JP: A couple of Marquette games, a couple of Admirals games, did some races at State Fair Park, Bucks, Badgers, football and basketball over at Madison, and then the Brewers for seven seasons.
OMC: Do you have a favorite sport to do play by play for? Is there a sport easier than others?
JP: That's a good question. Growing up in Minnesota, it was probably baseball and hockey and then some football and not a lot of basketball. Now basketball, obviously, is my favorite sport. I started out in baseball, but basketball is now, for obvious reasons. I really enjoy it. All of them were interesting to me.
Baseball was a great challenge. It's a difficult sport to do because of the length and the concentration. That sport will get you. This one, the action is a little more ongoing, so your attention span is little different. The game focuses you (and) how it focuses you, and baseball, you have to stay focused. Baseball is a little different animal.
OMC: You started with the Bucks in '86. What's the key to longevity?
JP: You know, that's funny Jeff. I really don't know. I guess the easy answer ... my approach has always been to do the job I have today and not worry about my next job. I've always tried to do that. That's basically it for me. I just do the best job I can every day and try to be valuable to an organization. Other than that, I really don't know.
I think it's just those things and maybe the broader your skill set is the better. I've been able to do a lot of things here, which I think helped me to stay in the market. Video-wise; writing. All of the things play by play guys may or may not do, we do here, so I think that's helped. Plus, obviously, I've had a great partner in Jon McGlocklin.
OMC: Starting out, did you have a mentor or someone you looked up to in terms of play by play? Someone you patterned yourself after?
JP: Yeah. Because I was at the ballpark in Minneapolis as a young man, I knew Ray Scott's kids. Ray lived in Minneapolis at that time, and his boys worked at the stadium. So over the years, I was friends with one of his boys and knew the other kids. When I was in the service in the late '60s, Ray called me and asked if I would spot for him for NFL games. He was working with a new analyst who had just gotten into the business named Pat Somerall at that point.
When Ray was in San Francisco, which was where I was stationed, I would work games (in) San Francisco, Oakland for him. It was more of a favor to me. My parents -- it's a long story, but it's kind of interesting. When Ray moved from Minneapolis to Phoenix, he had never met my parents. He knew me, but he hadn't met my parents. One of his sons had two years left of high school. Because he knew me, he had asked my parents if they would be guardians for his son. So, that's how that all took place, and he appreciated that, and he then took care of me when I was in San Francisco and Oakland.
That's kind of where I got the bug. I was very shy as a kid -- I couldn't talk in front of two people. I never looked to speak publically or anything. But, when I sat in that booth -- I'd been around sports and loved sports -- when I sat in that booth, I decided that I wanted to go to school and learn how to do it. Start in a small town and see what I can do.
I think Ray passed away upset with me that I never asked him for help, but I never did. I think he gave me enough help exposing me to the business, and of course he was one of the greatest football and baseball announcers of all time.
OMC: Let's talk a little bit about this year's Milwaukee Bucks team. What are your early season thoughts about where the team's going?
JP: I've been very excited about this team after last season. I love teams that are picked to win 19 games and win 46. That tells me a lot about a group of guys, and I was very encouraged by that. Then John Hammond and Scott Skiles improved the team; made it much deeper. It's very exciting. I believe in this team. I believe in the people on this team. The character last year was very good -- it meshed and clicked and that's why they won 46.
We'll have to see how the new group of people meshes and clicks, but with Scott Skiles running things on a day-to-day basis, there's a pretty good chance that that will happen. He has a knack for that. He handles people very well. He expects it. He demands it. There's accountability for it, and it's a deep enough team that he could play with that and make it happen. I'm very encouraged by what we have this year, and I think things will turn out well. I didn't like the first two games -- no one did -- but I think it's understandable with what's taken place. I think they'll be fine.
OMC: The big championship question: do you see an NBA championship in the next 10 to 20 years in this market?
JP: Ten to 20 years – that's a long time frame. Look back 20 years ... look back 40 years and there's been one. I think ... I would never say, "Yes it's going to happen," but I do see the framework, as I saw Detroit build a framework for 2004. John Hammond was there for that; he knows how to do that. I see that possibly taking place. I think the next 4 or 5 years could be a very significant run for the Bucks.
Championship? Hard to predict. You can't ever predict that, especially when you're not conditioned to win those. The Lakers are conditioned to win championships. Boston is conditioned to win championships, etc., etc. Chicago was when they had Michael Jordan.
To come out of the pack like Detroit did is a different deal entirely, but I wouldn't rule it out. I think they're moving toward that. With some good fortune and all the other things falling into place, it's not out of the question.
OMC: You get to travel with the team during the year. Do you have a couple of favorite cities? Favorite arenas? Why, or after a while, do they all become the same?
JP: The answer to that question is yes, yes, yes, yes and yes. My joke these days is that my favorite cities are Vancouver and Seattle. Well, obviously, they're no longer in the league. You know, it's been a great gift to travel around the country for this long. You get to see the country in a different way; you get a different feel for what this nation is; it's been really a blessing to do it that way.
New York for a couple of days has energy like no other city. I'm always happy to go there for a couple of days and come back to Milwaukee. Everything I say here is predicated to coming back to Milwaukee, because this is a great place to come back to when you travel around the country. I really mean that. It's just a great balance to all the things we go through.
San Antonio's nice. There are a lot of great places. Every city has its pluses and some of them have minuses. I kind of like them all, really. I enjoy going to Portland for a day or two. It's a different vibe, a different sense of what's going on. I really enjoy the job. Although, it is tedious; it's difficult.
Page 1 of 3 (view all on one page)
Next >>
Talkbacks
Zman | Nov. 16, 2010 at 3:55 p.m. (report)
Besides his excellent work with the Bucks, Jim did a wonderful job as part of the Brewers television announcing crew. In only his first year on the job, he had some great events to broadcast including the Brewers first no-hitter, a 13-0 jackrabbit start, Paul Molitor's 39-game hitting streak and Teddy Higuera's incredible 33 consecutive scoreless innings. Next to Tony Kubek back when he was with NBC, I've known no other who did more homework and was more prepared to broadcast a sporting event than Jim. And now, some 25+ years later, he still works just as hard at his craft. Milwaukee is fortunate to have a pro's pro broadcasting Bucks games.
brewcitypaul | Nov. 16, 2010 at 11:41 a.m. (report)
Thanks for the interview. Great stuff. I don't think fans really appreciate the broadcasting duo we have here until I have to listen to opponents broadcast. We truly have the best in the biz! Thanks for all the hardwork you do Paschke, it is certainly not lost on the hardcore fans.
Facebook Comments
Disclaimer: Please note that Facebook comments are posted through Facebook and cannot be approved, edited or declined by OnMilwaukee.com. The opinions expressed in Facebook comments do not necessarily reflect those of OnMilwaukee.com or its staff.