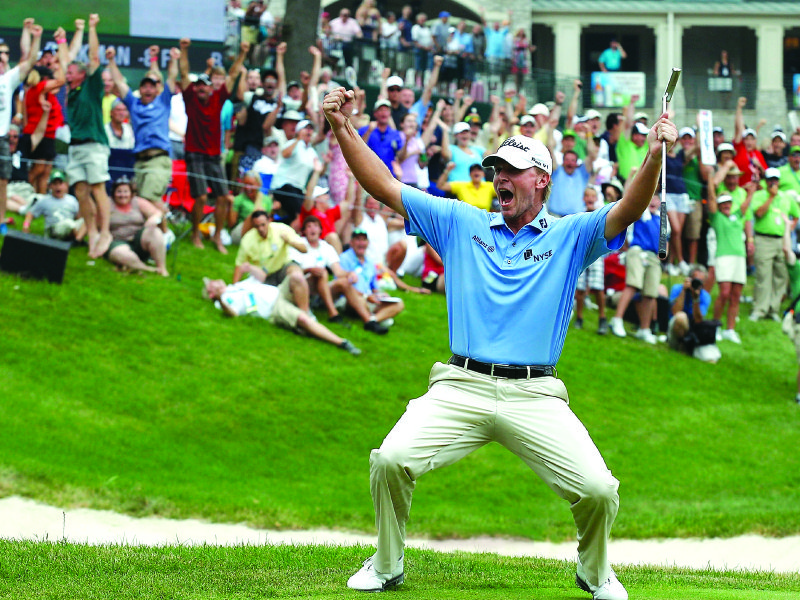 Stricker leads Wisconsin trio at John Deere Classic
The U.S. Women's Open has come and gone from Wisconsin, leaving the state awfully quiet when it comes to professional golf. The Greater Milwaukee Open is long since gone, and the 2017 U.S. Open at Erin Hills seems a long way off.
For years, fans could travel south to the Chicago area in the summer for the former Western Open, or down in the fall for the BMW Championship.
Now, that has been taken away by the PGA Tour, as the BMW Championship rotates out of Illinois every other year.
That leaves only one PGA Tour event for Wisconsin fans to get to within a reasonable amount of time – the John Deere Classic in Silvis, Ill. It's about a 200-mile trek for Milwaukeeans, but it's the only way to see Wisconsin touring pro's Steve Stricker (Madison), Jerry Kelly (Madison) and Mark Wilson (Menomonee Falls native) in 2012.
"It's a special place," Stricker said. "The community has adopted me, I guess. They come out, give me a tremendous amount of support. I get a lot of support during the week of the tournament. Yeah, it's a lot of fun to come back. I have a lot of family and friends from Wisconsin and Illinois where I went to school. It's a good week, one I look forward to every year."
If there was a year to commit to the trip however, it's this one.
Stricker will attempt to join Tom Morris, Jr. (British Open), Walter Hagen (PGA Championship), Gene Sarazen (Miami Open) and Tiger Woods (Bay Hill, Buick Invitationals) as the only players in the history of the game to win the same tournament four straight years.
Despite the unenviable date the week before the British Open, the JDC increased its reputation on the tour with players – which has been helped along by victories by Stricker (2009, 2010, 2011) and Kenny Perry (2008), Jonathan Byrd (2007) and Vijay Singh (2003) – along with a private jet that takes players directly to Europe for the Open.
"This is the way the tour used to be," Stricker said "Milwaukee had an event like this, which we no longer have. But it's great to come here to see the enthusiasm of the people and the volunteers and the people behind it. I'm looking forward to it again this year. I think this tournament is gaining traction on a yearly basis. You know, it's a difficult time in the year for guys to commit to come and play, but nine times out of 10 when I ask a person if they're not playing here, they wish they could be here, and more times it's getting to be where guys are coming here. They love playing here, they love the tournament."
Stricker heads into the tournament after a disappointing tie for 15th at the U.S. Open and a tie for 22nd at the Greenbrier Classic. After winning the season opening Hyundai Tournament of Champions and posting two other top 10s in his first four starts, his game has gone up and down of late.
He finished tied for 47th at The Masters, missed the cut at The Players Championship, then contended at the Zurich Classic before finishing sixth.
Once a lock for the United States Ryder Cup team, he has fallen to 13th on the points list. The top eight players receive automatic berths, and captain Davis Love III has four picks.
"It's a challenge all the time," Stricker said about whether it is harder to become a top player or to stay one. "Don't get me wrong. I mean, I'm always trying to get better. I'm always trying to figure out what I need to do to get better. I've had a great six-year run. I really haven't had too many hiccups along the way. If this is a little hiccup, so be it. I'm okay with that. Although it bothers me, I'm still going to try to work on it and get it better.
"It's hard to stay up there all the time, no matter who you are. You see fluctuations in games where they're at the top of the world for a while, they may slip down for a while, they'll get it back. That's the nature of the game. It's a game you need to continually work on. I do. When I go to a tournament, I want to be prepared. If I were to go on the road and not be prepared, that would be more upsetting to me than anything. I practice hard when I'm at home, get ready, try to play well when I'm out there."
Despite the rolling terrain, the John Deere Classic has proven to be as much for spectators as well as the players, as the set up allows for low scores. Paul Goydos fired a first round 59 in 2010 only to watch Stricker shoot 60 a few hours later.
"It's really a testament to the fairness of the course, course condition," Stricker said of the ability of player's to go low. "Still, you got to hit shots here. You got to play well to score well. But the ability to score well is definitely here."
Wilson and Kelly are no doubt hoping they find a bit of that magic.
After winning for the fifth time in his career at the Humana Challenge in January and finished third at the World Golf Accenture-Match Play Championship in February, Wilson's game has taken a downturn. The 37-year-old has missed the cut four times in his last 11 starts while finishing no better than a tie for 24th.
In his last 36 rounds, he's broken 70 just twice.
Kelly is coming off a strong week at the Greenbrier Classic, where he tied for 12th and has finished in the top 25 four times. That said, he has not contended as often in 2012 and last won on tour in 2009.
The 45-year-old hasn't played the JDC as often as Stricker and Wilson. He missed the cut last year, tied for 23rd in 2009 and tied for 18th in 2008. He tied for eighth in 2003.
"I mean, it's Midwest," Stricker said." It's the type of golf course that I've grown up on. I can drive from home. It's comfortable surroundings. I'm comfortable here. You know, I don't know. I enjoy the course. I enjoy coming here. I guess when you like to come to a place and you've had some success in the past and had good vibes going into the tournament, that shows a lot what it can do for your game. I look forward to it."
rxasqyrbsywueybdbszurcacbwezse
Facebook Comments
Disclaimer: Please note that Facebook comments are posted through Facebook and cannot be approved, edited or declined by OnMilwaukee.com. The opinions expressed in Facebook comments do not necessarily reflect those of OnMilwaukee.com or its staff.