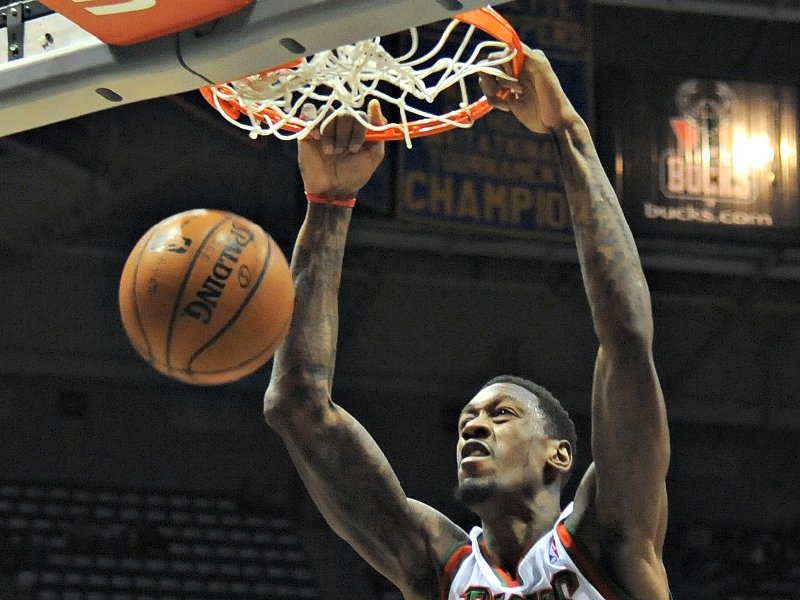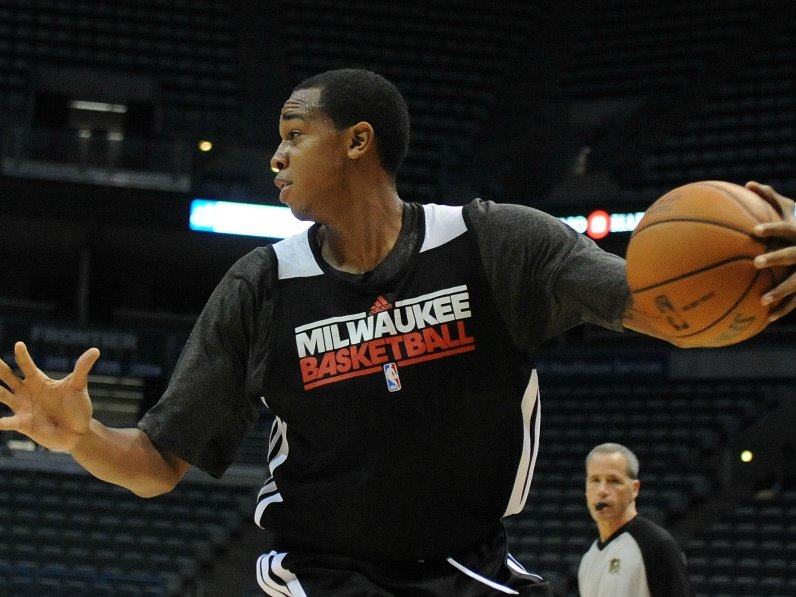 First time a charm for Sanders and Henson
All but Ish Smith had left the Cousins Center court as Larry Sanders continued to pour sweat on a piece of cardiovascular equipment Thursday afternoon after a long day in which the Milwaukee Bucks were delayed in leaving Oklahoma City and returned to the practice court to prepare for the start of the NBA Eastern Conference playoffs this weekend.
Despite the inconvenient travel issues and some nagging pressure in his back following a fall against the Orlando Magic on April 10 that forced him to miss the final four games of the regular season, Sanders was all smiles when thinking about the Bucks' upcoming first round series against the defending NBA champion Miami Heat.
"The new season starts," the 24-year-old center said. "Eighty-two is in the hole. The new season is here and we're just excited about it. I'm excited about what I think our team can do, what my teammates think our team can do, and our coaches."
Sanders enjoyed a breakout season despite missing 11 games and starting just 55 of the 71 he did play. He is a candidate for NBA Defensive Player of the Year and Most Improved Player of the Year honors after blocking 2.8 shots per game and averaging 9.8 points and 9.5 rebounds per game.
He is a big reason why the Bucks clinched a playoff spot for the first time since the 2009-10 season, the first time Sanders will taste what the postseason is like.
"It's a physical game and if the refs are letting it be, then it's a fun game to play," he said. "It's usually when it's a little sensitive that emotions start flaring. It'll be a task controlling your emotions. It's just keeping focused on the game, not on calls or physicality. You've got to stop the ball from going in the basket and try to put it in on the other end. Just keep the mind frame simple and not get overwhelmed with all the emotional ties into being into this position, which is a great position to be in."
A highly emotional player, Sanders is expects to be able to control himself. He finished the year tied for third in the league in technical fouls (14) and first in ejections (5).
"It's going to be tougher, definitely," Sanders said with a smile. "I expect that. I expect the challenge. But I embrace that. You can't experience anything until you experience it."
Another Bucks big man getting his first taste of the postseason is rookie John Henson. Henson was picked 14th overall out of North Carolina and finished the regular season averaging 6.0 points, 4.7 rebounds and 0.7 blocks per game.
In his last five games, which the 22-year-old averaged 34.1 minutes per game, Henson shot 48 percent from the floor while averaging 15 points and 15 rebounds per game along with 2.8 blocks.
"There's guys on the team that say hey, you know what, you're a rookie in the playoffs, that doesn't happen very often," Henson said. "It's a good experience for me, being a young guy, being there before and knowing what it takes, hopefully I can have a lot more playoff appearances to come."
Prior to this season-ending stretch, Henson showed flashes of brilliance – including a 17-point, 18-point performance against Miami on Nov. 21.
"I don't think they came at me in any kind of way to be honest – it's probably why I had a good game," Henson said with a smile.
It is unknown how much of a role Henson may play against the Heat as Ersan Ilyasova is still dealing with an injury on his shooting (right) hand, though Ilyasova also says he will be ready to play come Sunday. Regardless of what his role in during the Bucks playoff run, Henson knows he is about to experience something special.
Of the members of the 2012 draft class that reached the postseason, only Golden State's trio of Harrison Barnes (81) – a teammate of Henson's at North Carolina - Festus Ezeli (78) and Draymond Green (79) appeared in more games than Henson (63).
"I'm excited," said Henson, a Tampa native. "It's Florida. It's back home. It's good weather. We get to go there first, so that will be good. We're preparing. We're preparing to beat those guys and that's all we can ask for."
Facebook Comments
Disclaimer: Please note that Facebook comments are posted through Facebook and cannot be approved, edited or declined by OnMilwaukee.com. The opinions expressed in Facebook comments do not necessarily reflect those of OnMilwaukee.com or its staff.