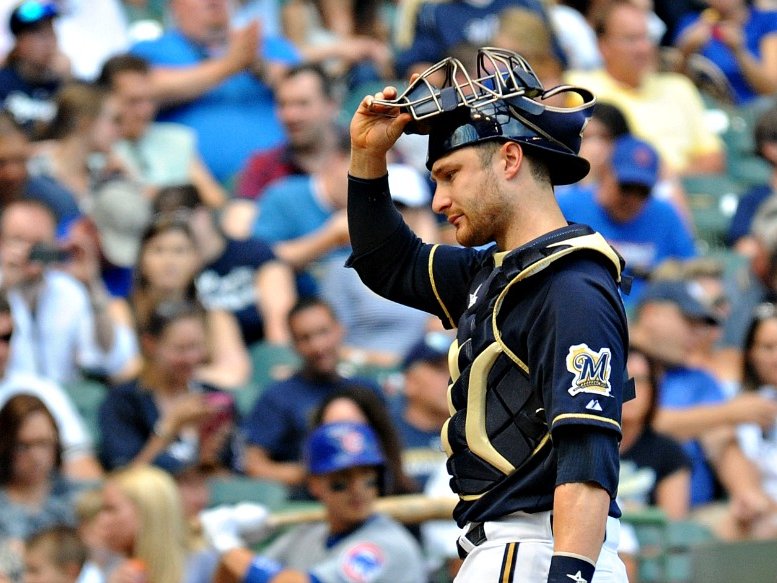 Lucroy's star finally rises
It seems like Jonathan Lucroy has been behind the plate for the Milwaukee Brewers forever – he made his debut over five years ago – but up until this all-star break he's played the equivalent of just over three major league seasons.
He's been allowed to grow into one of the best catchers in the National League, if not all of baseball, which really began in the offseason following the Brewers' division-winning 2011 campaign.
After just 211 games and 765 plate appearances, the Brewers had seen enough and signed him to a five-year, $11 million contract extension that offseason. Lucroy then took a huge leap offensively in 2012, hitting .345 and slugging .583 with 30 runs batted in and 19 extra base hits over the first two months of the season – only to see his summer derailed by a broken finger suffered in a luggage accident.
He returned at the end of July but he wasn't quite the same, finishing the final 53 games hitting .299 with 28 RBI and 14 extra base hits.
With high expectations going into 2013, Lucroy played for Team USA in the World Baseball Classic but he struggled in the first half, hitting just over .200 through the better part of May and finishing the first half at .276/.319/.473 with 52 RBI and 26 extra base hits.
Over the last 67 games of 2013, he hit .286 with 30 RBI with 23 extra base hits as he became a focal point for opposing pitchers following the suspension of Ryan Braun and third baseman Aramis Ramirez's consistent injuries.
"The progress with him probably is trying to be more consistent, which I think he really is now," Brewers manager Ron Roenicke said. "I think that's we're seeing – this really consistent catcher. I think he's thrown the ball better. There's been some plays we haven't made at second base on base runners we could've had out at second, so maybe numbers don't show that, but I think he's throwing the ball well."
It's all led to the first half of this year, when the 28-year-old was hitting as high as .341 in mid-June and entered the all-star break on pace to break the club record for doubles in a season. He also began getting recognized nationally for his proficiency behind the plate a pitch-framer and game-caller.
"I think that I was given a chance early on, in the couple down years that we had – except for '11 obviously – I was able to learn kind of the hard way through defensively, through calling games, and learning how to call a game, and I learned a lot through failure," Lucroy said. "We're always still learning every day, or I am anyway, still learning every day. Trial by fire is the kind of best way to learn sometimes."
"You guys don't see it all, but he puts in some serious time and effort," added Brewers manager Ron Roenicke. "And when I talk about thinking about the team and winning, here's a great hitter but he cares about the catching and what he calls for his pitchers. He's in here watching video and coming up with a game plan along with (pitching coach) Rick Kranitz. He really puts the effort into it."
All of that work, and the ups and downs of his first few seasons in Milwaukee, culminated with his selection to tonight's All-Star Game in Minnesota on the player's ballot.
"It means a lot," Lucroy said. "I think that obviously to have the respect of the players is the most important thing for me. The fans are important, but the players, I think we all know how hard is, we all know how tough it is and to have 'em all kind of vote me in there means a lot.
"We all know how hard it is and we all know how rarely this thing happens. Yeah you're going to have guys in there every year, like the top, top tier guys, the tier players, but whenever you get regular guys like myself, these things they're kind of rare to happen in our lives, so it's always nice to be a part of and be recognized for it."
With his play over the last few years, it would seem Lucroy has been building to all-star recognition for some time, but he doesn't view it that way.
"Not really," he said. "I never really thought about it too much because I'm not really – I really don't try to think that far ahead. I just try to worry about going day to day and playing hard and getting better and trying to help the team win, and I think when you do all those things and if you perform and you do the job, all that stuff will be there in the end."
Lucroy said he was looking forward to the experience of it all, but there is something greater that his manager feels he can take away from his first all-star trip.
"Probably more than anything the confidence that just knowing that you're one of the elite in the game," Roenicke said. "I think it's important. When you work that hard, as Luc does, to be able to have other people see the same thing that we're seeing here is important."
Facebook Comments
Disclaimer: Please note that Facebook comments are posted through Facebook and cannot be approved, edited or declined by OnMilwaukee.com. The opinions expressed in Facebook comments do not necessarily reflect those of OnMilwaukee.com or its staff.