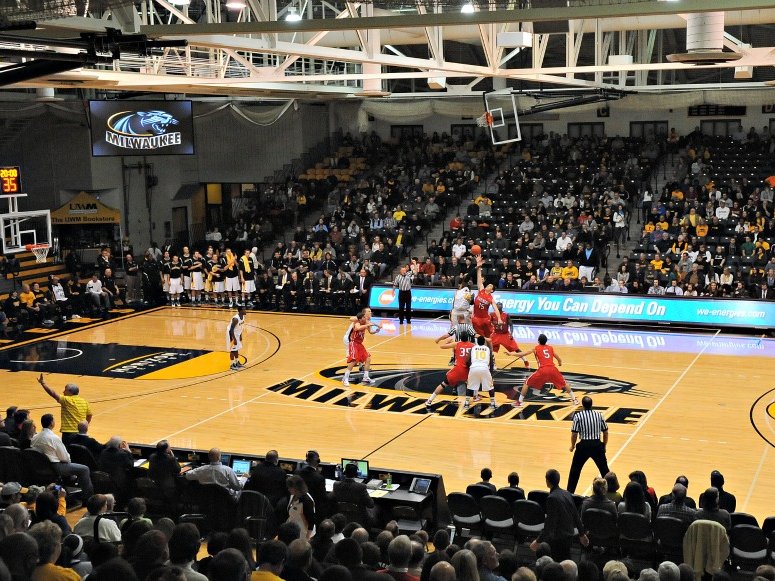 Kraziness at the Klotsche
The sound rattled in the rafters of the Klotsche Center, echoing off the walls and bouncing off the bleachers. A supportive alumni base created some volume last week during the University of Wisconsin-Milwaukee Panthers' victory over Cleveland State, and it gave those on hand a taste of what that environment could be like for the men's basketball program.
The Klotsche Center is cozy – so much so that UWM athletic director Andy Geiger had to get the Horizon League to grant the university a waiver to compete. The facility seats 1,600 fewer bodies than the conference-mandated 5,000-seat floor, but Geiger felt it was important to bring the team back to campus.
So far, the experiment has had mixed results.
The team has struggled, and attendance has been spotty. Yet, members of the team have seen a greater interest on campus due to its proximity to the student base, and when the team plays well the potential of a true home court advantage can be seen – and heard.
"It's small in there so (sound) does bounce around," senior James Haarsma said. "It's fun to hear the people supporting you, but on the other hand I didn't have an issue with that last year (at U.S. Cellular Arena). You heard the fans. When you're doing well you hear them either way. You do hear them better in (Klotsche)."
Haarsma and Haggerty might be two of the best players to talk to about the change in home venues, as the pair has spent a combined eight years in the program.
"I think it's gone pretty well," Haarsma said. "I think back and last year we had some games where we had a lot of fans there (at U.S. Cellular Arena). So if I compare it to those, it's hard, because there's not enough space for those who showed up for the Wisconsin game or one of the Butler games (at Klotsche). But, it's neat to walk around campus and see there's a lot more advertising for us this year and it's because we're on campus and it draws more attention to it. It feels a little more traditional in that sense, but at the same time it feels nice having our own dedicated facility."
Tonight's game against Horizon League rival UW-Green Bay may provide Geiger and the team it's best opportunity to see what hosting games at Klotsche Center can be like.
"It will be an opportunity to see how people turn out," Haarsma said. "It's going to be a big game, rivalry game."
At press time, the game is nearly sold out and will be broadcast nationally on ESPNU, ESPN's college-only network. T-shirts will be provided for a "black out" look and – most importantly – the team has played better the last few games.
"We played an exciting brand of basketball (in a win against Cleveland State) and that's what the fans want to see," Haggerty said as students dropped by the ticket office in the Klotsche lobby to pick up tickets. "If the fans see us working hard they're going to return the favor by being loud. We really feed off the crowd and (today) to have a big crowd would be just awesome. Not only does help us, but for the team that's coming in it's loud, it's hectic, and it really is an advantage maybe even moreso than fans realize. It would really help us out."
Prior to this season, the Panthers had played its home games about three and a half miles away at the U.S. Cellular Arena in downtown Milwaukee, but the university's lease expired after last season following a five-year run.
Prior to that the team had played some games at Klotsche, but this move has been made to gauge student and alumni interest in building a bigger on-campus venue.
It's unlikely the team will call the Klotsche home permanently, but for this season – and perhaps the near future – it's a venue that can serve the team well if it's rocking.
"If we keep winning, playing with energy, the place gets louder," Haggerty said. "The other teams get rattled. The people are right on top of you. That's something that's cool about here. It's a tight facility. It provides an advantage for us."
Facebook Comments
Disclaimer: Please note that Facebook comments are posted through Facebook and cannot be approved, edited or declined by OnMilwaukee.com. The opinions expressed in Facebook comments do not necessarily reflect those of OnMilwaukee.com or its staff.