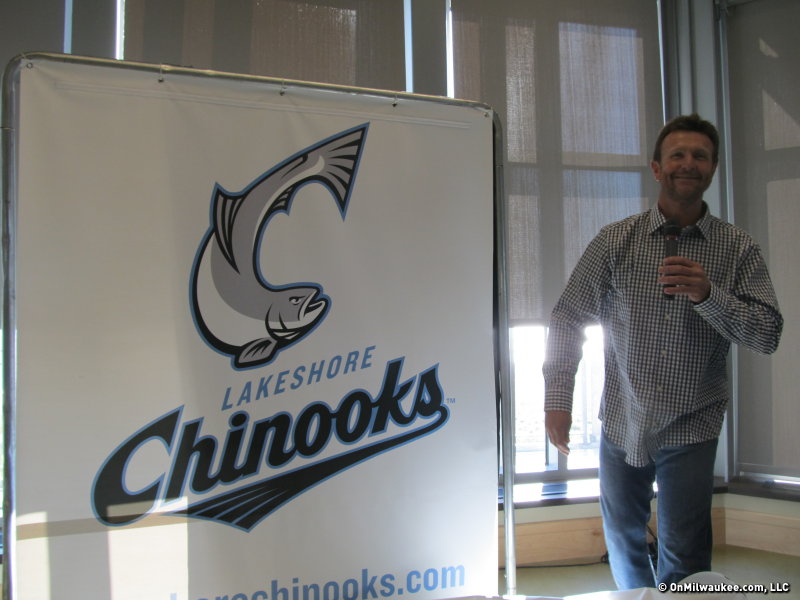 Lakeshore Chinooks set to join Northwoods League for 2012
Former Brewers star and baseball Hall of Famer Robin Yount was on-hand Tuesday morning at Concordia University as the newest member of the Northwoods League received its name, logo and colors.
The Lakeshore Chinooks will begin play in the 17-team, wooden bat summer league next June.
"Concordia is one of the hidden jewels in this area and hopefully this program will put a little more light on this campus because it's truly a special place to be," said Jim Kacmarcik, the Chinooks' principal owner and team president.
Kacmarcik's company, Kapco, Inc., provided the lead gift for Concordia's new, state-of-the art, 2,000-seat baseball facility which will open in time for the start of the school's NCAA Division III season in spring and also serve as the Chinooks' home.
University officials are pleased with the partnership, not just for the exposure it provides for Concordia, but for the opportunities it presents for its student body.
The team will operate in conjunction with the school's sports marketing and business programs. Students will be able to help with the day-to-day operations of the franchise, giving them a leg up in real-world experience.
"That's a big part of it for us, said Concordia president, the Rev. Dr. Patrick Ferry. "The opportunity this presents for our students is very special. Maybe a few of our student-athletes, once in a while we'll get a pretty special student-athlete who might be able to play on this team. But our students will have internship opportunities and chances to get some real experience by working with this team."
Yount's presence was far from just ceremonial. The two-time American League Most Valuable Player is part of an ownership group that also includes Brewers announcer Bob Uecker.
Former Brewers vice president Dean Rennicke will be involved with the team, as well, serving as vice president and general manager.
Yount had been approached in the past about similar projects, but said Tuesday that this opportunity was the right fit and made the most sense.
"I got involved with this project because the people here are first-class," Yount said. "This was the best (opportunity) and made the most sense, in the big picture, mainly to help promote baseball."
The Northwoods League was founded in 1994. Unlike college baseball, players use wooden bats and minor league specification baseballs and play a 70-game season over the course of 76 days between June and mid-August.
Players for the teams come from collegiate programs and must have NCAA eligibility remaining. They're housed by host families in each team's community and are not paid for their participation.
In addition to the Chinooks, there are six teams in the state; the Green Bay Bullfrogs, the Wisconsin Woodchucks (who play in Wausau), the Madison Mallards, the La Crosse Loggers, the Eau Claire Express and the Wisconsin Rapids Rafters.
"Wisconsin has been very successful for our league," league president Dick Raddatz said.
On the field, the Chinooks will be led by John Vodenlich, the head coach at UW-Whitewater. In eight seasons, Vodenlich's teams have won six Wisconsin Intercollegiate Athletic Conference championships, advanced to the NCAA Division III World Series four times and won the 2005 National Championship.
As for players, Vodenlich said that the team will need to get to work on starting and recruiting talent, a job Yount will play a big role in.
"I'm planning on making contacts with college coaches, making them aware of the team," Yount said. "The goal here is to make this the team that every college kid wants to come and play for. In that regard, I'm going to try and spread the word and let them know what we're all about."
Yount already had one idea.
"My first call will be to Prince (Fielder)," Yount said. "He's a free agent, Jim. Do you have that kind of money?"
cysttbzttv
Facebook Comments
Disclaimer: Please note that Facebook comments are posted through Facebook and cannot be approved, edited or declined by OnMilwaukee.com. The opinions expressed in Facebook comments do not necessarily reflect those of OnMilwaukee.com or its staff.