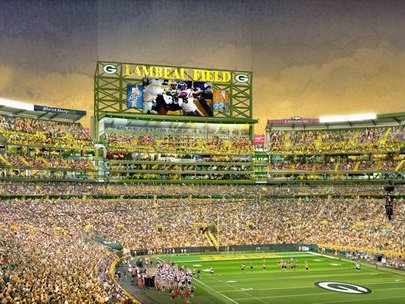 Packers plan to expand, enhance Lambeau Field by 2013 opener
With more than 88,000 names, the Green Bay Packers' season ticket waiting list is bigger than the capacity of Lambeau Field. Two years from now, however, that number could shrink significantly.
The team Thursday announced a $130 million project that will completely transform the south end of Lambeau Field, adding 6,600 seats along with a new concourse, elevators, escalators and other enhancements.
"We're excited to begin work on the expansion of Lambeau Field," said Packers President and Chief Operating Officer Mark Murphy.
The new seats will be arranged in four levels, in order to both preserve the current seating bowl and maintain sight lines for fans in both the new and existing seats. Ticket prices in the new sections will cost between $87 and $313.
The project will also add a new concourse on the north end and a rooftop terrace for club seat ticket holders. Construction is scheduled to begin Sept. 1 and be completed in time for the 2013 season opener.
Once completed, the stadium will be completely enclosed, which team officials think will add to the legendary stadium's charm and create an intimidating atmosphere for opponents, who are just 8-24 on the Packers' home turf over the last four seasons.
"By making them vertical, you're going to hold the noise in the stadium. We think it'll make a tremendous impact on the noise level of the stadium," Packers Vice President and General Counsel Jason Wied said.
Said Murphy: "This project will benefit the Packers and our fans through two new gates for better stadium entry and exit, additional seats and updated amenities, as well as more game day crowd noise focused on our opponents.
"It also will benefit our community, initially through construction jobs, but also in the long term through the increased economic impact of additional fans coming to Packers games each year."
Current season-ticket holders will have first choice of the new seats, with those on the waiting list eligible to purchase open spots in the existing bowl. Any of the new seats not claimed by existing season-ticket holders will then be made available to those on the waiting list.
The Packers also plan to keep their plan of making 4,000 single-game tickets available to Brown County residents through a lottery system.
By the time the new seats and upgrades are in place, 10 years will have passed since the previous major expansion, which boosted capacity from 65,290 to 73,128. In June, the team retired the outstanding debt on that $295 million project, which was funded primarily by a 0.5 percent Brown County Sales tax which remains in place through 2015 to establish a maintenance fund.
The team has no plans to use that money for the current project, which will be financed completely by the team and could involve the fifth stock sale in franchise history. The last sale, in 1997-98, raised more than $20 million towards the 2001-02 renovations.
A user fee, similar to one used during the last renovation, is also being considered. Currently, Green Package ticket-holders pay $1,400 per seat while Gold Package ticket-holders pay $600.
Lambeau Field is the oldest continuously-operating venue in the National Football League and the third-oldest in the four major American professional leagues, trailing only baseball's Wrigley Field and Fenway Park.
Talkbacks
HeritageSpringer | Aug. 26, 2011 at 1:09 p.m. (report)
I think they should rip it down and build a dome. Nostalgia is overrated. The "ice bowl" was there...big deal. Put a monument in the parking lot. Let's make some new memories.
jakkalope | Aug. 26, 2011 at 10:59 a.m. (report)
What they need to do is fix the roads getting out of the stadium. 6,600 more people means more waiting in traffic to get the hell out of there. I went to Lambeau once 4 years ago and have no interest in going back. Fix the terrible bench seating and the road issues and I'll go back. Oh, and I never heard such profanity used at a sporting event then what I heard at the Packers game. Fathers with their kids in the seat next to them shouting F bombs because their team was getting spanked by Dallas. Deadbeats!
Facebook Comments
Disclaimer: Please note that Facebook comments are posted through Facebook and cannot be approved, edited or declined by OnMilwaukee.com. The opinions expressed in Facebook comments do not necessarily reflect those of OnMilwaukee.com or its staff.