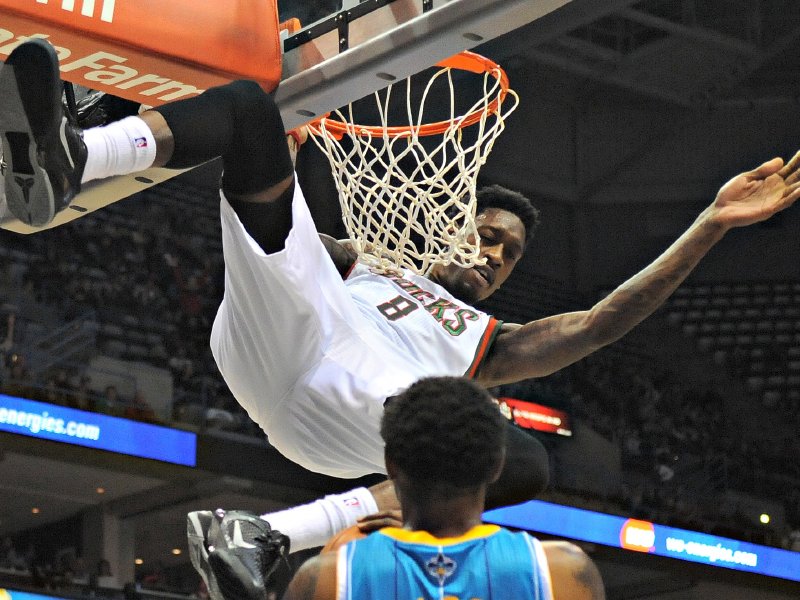 Sanders has found peace on, off the court for Bucks
At the north end of the BMO Harris Bradley Center, Larry Sanders lofted free throw after free throw up at the rim. The routine was robotic: A bend at the knee, the raise of the arms, down to the flick of his right wrist outward at release, his palm descending like a butterfly wing.
The end result was not always as poetic. There was the occasional effort off the back iron or backboard. More went in than not, however, in a hushed BMO Harris Bradley Center.
His teammates had since left the shootaround, leaving Sanders, assistant coach Joe Wolf and an equipment man. Eventually, it was just Sanders and Wolf, talking, shooting.
There was peacefulness to the scene. Sanders, wearing a long sleeve red shirt under his black practice jersey, white socks pulled up over his calves worked diligently. Only a few Bucks employees were in the stadium, a building that looks twice its size when empty.
All is quiet with Sanders, too.
"Taking time to find my pace and my peace and getting my mental right on and off the court, that's showing a lot too," he said.
That may seem surprising as the 24-year-old's game is based on, without question, passion. But he had to find a way to direct that in a positive manner – the quick personal fouls and the technicals had to be cut down in order for him to be effective.
"I just had to make a couple of adjustments," Sanders said of his on-court style.
"Before you can be as aggressive as you want to be, you have to build that respect with your peers and your referees and then they can respect you in those areas. So I jumped out a little too aggressive, but as I started playing more and they saw me kind of building that respect, I could be more aggressive and not worry about them calling a foul before the contact or before the play."
That is happening now.
Sanders is averaging about 24 minutes per game, nearly double his average the last two seasons. He has posted a triple-double, tied the franchise record for blocked shots in a game with 10 and leads the league at 3.1 blocks per game. He's also averaging career highs in points (7.7) and rebounds (7.6).
"He's able to keep himself on the floor a little bit more," coach Scott Skiles said simply.
Sanders' signature energy has now been matched with a peace found through the melding of faith and basketball.
"My faith gives me confidence in all my other aspects (of life) so why not basketball," he said. "Bringing those together a little bit and like I said, that's helped me out with peace and have that peace throughout any situation whether it's not playing or adversity in the game. It's trying to find my peace. That's helped me a lot too with my emotions."
The combination is leading him to new heights as a player, though he acknowledges there is still room to grow as the Bucks enter the second quarter of their season.
"I think I'm making progress in some areas," he said. "As I said at the beginning, I'm trying to find that pace and I think it's still a work in progress. But, I'm happy with how it's coming along so far. I worked hard on that this summer. I worked really hard this summer and it feels good to see things paying off a little bit.
"I'm building momentum through the year. I don't think I'm playing my best basketball of the year right now, but I'm going to try to keep getting to that point."
Facebook Comments
Disclaimer: Please note that Facebook comments are posted through Facebook and cannot be approved, edited or declined by OnMilwaukee.com. The opinions expressed in Facebook comments do not necessarily reflect those of OnMilwaukee.com or its staff.