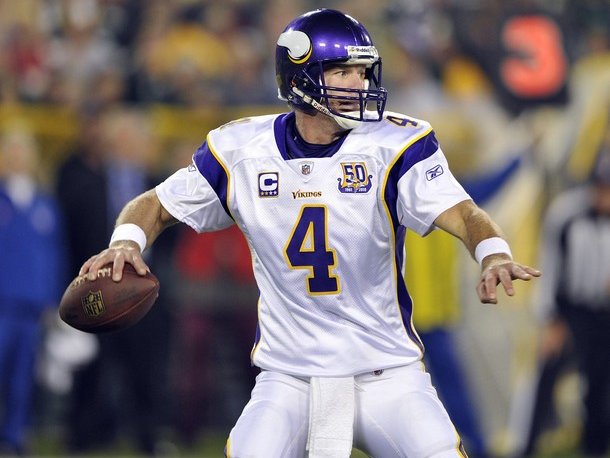 Favre showed once again why he is a legend
This was why they invented the word "legend."
Brett Favre was not the best quarterback on the field Sunday night when Aaron Rodgers and the Green Bay Packers exorcised their demons by beating Favre and the Minnesota Vikings, 28-24.
But he was the only one who had his hands wrapped around our hearts.
Forget Ted Thompson. Forget the Jets and the Vikings. Forget the texting and sexting and little boy voicemails. Forget all of that crap because none of that really matters.
What matters is that with all the odds stacked against him, with the fury of 80,000 people raining down on his shoulders, with one leg, one arm, gray hair, and with time running out, he almost did it again.
Twice.
First he threw a bullet into the back of the end zone for a touchdown. His ankle was so bad he could barely jump in the jubilation. You could hear the air being sucked out of those 80,000 people whose worst nightmare had just come true.
But the touchdown was called back. Favre didn't whine or look at the sky. What he did was clap his hands once, purse his lips in that aw shucks kind of grimace he has, hobble back on the field and gather his team for one more try.
The ball was snapped, he dropped back and he fell down. But in an apt metaphor for his legend, he got back up, stepped up and threw a bullet into the end zone again. This one was high. Just high. Barely high.
And just like that it was over.
As great a game as it was, it was even better once it was over. Packer after Packer came up to hug and, no matter what the doubters think, pay homage to this quarterback. It looked like Donald Driver never wanted to let go. Favre had moisture in his eyes. Either from sadness, pain or just plain wonder at it all.
That the thing about him. He played a game for two decades with a sense of wonder and wonderful adventure. His failings made us love his success even more.
He never quit. Not almost never. Not almost never. Never!
That's what a legend is. There is a reality to all legends and there is a myth to them as well. Brett Favre has a ton of reality and several tons of myth.
Let us never forget that the most hallowed name in the long history of the Green Bay Packers turned his back on the team and left them to go to the Washington Redskins. His name was Vince Lombardi.
Our reverence for Lombardi is unchallenged and undiluted by what happened after he left Green Bay. Heroes don't come any bigger.
So, too, should it be for this flawed quarterback who gives us thrills and chills even when wearing the uniform of the enemy.
That's why they invented the word "legend."
tqrfexrzdwayxeeudzuqwsyaxstucwyvbawwt
tqrfexrzdwayxeeudzuqwsyaxstucwyvbawwt
Facebook Comments
Disclaimer: Please note that Facebook comments are posted through Facebook and cannot be approved, edited or declined by OnMilwaukee.com. The opinions expressed in Facebook comments do not necessarily reflect those of OnMilwaukee.com or its staff.