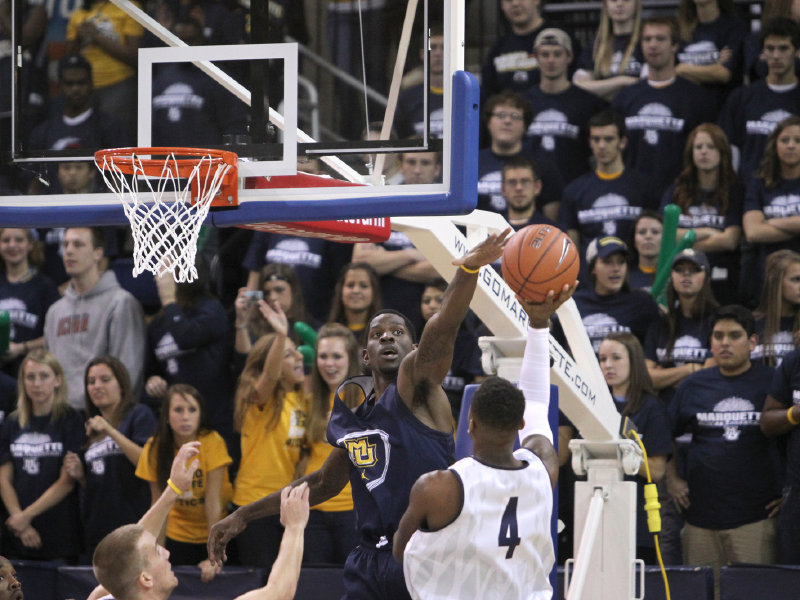 Marquette hopes tough schedule pays off in the end
The Marquette Golden Eagles open their season outdoors tonight in Charleston, S.C. It's an odd start to a season, sure, but they're also going to be playing aboard the flight deck of the U.S.S. Youngstown in the Carrier Classic. Not only that, their opponent is the No. 4 team in the country, Ohio State.
It's a heck of a way to start a season, but it's just the tip of a scheduling iceberg for the Golden Eagles. During the program's non-conference schedule from Nov. 9 through Dec. 22, the team will play three teams ranked in the pre-season top 25 (Ohio St., No. 10 Florida, No. 21 Wisconsin) and likely a fourth in No. 12 North Carolina in the Maui Invitational.
Then there's Butler, national runner-ups in 2010 and 2011, which received votes for the Top 25. And, the Golden Eagles travel to UW-Green Bay, a team that returns all five starters and is picked third in the Horizon League.
Whew.
For head coach Buzz Williams, this schedule is part of the double-edged sword that comes from being a consistent, winning program over a period of years. Invitations to the Maui Invitational and the Carrier Classic don't come if you're not a recognizable team with a history of success – and predicted future success. The conference wouldn't want to highlight you against Florida in the SEC/Big East Challenge if it didn't think your team would be up for it.
It is a lot though, especially in advance of the Big East season.
"When you combine all of that and put it into one year, is that the right thing? I don't know," Williams said. "I know that our nature is to want to compete against the best, but it's really not the games relative to who you're playing, it's all the things lead up to those games and the grind that it is on you emotionally and mentally, not just the players but everybody."
Williams pointed out the logistical nightmare the first part of the season creates, with little rest between many of those contests.
"It's not just the games," Williams said. "It's all the things that lead up to the games that I think makes it difficult."
The players, of course, view it differently.
"That's the best thing," guard Vander Blue said of his schedule. "You don't come to Division I to play people you can beat. At this level, I want to play all the hard teams. I wish we could play top 25 teams all year. Those are the games that matter. If you schedule games you know you're going to win that really doesn't help the team in the long run. I feel like coach has done a great job of scheduling us against the hard opponents. Ohio State right off the bat? I feel like a lot of teams can't say they're doing that."
Blue continued: "A lot of teams might schedule a DIII team or something like that so they can get a win but it doesn't get you any better. Our whole goal is to get better every single night we step on the court, individually and as a team. I feel like those heavy games early are going to help us."
Marquette hopes it helps when the calendar turns to 2013 and it hosts Connecticut on New Year's Day. The conference will go out with a bang, as Syracuse, Pittsburgh and Notre Dame are headed to different conferences next season. Temple, Memphis, Houston, Southern Methodist and Central Florida will join the league.
Louisville enters the season as the No. 2 team in the country and the favorite to win the conference. Syracuse opens the season at No. 9 while Notre Dame is No. 23.
"The Big East is, in my mind, without a doubt the best conference in the country," said Marquette guard Trent Lockett, who transferred from Arizona State in the PAC-12.
Marquette is coming off back-to-back Sweet 16 appearances and received top 25 votes in the year's first poll, but the Big East coaches picked the Golden Eagles seventh in the conference. The team also did not have a player voted onto any of the three Preseason All-Big East teams.
Williams, who conceded his team could be below .500 by the time it hits December, hopes that this tough schedule sets the team up for success in the conference.
"You hope that by doing that it prepares you to play the Big East and just as important, you hope that it prepares you for something that you will encounter in the postseason as well," Williams said. "Is it the right thing or the wrong thing? For your coaching career record, it's the wrong thing. For the development of who your team is, it's probably the right thing."
Meet and interact with the 2012-13 Golden Eagles on the next page.
Meet and interact with the 2012-13 Golden Eagles
Buzz Williams, Head Coach
Need to know: The Golden Eagles have made back-to-back Sweet 16 appearances and four straight NCAA berths.
Juan Anderson (So., F)
Twitter: @juanonjuan10
Need to know: Seems to have recovered from offseason shoulder surgery. Played in 24 games last year.
Vander Blue (Jr., G)
Twitter: @Vander13lue
Need to know: Started 34 of 35 games and averaged 8.4 points and 4.5 rebounds per game.
Junior Cadougan (Sr., G)
Twitter: @JRwontLOSE
Need to know: Started 33 of 34 games and averaged 5.4 assists per game.
Jamal Ferguson (Fr., G)
Need to know: Rivals' No. 31 recruit averaged 17 points, 8 rebounds and 3 assists as a senior at Maury High School in Virginia.
Dylan Flood (So., G)
Twitter: @imdtf24
Need to know: Made the roster as a walk-on.
Davante Gardner (Jr., F)
Twitter: @iGetBuckets_54
Need to know: In 27 games averaged 9.5 points and 5.3 rebounds per game.
Trent Lockett (Sr., G)
Twitter: @T_Lockett22
Need to know: Is a graduate student at Marquette, is a very good rebounding guard.
Todd Mayo (So., G)
Twitter: @DaOtherRealDeal
Need to know: Ruled academically ineligible for the season.
Chris Otule (Sr., C)
Twitter: @Tule42
Need to know: Coming off ACL injury, says knee and feet are healthy.
Garrett Swanson (So., F)
Need to know: Ineligible to play this year due to NCAA transfer rules. Coming from Idaho State.
Steve Taylor, Jr. (Fr., F)
Need to know: Played on three straight Illinois state championship teams at Simeon High School. Team went 63-3 his last two years as a starter.
Jake Thomas (Jr., G)
Twitter: @JakeThomasTwo3
Need to know: Eligible to play for first time after sitting out a year due to transfer rules. Is eighth all-time in South Dakota history for 3-pointers.
Derrick Wilson (So., G)
Twitter: @Mr_Bicenten
Need to know: Appeared in 33 games, had 19 steals.
Jamil Wilson (Jr., F)
Twitter: @Jamil_Wilson
Need to know: Averaged 7.1 points in 34 games (15 starts).
Facebook Comments
Disclaimer: Please note that Facebook comments are posted through Facebook and cannot be approved, edited or declined by OnMilwaukee.com. The opinions expressed in Facebook comments do not necessarily reflect those of OnMilwaukee.com or its staff.