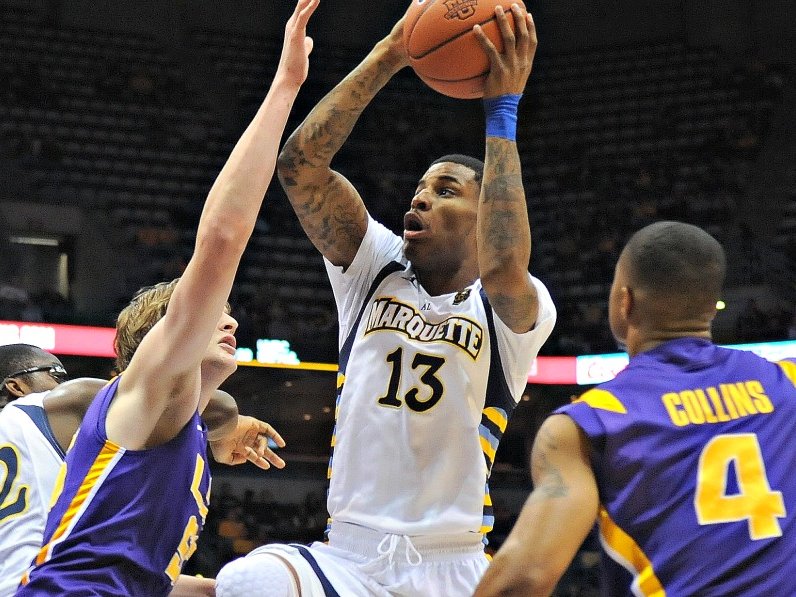 Marquette looking to make history
On the day Marquette University honored the 2002-03 squad that made a run to the Final Four, the 2012-13 Golden Eagles took another small step toward cementing themselves in school history.
The 79-69 victory over Pittsburgh, the country's 16th ranked team at the time, moved the Golden Eagles to 18-6 overall and 9-3 in the Big East – good enough for a tie for first in the conference.
Marquette has never won Big East title of any kind, regular season or tournament, since joining the league in 2005-06.
"Just want to make history," Golden Eagles guard Vander Blue said of doing one, or both. "Especially being in a position we are right now, we're in a great situation."
Six games and three weeks remain in the regular season for Marquette, beginning tonight at Seton Hall (13-13, 2-11). The Pirates are not a good team, yet they pushed the Golden Eagles to the brink in a 69-62 loss in Milwaukee back in mid-January.
The cliché is true in the Big East this year – anyone can beat anyone.
Connecticut beat Syracuse, then Villanova beat Connecticut. Notre Dame beat Louisville, then Providence beat Notre Dame. Marquette, Syracuse and Georgetown have three losses. Louisville four. Three teams have five, another three have six.
"It's not a surprise in college basketball, especially this year," Blue said. "It's so spread out, it's so balanced. You really don't know who can win on any single night."
One bad stretch, and the Golden Eagles can fall from first to eighth. Seton Hall is the worst team left on their schedule, as Villanova (16-10, 7-6), Syracuse (21-4, 9-3), Notre Dame (20-6, 8-5), Rutgers (13-11, 4-9) and St. John's (15-10, 7-6) all have overall winning marks. Four of those games are on the road, too.
"We have to play every game right now like it's a tournament game," Blue said. "We can't go into any game thinking nothing less. We can't really think ahead that far. We just need to take care of what we need to do that day."
To many, Marquette is overachieving. The coaches picked the Golden Eagles to finish seventh in the preseason poll and most doubted they could replace the scoring and the leadership of Jae Crowder and Darius Johnson-Odom.
This team has had a chip on its shoulder from day one.
Even coach Buzz Williams wasn't sure how good they could be at the start of the season, and he remains unsure – despite a top 25 ranking. For his part, tells his team that.
"I think those numbers are skewed," Williams said of the conference standings. "Maybe I'm immature. I don't use the media to give a message to our team. I tell our team I don't think we're very good. So when you guys ask me after a game what did you say to your team, minus the profanity I say the exact thing I said to our team. I don't use it to motivate our team."
Yet it does exactly that.
"Obviously we're good, but I think he just says that so we don't ever get too comfortable because when you get comfortable and content, that's when you pretty much lose, especially in this league," Blue said. "He does that to keep the fire under us a little bit and just to keep us going.
"By him telling us that, that obviously gears us up a little bit up to prove to him that we are good."
They've kept on going, kept proving, rebounding after every loss with at least two straight victories. On the season, Marquette's longest winning streak is six games – a total it can top by one if they win out. Winning out also means a regular season conference title.
There's no way Williams is thinking about that.
During the week, and again following the win against Pittsburgh, he talked about the volatility of the Big East, the challenges of riding the emotional rollercoaster of a season, and how hard it is from a preparatory standpoint to even win a single game.
He offered it all up as a reason as to why such forecasting is, well, outside of his thought process.
"You're trying to tell 19 and 20 year old kids who have a test and who have this and have problems of their own, 'Hey we're going to do this and we're going to do that', man, it's hard," Williams said. "And, are you tough enough to wake up early before everybody else and do it again tomorrow? Are you going to sleep in because you're happy you won and relax? Or are you going to sleep in because you're not tough enough to get up because you got your ass beat?"
Perhaps this team's willingness to look ever so slightly ahead, and its desire to do the unthinkable, answers those questions.
Facebook Comments
Disclaimer: Please note that Facebook comments are posted through Facebook and cannot be approved, edited or declined by OnMilwaukee.com. The opinions expressed in Facebook comments do not necessarily reflect those of OnMilwaukee.com or its staff.