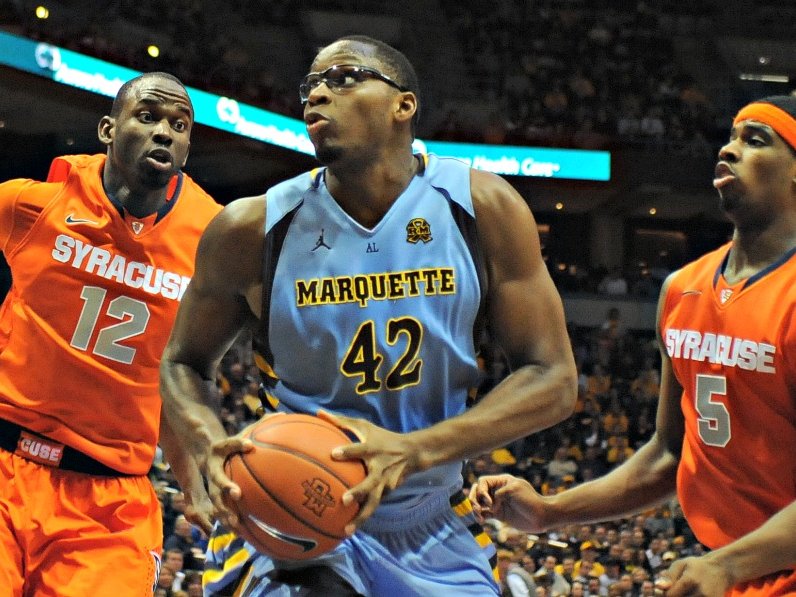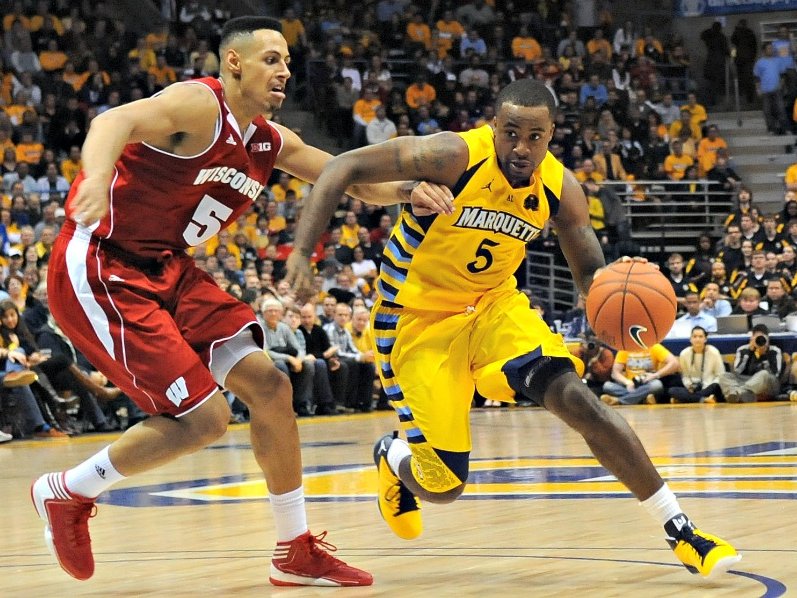 Cadougan, Otule lead Marquette into Big East Tournament
Slow. No jump shot. Unathletic. No offensive skill set. Heavy.
It's what you see with your eyes; what a coach verifies with his soliloquies. Opinions could vary, but the raw data allows for little discourse. Junior Cadougan and Chris Otule will not go down as two of the all-time greats in Marquette University's storied basketball history. By all that can be measured in basketball, the pair is probably two of the most average to ever pull on a jersey.
Yet two Marquette's most unremarkable players have helped author one the program's most extraordinary seasons.
"Chris has a great heart," Cadougan said simply. "I have a great heart, too."
On the fabled floor of Madison Square Garden in New York, Marquette made history. With a 69-67 overtime victory over St. John's on Saturday, the Golden Eagles earned a share of the Big East regular season championship – the first since the university joined the conference in 2005.
When this roster is held up alongside those that preceded it, little will make sense. There are no All-Americans. There are no surefire NBA players. Instead, there are hustle guys, a collection that even head coach Buzz Williams had a hard time labeling as "good" until well, he had to.
There is talent, but the 2012-13 Golden Eagles are defined by what can't be seen, and no one embodies that more than a pudgy point guard who averages less than nine points per game and a near 7-footer who grabs less than four rebounds a contest.
Early last season, on that same court in New York, Otule tore the anterior cruciate ligament in his left knee while playing in the Jimmy V Classic. It was the latest in a string of physical setbacks for the softspoken center from Texas.
He learned to play with an artificial left eye from an early age, but once at Marquette foot injuries shortened his first two years, and then the torn ACL cost him most of last season. It was an injury that nearly broke him.
"It's hard to stay positive," he admitted. "My first injury was easiest. I probably got over that in like a month's time, but as they kept going on, it gets harder. This past ACL surgery I was probably devastated for a couple months, three or four months, before it was like 'It's all over, let's go again.' It's so hard, like 'Why does this keep happening to me?' You do all this work and then you just get hurt."
Cadougan saw his friend struggling.
"He was hanging his head down for a couple weeks and I was there for him like a brother, telling him that everything is going to be all right, I've been in this position, you've been in this position before, it's nothing new," Cadougan said.
"You can't worry about it. You have to move on and get better. He had the mentality to work hard and he's back now. He's good. Chris is good and he's a hard worker and it's paying off for him."
It's a message one would expect out of a senior point guard, but it resonated. Cadougan had missed most of his freshman season recovering from a torn Achilles tendon, and every year after had to scrap his way onto the court.
"He's very, very kind," Marquette senior Trent Lockett said of Cadougan. "He has a good read on people. He can tell when you need to get after them or when they need a pick up. Junior's a good basketball player but he's a better person"
Williams took it a step further.
"You can't quantify who he is internally," he said. "That is a huge part of who we are. All of our kids like him. He knows how to manage their emotions and personalities, even though he's quiet by nature. I think that's hard to do."
Throughout his career at Marquette, Williams has had to sit Cadougan down for a variety of reason. Sometimes his minutes have been cut. Sometimes he's been out-played. Yet in the biggest of moments, there he is, knifing down the line and lofting floaters over outstretched hands when the lights are the brightest and the stakes are the highest.
"My team always looks for me to lead, so whatever I've got to do on the court to lead 'em, I'll do that," he said.
Cadougan and Otule have helped the Golden Eagles do what Tom Crean, Jimmy Butler and Jae Crowder couldn't – win a Big East championship. Now, this most unlikely pair of champions sets about capturing a conference sweep, thanks to a double-bye that starts them in the quarterfinals of the Big East Tournament this week.
Much is left to be done, yet so much as already been accomplished.
Facebook Comments
Disclaimer: Please note that Facebook comments are posted through Facebook and cannot be approved, edited or declined by OnMilwaukee.com. The opinions expressed in Facebook comments do not necessarily reflect those of OnMilwaukee.com or its staff.