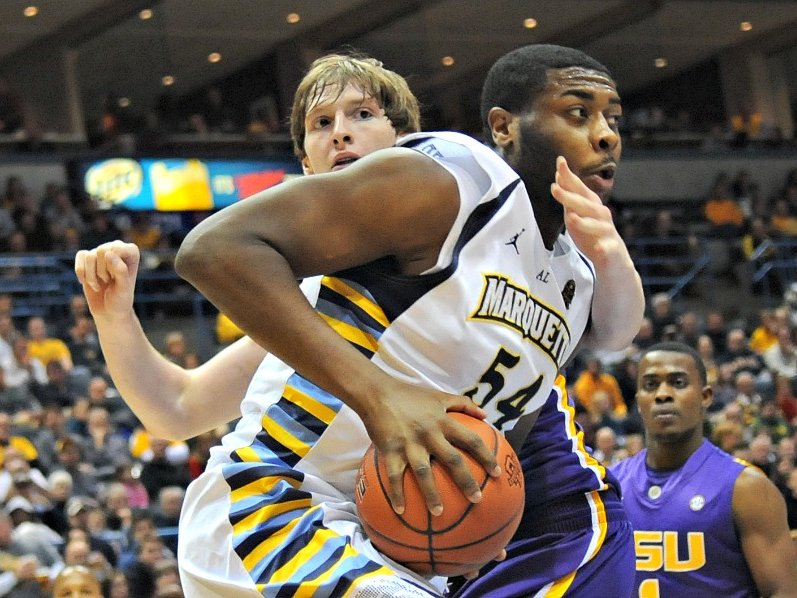 Gardner can get Marquette over the hump in big games
Marquette University catches a breather tonight in Big East play as the Golden Eagles head to Tampa to play the University of South Florida. It's a reprieve of sorts, following a 70-51 loss at the hands of the Louisville Cardinals on Saturday in Kentucky.
The Golden Eagles were atop the Big East standings at the end of last week, briefly, before the Cardinals brought them crashing back to earth like a suplex from The Undertaker.
The loss wasn't a "wake up" call. It was a statement of fact.
Marquette (15-6, 6-2) is a Top 25 program – a very good program – and they will probably have 20 wins by the time the Big East tournament starts in March.
What Marquette isn't, is an elite program – not this season. Louisville showed it, and Syracuse will likely show it in a couple weeks.
There's nothing wrong with that.
Depending on the seeding, the Golden Eagles should get to the semi-finals of the Big East tourney and end up with a nice seed in the NCAA Tournament. This team should make the Sweet 16 for the third straight year, too.
Vander Blue and Junior Cadougan have been there, done that in that regard. It's nothing new. They may be tired of "just" getting to that point, but there is always something to be said for veteran, solid guard play in the Big Dance. I believe these two, along with Todd Mayo and Trent Lockett, have enough experience to win a couple games.
I would imagine Buzz Williams and the fans are tired of Sweet 16 appearances, too, especially as the program celebrates the 10-year anniversary of the last Final Four team in school history.
The key to advancing to winning the Big East outright, the conference tourney, or advancing in the big tournament, is found in the paint.
The key is Davante Gardner.
The big man was held to two points on 1 of 4 shooting in just 13 minutes against Louisville, 10 points under his season average.
Now, it may be hard to believe a guy averaging just 12.2 points and 5.4 rebounds in a hair over 21 minutes a game will be the reason for monumental run – you figure a guy is what he is at this point in the year – but Gardner is the one player on the Golden Eagles who can impose his offensive will on an opponent.
Blue is gritty, and I'd be happy with him taking the last shot. Mayo can be explosive and can carry the team for a few minutes. Jamil Wilson and Cadougan are experienced players who know their roles and can get you some points in key spots.
But Gardner is a guy who I want the offense being run through when it gets into the final eight minutes of the game. Let him get position on the block, let him use his feet and soft hands to create problems for the defense.
He isn't going to turn around and just dunk on someone, but he's agile enough to get up his shot and he's nearly automatic at the free throw line – great traits to have in crunch time.
The team trusts him to do this at times, where Gardner is essentially running the point from the paint, but to win the bigger games this year, they'll need Mr. "I Get Buckets" to well, get buckets, and impose his will when it matters most.
Talkbacks
Photodavie | Feb. 6, 2013 at 1:56 p.m. (report)
I couldnt agree more. With the exception of 2 games this seson, they have been in every game and won more than lost when it got close. The problem is Davante picking up stupid fouls early. Both of his fouls early in the louiville game were away from the basket and stupid. Just like Vander has, Davante must mature as a player and fast for MU to make a run this season. Consolation is that MU only looses Lockett and Junior in the offseason. With a top 10 recruiting class coming in, 2013/14 season should be even more interesting.
Facebook Comments
Disclaimer: Please note that Facebook comments are posted through Facebook and cannot be approved, edited or declined by OnMilwaukee.com. The opinions expressed in Facebook comments do not necessarily reflect those of OnMilwaukee.com or its staff.