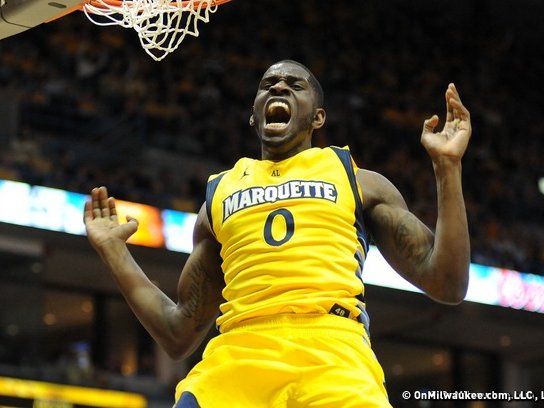 Golden Eagles remain hungry
Jae Crowder was dressed for a long bus trip – loose clothes, gym shoes. The type of attire a 6-foot, 6-inch, 235-pound man could settle into a coach bus seat with.

Despite the lack of tailoring, no one would think the Big East Player of the Year had put on any unnecessary weight in the few days Marquette University had off between their surprising first round exit out of the Big East tournament on March 8 and the team's departure date for Louisville on Wednesday.

Coach Buzz Williams made sure it didn't happen, especially mentally.

"As coach calls it – 'not get fat,'" Crowder said. "Not get caught up into the hype with the three seed."

The Golden Eagles (25-7) used the off time between the conference tournament and tonight's NCAA Tournament opener against BYU to refocus, stay hungry, and not be satisfied with a No. 3 seed in the West bracket.

"We feel we should have the same mindset," Crowder added. "We were hungry last year, of course. We felt disrespected, of course. We wanted a piece of that high seed and that's how it goes in the NCAA tournament, but we still have to have the same mindset."
A year ago, the Golden Eagles entered the Big East tourney needing to win a couple of games to punch their dance ticket, and rode that pumpkin carriage into the Sweet Sixteen as an 11 seed, upsetting No. 6 Xavier and No. 3 Syracuse.

This year, they are playing the role of the evil stepmother.

To better handle that, the team got back to basics in the past week – especially since they didn't know who they were playing until they got to Louisville as Iona and BYU played a first round game that night, one which BYU (26-8) won in comeback fashion.
"I think we tweaked a lot of things, I think we readjusted a lot of things and I think we got back to our old selves out there having down time," said Racine native Jamil Wilson. "We actually had a couple days to actually compete and go at each other and get a good sweat. I think it's been very helpful for us."
It's a formula that worked before for the last Marquette team to earn a No. 3 seed.

In 2003 the Golden Eagles were upset in the first round of the Conference USA Tournament by the University of Alabama-Birmingham, only to reach the Final Four.

"We had like 30 turnovers and lost to UAB in the first round, so I know with conference tournaments you can't put too much emphasis (on them)," said New York Knicks forward Steve Novak, a member of that team under Tom Crean. "The way that they've been consistent throughout the year, the way Jae's played, the way (Darius Johnson-Odom)'s played; those guys are going to make a good push."

That push is going to start with an experienced backcourt of Johnson-Odom, an all-Big East first team selection, and Junior Cadougan. The long held tournament belief is that talented, savvy guards earn wins in the tournament, and Marquette has that – not to mention a John R. Wooden Award candidate for national player of the year in Crowder, the versatile Wilson and the return of 6-8 sophomore Davante Gardner from injury.

"Anytime you have experience it's beneficial," Williams said. "Part of our success up until this point is we have more returning players than we've ever had since we've been here, as far as good players, good returning players. For those guys who were able to experience those three games last year I do think that it's healthy going into Louisville that at least they understand what's going on."

For a week, Williams challenged the team to stay hungry. On Wednesday, as players slowly filed out of the Al McGuire Center, balancing shoes and headphones with fist bumps to fans, the Golden Eagles looked anything but heavy.


Facebook Comments
Disclaimer: Please note that Facebook comments are posted through Facebook and cannot be approved, edited or declined by OnMilwaukee.com. The opinions expressed in Facebook comments do not necessarily reflect those of OnMilwaukee.com or its staff.