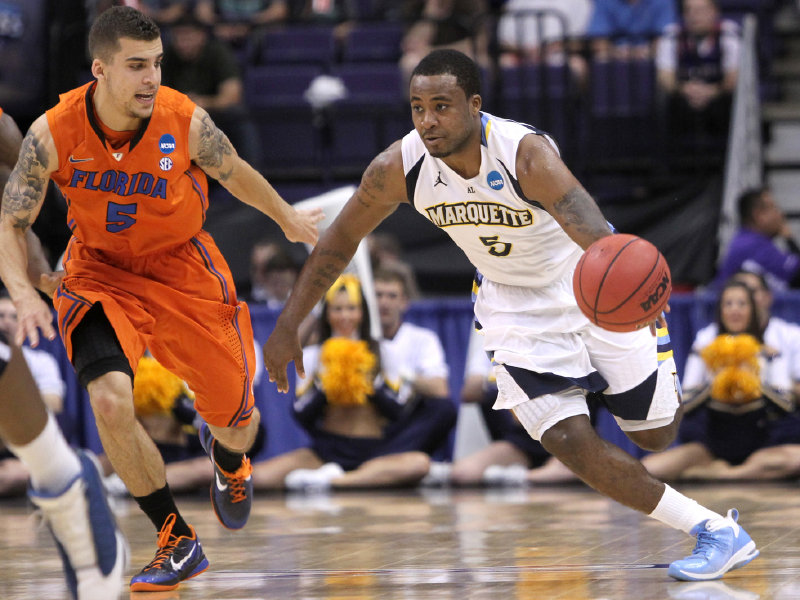 Marquette leads way in forming a new conference
One by one, the pieces of the Big East Conference began to be pulled away and replaced, like a sort of multi-million dollar Jenga game.
The conference has been around since 1979 but for the better part of the last decade it's been rife with instability.
You can argue those first pieces to be moved from the base of the Big East – Virginia Tech, Miami and Boston College – were replaced quite ably on the basketball court by Marquette, Louisville and Cincinnati.
Cincinnati even stepped up its game on the football field, softening the blow of the three departures to the Atlantic Coast Conference. The decision by the University of Connecticut to go big with its football program also helped.
Despite the precedence this move sent, who were Marquette or DePaul to complain? This was a ticket to the real dance, not the junior prom that was Conference USA.
Then, the big pieces really started being pulled.
Syracuse and Pittsburgh decided to bolt as well for the ACC.
Texas Christian University was supposed to be layered across the top to replace them, but then they left for the Big 12. The conference was teetering, and West Virginia decided to get out, too.
In an effort to balance things out, as it did when it allowed Marquette in about 10 years ago, the Big East raided the junior prom for Conference USA members Central Florida, Southern Methodist and Houston.
Rutgers and Notre Dame basketball decided to leave, too. So Tulane and East Carolina were stacked on top.
Then the ACC poached Louisville, and this upside-down puzzle had become too top heavy with mediocrity for Marquette to stick around.
This week, the rumors became official when the university announced it was also going to leave the Big East – along with six other Catholic institutions in the conference – to form a basketball-centric league.
"There has been a whole bunch of things that occurred over the course of the last couple of years in all of college athletics," Marquette Vice President and Director of Athletics Larry Williams said.
"We have shifting landscapes and as we surveyed that landscape a collection of all of those moves led us to this decision. I wouldn't point to one particular instance that was the straw that broke the camel's back or anything like that. It was, rather, an amalgamation of all those issues."
Added Marquette president Scott Pilarz, S.J.: "This move will allow us to enhance the elite status of our men's basketball program, while developing new opportunities for student athletes in all 16 of our competitive athletic programs."
The move was probably a few years late in the making, but the non-football playing schools in the Big East had to wait until the "big boys" on the gridiron sorted out their pocketbooks.
It also speaks to where Marquette has come in the last decade.
Marquette's leadership said it had been working with those of DePaul, Georgetown, St. John's, Providence, Seton Hall and Villanova to break away together, and it is the right decision in terms of maintaining rivalries and securing a lucrative TV contract.
But, if Marquette wanted to make its own play to join Notre Dame as basketball-only members of the ACC, or started to lay the groundwork for a move to the Big Ten, it could have.
By doing this, in this way, it helps keeps the focus – and most importantly – the money flowing into the basketball program and eliminates all concern for such conference-hopping in the future, which will keep coaches in the conference, which will in turn make this new conference viable on a national level.
"The institutions that have been committed to men's basketball have made a decision that they are going to stay committed to men's basketball. As a men's basketball coach I am 1,000 percent supportive of that," Golden Eagles coach Buzz Williams said.
"Regardless of what the name is and regardless of who they add or when they add, I can't ascertain those answers. Nor do I think they can. I can tell you that the decision was made collectively because there is a commitment from Marquette and the other six institutions that men's basketball is really important. I think that is outstanding."
Things won't happen for a bit yet. Pending an early release, the schools will leave in 2015. The rest of the conference needs to be filled out, national and local TV rights have to negotiated, as well as NCAA Tournament spots determined. But it's safe to say Marquette made the right decision, and one that couldn't have been made had they not been behind it.
"I am really excited about the future," Larry Williams said. "Sure, there are bittersweet thoughts to it about some of the things that have been accomplished by this institution and a couple of our fellow departing institutions, relative to their association with the Big East. Our focus is on the future and we couldn't be more excited."
Talkbacks
High_Life_Man | Dec. 21, 2012 at 12:21 p.m. (report)
Smoke and mirrors. Do you really believe ESPN and others will be clamoring to give this new league bags of money just for basketball? Believe the country will be making plans to tune in to the DePaul/Marquette game? Larry Williams made some comment earlier about football not likely being the driving factor in 10 years. That's asinine. Each Big Ten team will receive nearly $40 million a year from the B10 network (a number surely to increase with the new markets of NY, NJ, MD, VA and DC being added). Football is where it's at and that won't change. Sucks, but it's the truth. Quit trying to polish a turd.
Facebook Comments
Disclaimer: Please note that Facebook comments are posted through Facebook and cannot be approved, edited or declined by OnMilwaukee.com. The opinions expressed in Facebook comments do not necessarily reflect those of OnMilwaukee.com or its staff.