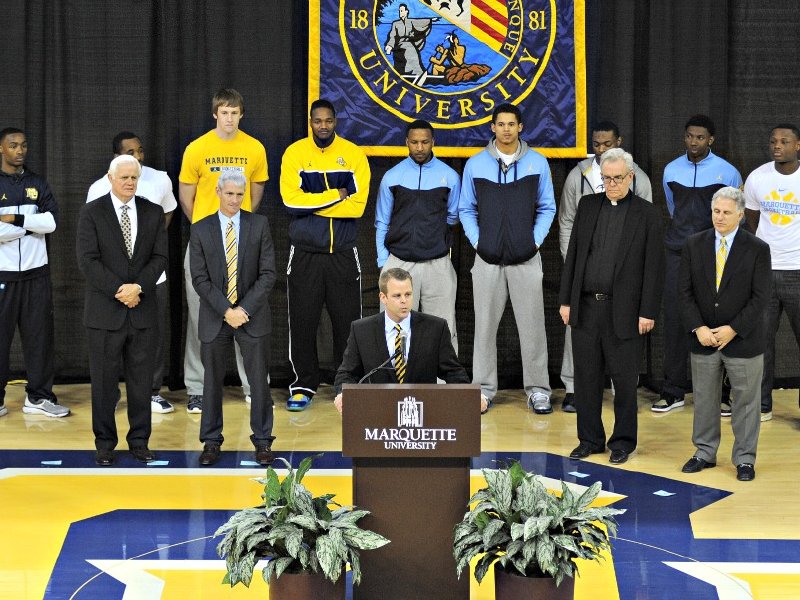 New Marquette coaching staff hits the recruiting trail
On May 29, in his first media availability since taking over the head coaching position at Marquette University nearly 60 days prior, Steve Wojciechowski said the bulk of that time was spent rounding out his coaching staff and building a rapport with his current players.
He was recruiting, too, mind you – but that effort kicks up a notch beginning today.
A "quiet period" of recruiting runs through Saturday, then, three separate "dead periods" break up three five-day "evaluation periods" which end on July 27.
In a "quiet period" a coach can make contact with a recruit and his family if that player is on campus, and a coach can call that recruit. The "evaluation period" is perhaps more important, as coaches can travel to see players compete live.
According to the NCAA, all of those live evaluations are "limited to regularly scheduled high school, preparatory school and two-year college contests/tournaments, practices and regular scholastic activities involving prospective student-athletes enrolled only at the institution where the regular scholastic activities occur."
These periods are important, especially for a new head coach.
Wojciechowski offered a bit of an insight into what kind of athlete he'll be looking for when he was asked how he went about keeping previous commitments to Williams intact.
"To be honest with you, I only want guys who want to be at Marquette," he said. "To me, I think it's an honor to wear the Marquette jersey, so if I have to twist your arm or trick you or promise you stuff to put that jersey on, then I don't believe that's the right fit. There's enough kids around the United States who recognize the Marquette brand, both as a university and as a basketball program, as a place that they can bet better and they can get better as person and get better as a player.
"So, I feel really good with who we have in our program right now. Obviously we're always looking at ways to get better. But I love my guys. And I love the guys who are committed to being a part of this as we try to grow."
While Wojciechowski didn't lose any current players to transfer when Buzz Williams departed, he didn't waste time filling gaps created by the graduating senior class.
The first was 6-foot, 2-inch senior Mat Carlino, who came over from Brigham Young University after averaging 13.7 points and 4.3 assists and leading the West Coast Conference in assist to turnover ratio.
Carlino is eligible to play immediately, and Indiana transfer (a Williams recruit) Luke Fischer will be able to play beginning Dec. 14. Wojciechowski's second score was securing the signature of 6-6 freshman forward Sandy Cohen III from Seymour, who originally committed under Williams.
The third piece was the commitment from 6-7 sophomore forward Gabe Levin from Loyola Marymount. He won't be able to play until 2015-16, however.
Along with Carlino, the Golden Eagles will have three homegrown seniors on the roster – guards Todd Mayo and Derrick Wilson and forward Juan Anderson.
Levin and Cohen are the first Wojciechowski recruits who will be with the Marquette program for several years and now the new head coach and his staff are on the lookout for the next handful of players who fit the shape of what the program will be.
"I want high character kids who want to take advantage of all that Marquette has to offer and wants to play at the highest level of college basketball and compete for championship and do special things," Wojciechowski said.
What many are wondering is what type of player the new Golden Eagles staff is going after, considering no one will see Wojciechowski's on court style until the season begins in the fall.
And what is the style he's hoping to run?
"Each year it could be different, but in a perfect world, I want to play a very aggressive, attacking style of basketball," Wojciechowski said. "I want our kids and our teams to be on the attack, both offensively and defensively. I think it's a really fun way to play. I think it's a style of play that kids want to be a part of and we're going to try to do that as soon as we can."
Outside of Carlino and Cohen III, it will be at least a year before a bulk of the roster is filled with players recruited by Wojciechowski and fit his vision of the program. That vision begins to come into focus a bit during this July evaluation period – until then, "Ultimately my job is to put the guys in a position to win now, and so, sometimes you have to do things differently until you can do that," he said.
Facebook Comments
Disclaimer: Please note that Facebook comments are posted through Facebook and cannot be approved, edited or declined by OnMilwaukee.com. The opinions expressed in Facebook comments do not necessarily reflect those of OnMilwaukee.com or its staff.