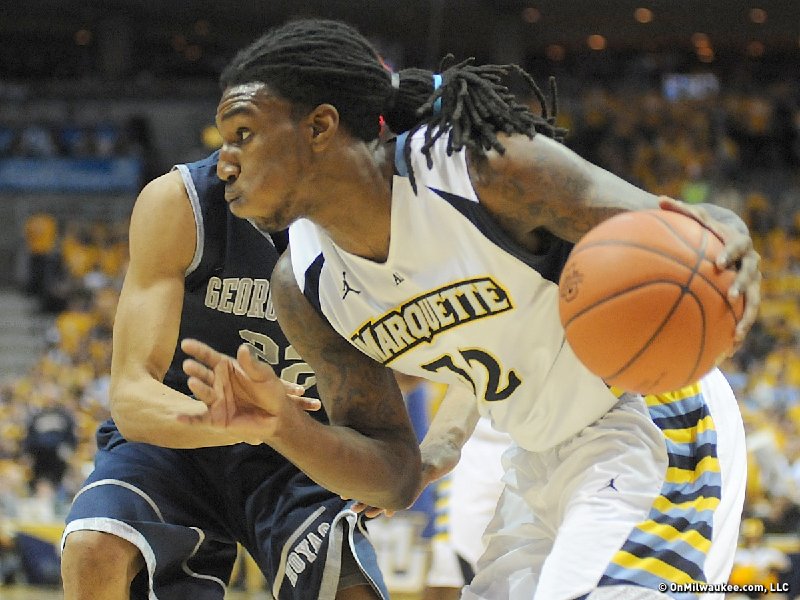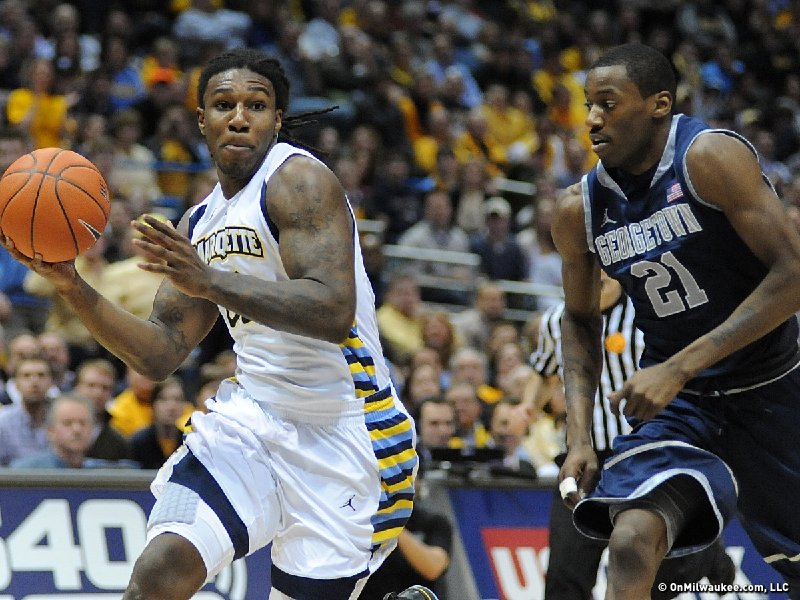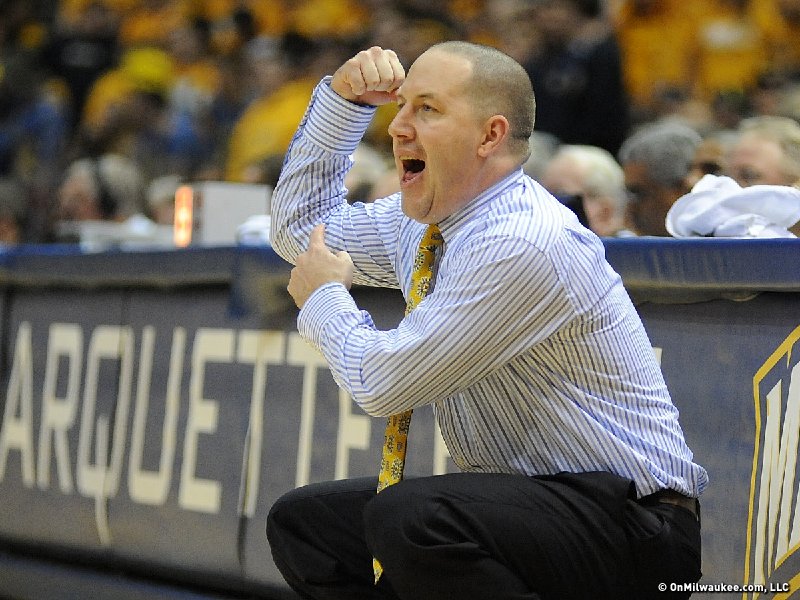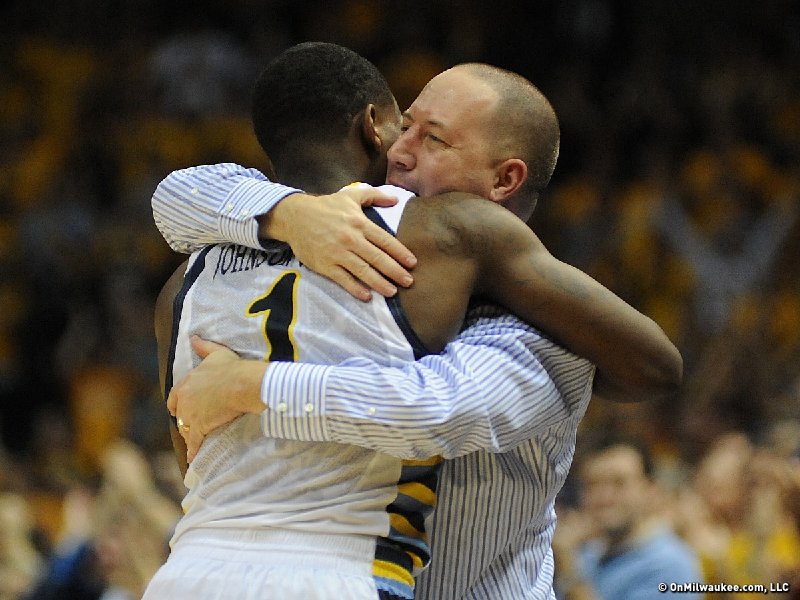 The Golden Eagles soar...even if you hadn't noticed
Marquette has one of the top ten college basketball teams in the country. Unfortunately, outside of the tightly-knit university community, it seems as if few have noticed.
Oh, the Bradley Center will sell out for Georgetown or Cincinnati and fans around town will begin to opine on how far Buzz and the boys can go in the NCAA Tournament, but when it comes right down to it, it seems Milwaukee by and large has ignored what has become a great story.
"No one cares until the brackets come out," Milwaukee's Rob Stevens, 35, says. "Has been and always will be." Stevens was born just one week after Marquette won their only NCAA Championship, and has seen the team struggle over the years in March ever since, save for 2003's Final Four run and last year's improbable appearance in the Sweet Sixteen.
"Agreed. I'll be pumped for tournament only," says Milwaukee resident Ian Tozer, 25.
"I'm waiting for the tournament," says Milwaukee's Scott Nelson.
But, there are some fans that have been salivating at the chance to see if what they have witnessed this season is for real or it is a fluke.
"Definitely excited!" says Grafton's Scott Wilterdink, 40. "Ever since Gardner went down and Buzz started pressing and trapping more, the team has been exciting to watch. They will be a force to reckon with in the tourney."
I loved watching them get the No. 2 seed in the (Big East) conference tourney," Chris Carter, 24, of Hales Corners says. "Now they need to makeit to the championship game and explode through March."
"Marquette is officially one of those teams that will choke at any time, but nobody wants to face," Stevens continued.
Of course that is true of almost any team in the upcoming NCAA's and that is part of the universal appeal of the tournament itself. But with the Big East losing traditional basketball stalwarts Pittsburgh and Syracuse in two years, the time may be at hand for a new hoops powerhouse to emerge.
At 25-6, the Golden Eagles had to endure some ups and downs early to put themselves in position to nab a high-seed in the upcoming NCAA Tournament, perhaps as high as No. 3, the same seeding the school had nine years ago.
Not to make everything a comparison of this year's Marquette squad to 2003's, but just as in that fabled year of Marquette basketball lore, the Final Four will be held in New Orleans. Of course, Hurricane Katrina postponed an earlier opportunity for the Crescent City to host college basketball's ultimate celebration, but in a twist of irony, it may have provided the impetus to Marquette's return to prominence.
Buzz Williams was an assistant at Texas A&M when Katrina devastated the Gulf region. As the University of New Orleans began to rebuild, they named the then-34 year old assistant to Billy Gillespie to head up the Privateers program. However, according to Fox Sports, Williams left after just one season because he was, according to an unnamed source, "frustrated because of financial limitations and other obstacles at the program in the aftermath of Hurricane Katrina."
So off to Marquette Williams went, first as an assistant to Tom Crean, and then as head coach when Crean left for Indiana one year later.
And while the elevation of such an unknown was panned by many when it happened, it is hard to think of where Marquette's basketball program would be without him.
But even as Williams has stepped up even Crean's frantic recruiting pace, he was doing so by reaching into what he knew best, western and Midwestern junior colleges.
First it was Jimmy Butler, then teammate Joseph Fulce from Tyler (Texas) Junior College. Dwight Buyks was a product of Indian Hills (Iowa) Community College before donning Marquette blue and gold; Darius Johnson-Odom, who was overlooked by all of the major programs in his native North Carolina, was plucked by Williams out of Hutchinson (Kan.) Community College, and fellow senior Jae Crowder, arguably the best player MU has had since Dwayne Wade, was found at Howard (Texas) Junior College.
Page 1 of 2 (view all on one page)
Next >>
Talkbacks
Midwest | March 7, 2012 at 8:59 a.m. (report)
I think the Big East, as evidenced by the selection of Crowder as POY, has noticed. Agreed, they've been fun to watch down the stretch and are capable of both extremes in the Big Dance. Note: It's Dwight "Buycks" and "Dwyane" Wade.
Facebook Comments
Disclaimer: Please note that Facebook comments are posted through Facebook and cannot be approved, edited or declined by OnMilwaukee.com. The opinions expressed in Facebook comments do not necessarily reflect those of OnMilwaukee.com or its staff.