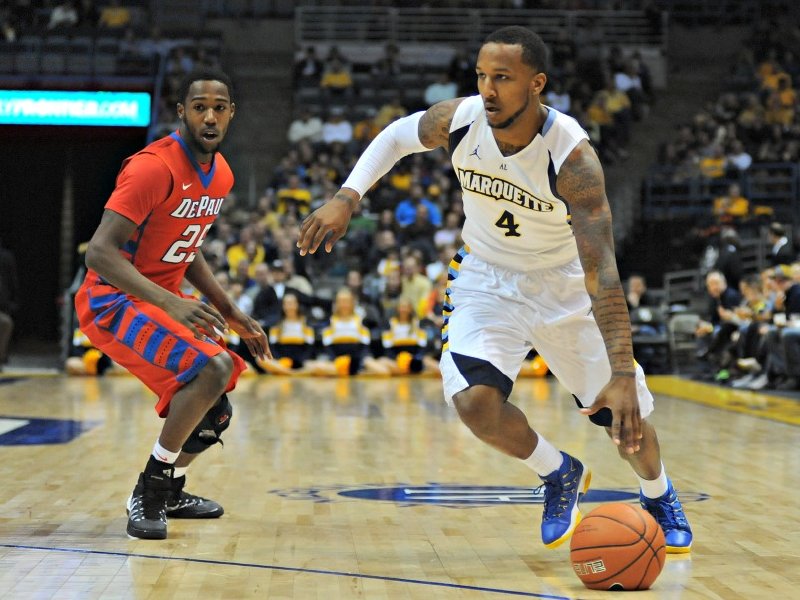 Marquette running out of time
October seems like a lifetime ago, doesn't it?
It was then that Marquette University basketball coach Buzz Williams wondered aloud why his Golden Eagles would be considered preseason Big East favorites.
"Everybody's like OK, we'll pick them," he said back in the fall. "They don't know who's on our team. If you look at our team, who's on our team? Who's on our team that's really had elite level success? The reason we're being picked is because of what was previously accomplished."
I was sitting in the Al McGuire Center that day, and I'll admit – I felt it was Williams just being a coach, a leader who didn't want his players to go into a season thinking too highly of themselves.
After all, the 2012-13 campaign was my first full year being around the program, and for that entire season he wondered how good his squad really was – all the way up to the Elite Eight.
I guess my belief in Williams' ability made me wary of his preseason concerns.
Now, here we are, about to start the final five weeks of the regular season (11 games) and the Golden Eagles are 11-9 overall and 3-4 in the new-look Big East.
Williams was definitely right. This team wasn't quite deserving of such lofty expectations.
I'm not quite ready to say mea culpa for my preseason predictions surrounding the team (namely, believing they'd be an NCAA Tournament qualifier) but you have to wonder when it's too late for a turnaround.
There are things to like, to make you believe they can make a run. For instance, the Golden Eagles have the best defense in the conference, allowing just 65.5 points per game and opponents only shoot 40 percent from the field.
Senior Davante Gardner seems to be figuring it out after a slow start, averaging 17.6 points and 6.3 rebounds per game since Big East play began. The same can be said for Todd Mayo, who is averaging 11.2 points per game in the month of January.
Unfortunately, as a whole, the team continues to struggle putting the ball in the basket. The Golden Eagles head into Thursday's conference game at the BMO Harris Bradley Center against Providence shooting just 44.8 percent on the season and a woeful 30 percent from the 3-point line.
Those percentages drop even further in Big East play (43.2 and 28.1 percent). Marquette is averaging 71.6 points per game on the year, but just 69 per game in league play.
Clearly, the Golden Eagles are not an upper echelon Big East team. But, to me, they're better than the record indicates.
Five of their losses have come against teams that are among the best in the nation – Ohio State, Wisconsin, San Diego State, Villanova and Creighton. All but Creighton have spent time ranked in the Top 10. Other losses came at the hands of 15-win teams Arizona State, Xavier and New Mexico.
Now, the loss to Butler was certainly disappointing, but I do think that nine of the team's final 11 games are winnable (Creighton, even at home, and on the road at Villanova seem a bit out of their reach), but I'm not naive.
The team hasn't won more than two in a row all year and these offensive issues aren't going to just magically go away.
But I've seen enough out of this current group to think they can score enough – they certainly can defend – and I do think Williams is crafty enough to win enough games to put this team in the NCAA Tournament bubble conversation.
The thing is, they need to start doing all of that very soon.
Talkbacks
Photodavie | Jan. 28, 2014 at 1:28 p.m. (report)
Only 2 ways to make the NCAA tournament: Win out in the regular season or win the BigEast Tournament. Odds for both are slim. However, slim odds are what Buzz does best. GO Warriors!
Facebook Comments
Disclaimer: Please note that Facebook comments are posted through Facebook and cannot be approved, edited or declined by OnMilwaukee.com. The opinions expressed in Facebook comments do not necessarily reflect those of OnMilwaukee.com or its staff.