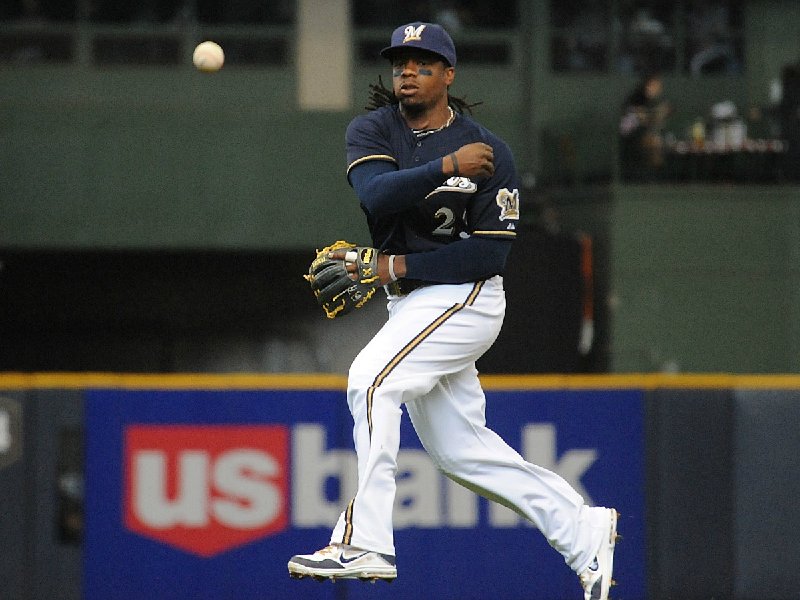 Meet your 2013 Milwaukee Brewers
The Milwaukee Brewers open the 2013 season on Monday at Miller Park against the Colorado Rockies, which is also the beginning of a six game home stand. There are a lot of familiar faces returning for The Crew, but here is your handy guide to the roster with some information that you may – or may not – already know.
Regular position players
Norichika Aoki (RF): The 31-year-old hit .288 while notching 150 hits in 151 games in his rookie year. … He never hit a home run in four years of college ball in Japan.
Carlos Gomez (CF): Speedy 27-year-old achieved career highs in average (.260), homers (19) and stolen bases (37) last season. … This is his 10th season as a professional ballplayer.
Connect: @C_Gomez27
Ryan Braun (LF): Stole his 100th career base, hit his 200th homer and collected his 1,000th career hit in 2012. ... The 29-year-old got engaged during the offseason.
Corey Hart (1B): Played his first 59 games at first base without an error. … Has nine career leadoff home runs. ... Is recovering from knee surgery and will start the year on the disabled list.
Rickie Weeks (2B): Hit .282 with 12 homers and 30 RBI in his last 65 games. … Is franchise leader in hit-by-pitches with 108, yet that ranks only 60th in MLB history.
Jean Segura (SS): Hit .264 in 44 games after being acquired in Zack Greinke deal. … Led Class A with 161 hits in 2010.
Connect: @jeansegura9
Aramis Ramirez (3B): Hit .300 with 27 homers after starting year hitting .218. … Wasn't interested in baseball until he was 13.
Jonathan Lucroy (C): The Brewers are a collective 22 games over .500 in his career when he starts behind the plate. … Only catcher in baseball history with two, 7-RBI games in a season.
Connect @JLucroy20
Key reserves
Alex Gonzalez (1B/SS): Had 15 RBI before tearing his knee on May 5. …36-year-old won a World Series in 2003. ... Will see time at first base this year.
Martin Maldonado (C): Pitchers posted a 3.87 ERA with him behind the plate. … Likes cutting hair as a hobby.
Connect: @Machete1224
Taylor Green (IF): Made 23 starts at four different positions. … Is a two-time Brewers Minor League Player of the Year (2007 and 2011). ... Will start the year on the DL.
Yuniesky Betancourt (IF): Part of the Brewers' 2011 playoff team returns to fill out an injury-depleted roster. ... Was released by Kansas City in August after appearing in just 54 games last year.
Pitchers
Yovani Gallardo: The Brewers went 22-11 when the 27-year-old started last year. … Has hit 10 career home runs.
Kyle Lohse: The 34-year-old was drafted by the Chicago Cubs in 1996 and has been traded three times for a total of four other players. ... He has appeared in 11 postseason series, throwing in 13 games.
Marco Estrada: The 29-year-old struck out 10 or more batters three times in 2012. … Played for a team called the Waikiki Beach Boys.
Mike Fiers: Notched a team best 21 1/3 scoreless innings. … Walked only 36 in over 127 innings.
Connect: @Fiers64
Chris Narveson: The 31-year-old made just two starts in 2012 before tearing rotator cuff. … Won 11 games in 2011.
Connect: @sleep_trick
Mark Rogers: Brewers went 3-4 in his starts, but was a victim of three blown saves. … Worked on his dad's lobster boat as a kid. ... Is recovering from shoulder pain and will start the year on the DL.
Tom Gorzelanny: 2012 was first full season as a reliever, had 1.33 ERA after All-Star break. … Lives in Iowa in the offseason.
Connect: @TGorz
Mike Gonzalez: Signed with the Washington Nationals in May of last year; then posted 3.03 ERA in 47 games. … 34-year-old was a 30th round draft pick by Pittsburgh in 1997.
Burke Badenhop: Last year was the first full season in the majors for the 30-year-old, posting a 3.03 ERA in 66 appearances … Holds an economics degree from Bowling Green University.
Brandon Kintzler: Made four stops in Brewers organization in 2012, finishing 3-0 with a 3.78 ERA for Brewers in 14 games. … Drove a limo for the Wynn Hotel in Las Vegas in 2009.
Jim Henderson: Struck out 45 in 30 2/3 innings with Brewers. … Was drafted by the Montreal Expos.
Connect: @JimHenderson29
John Axford: The 30-year-old closer held opponents to a .229 batting average in 2012 … Once played for a team called the Melville Millionaires in Canada.
Connect: @JohnAxford
Facebook Comments
Disclaimer: Please note that Facebook comments are posted through Facebook and cannot be approved, edited or declined by OnMilwaukee.com. The opinions expressed in Facebook comments do not necessarily reflect those of OnMilwaukee.com or its staff.