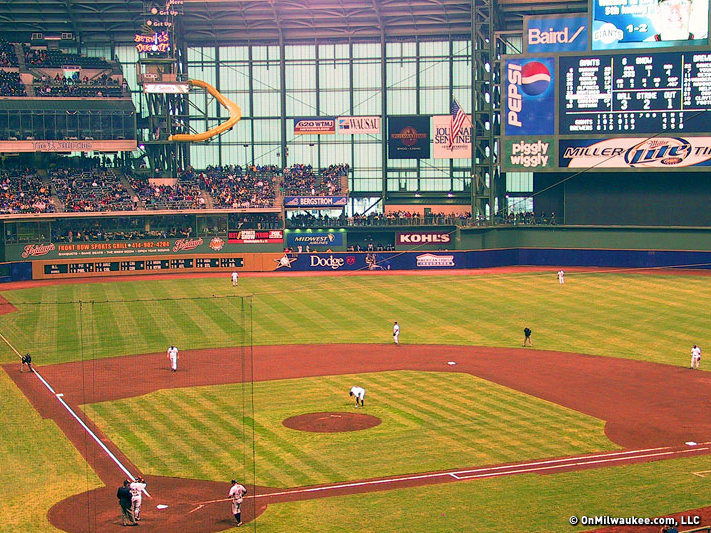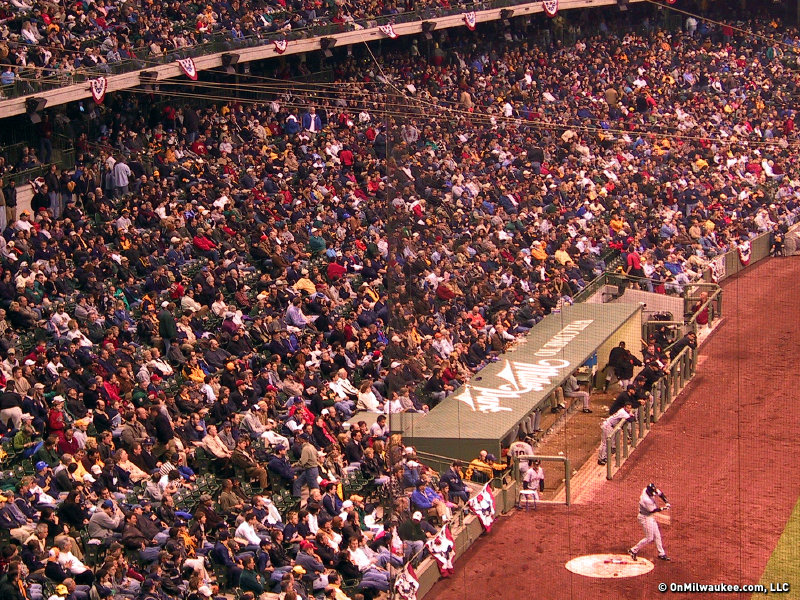 The best seat in the park
With the start of the baseball season in Milwaukee the OnMilwaukee.com editorial staff discussed the best seats in the house at Miller Park.
As you might expect, the results -- like the Brewers' play these days -- are all over the place. Thus, you won't be surprised to find that not only is there no clear winner, but that every staffer picked a completely different spot. Two, however, are partial to the Loge.
Share your favorite Miller Park perch by using the talkback feature at the bottom.
Drew Olson
Senior editor
Pick: Loge level
I spend most of my ballpark time in the press box, which provides a great view, nice amenities (lockers, free soft drinks, TV screens for replays and some awesome gallows humor), but it's a bit of a sterile environment.
For the TRUE fan experience, I like three different locations. I will list them in ascending order ...
3. For starters, I like the field bleachers in right field. Late in the construction process for Miller Park, my then-colleague Tom Haudricourt and I asked Bob Voigt, the Brewers' vice president of ticket sales, to name the best value in the new ballpark. His answer: first row of the field bleachers in right, between the foul pole and the bullpen. You're right on top of the rightfielder, it's a good view and it's only $10 per game, so it works out to just about $800 for a season ticket."
Haudricourt said: "I'd buy one of those."
I said, "So would I ..."
Within minutes, we were season ticket holders. We kept the seats for two seasons, splitting the game up and giving them to our wives, friends, relatives and even bartenders and waitresses. That first year, it was easy to get rid of the tickets. The second year, not so much. We kept the seats for two seasons -- long enough to buy tickets to the All-Star Game in 2002.
2. My second favorite location is next to "The Doorman," my friend, Mark Simons, aka "Guido" and "The Doorman." If you've watched the Brewers on TV at Miller Park, you've no doubt seen Guido and his wife, Stephanie, in their seats adjacent to the visitor's dugout. I sat with Guido last year and did a story on it. It was a great experience on many levels. First, Guido is a very loyal, knowledgeable Brewers fan. He knows every usher, umpire and season ticket holder in the lower bowl. He's a great guy. And, I got about 300 calls and text messages from friends who saw me eating peanuts with him on TV. I've done some TV work in the past, but nothing registered with as many people as my night next to Guido.
1. My all-time favorite location in the ballpark is the loge level, which is right below the press box, halfway between home and third base. The first Brewers game I attended at County Stadium, I sat in the lower grandstand and that's kind of the view I had at that game. (just a little higher). I like to look into the home dugout to see what the players and manager are doing, to watch how players react to positive and negative developments and to see who is getting ready to pinch-hit and pinch-run. The loge level is comfortable, but not quite as sterile (or as high) as the club level. You feel like you are in the general population, rather than secluded from the masses.
Bobby Tanzilo
Managing Editor
Pick: Club level
I know it means I'm old and lazy and that "true" baseball fans will scoff at my contentedness so far from the field of play, but I love the club level seats (and, no, I've never ordered food from my seat, so it's not that I enjoy being served). First of all, I'm a fan of balconies -- or more accurately, mezzanines, which are closer to the stage -- even at concert venues because they allow you to look down on all the action.
What you lose in nearness, you more than make up in sightlines and a great overview. That's what the club level seats at Miller Park afford, too. If you enjoy the ins and outs of the game, you need to be able to see more than one small corner of the field. Sure, I can't hear Prince Fielder chatting with base runners, but I can see the ball no matter where it flies. (And we all know by now that players aren't saying much worth hearing anyway.)
Next, the beer is better on club level. I can walk inside and grab a Sprecher or a Heineken or a Guinness.
Finally, because it's heated on cold days and air conditioned on hot ones, it's the perfect place for a dad with a baby or toddler. Without that feature, I'm not sure I could boast that my kid has been to dozens of games at the stadium in his first few years. If he can last longer, I can stay longer.
Andy Tarnoff
Publisher
Pick: Field infield box
I am an absolute snob when it comes to seating at Miller Park, and I'm not afraid to admit it. As a Brewers fan who grew up at County Stadium, sneaking into lower grandstand seats, I'll pretty much only sit in three places at Miller Park. My first choice is in the Field Infield Box section (or closer), along the third base side. I'll sit anywhere beyond the netting (can't catch foul balls behind it) to about third base -- specifically sections 121-123. My second choice is the reverse, along the first base side, but for some reason, I feel OK a little farther out, say sections 110-114. And of course, my third choice is inside the press box in the OnMilwaukee.com seats. The view is spectacular, though of course, no cheering is allowed in this bucolic sanctum.
I've sat all over the stadium, and frankly, I'd rather watch the game on TV than from the .300 Club, the bleachers or even a luxury box. Nothing against those seats, but I need to be up close to the action, within heckling / cheering distance.
I used to enjoy the occasional game in the old bleachers at County Stadium, but it's not the same at Miller Park. And, for all the amenities that come from the club level, it just doesn't do it for me. Higher up, forget about it -- I'll watch the game from home.
Maureen Post
Reporter
Pick: Loge
My favorite spot at Miller Park is low in the 200 level along the third base line. Ideal for sunny, Sunday afternoon games, you're high enough to have an overview of the field but low enough to feel like you're right in the game. It's definitely a toasty hot seat in the sun but that's exactly why I love it.

Molly Snyder Edler
Staff writer
Pick: Bleachers / upper deck
I really enjoy going to a game or two every season, but I admit I don't really attend Miller Park for the love of baseball. I like to tail gate, feel the buzz of team spirit and -- most of all -- people watch. That said, there's no need to break the bank on choice seats, just slide me onto a bleacher or plop me in the "nose bleed" seats and I'm perfectly fine. Just keep the Millers coming and try not to mind if I chatter in your ear about my fond memories of County Stadium or the absurdity of foam fingers. Nope, it's really not surprising that my husband usually attends games without me.
Julie Lawrence
Staff writer
Pick: County Stadium
I've been going to Brewers' games since I was a tot (I have all my parents' memorabilia -- the cups, the seat cushion -- from '82, but I'd be lying if I said I remembered anything from that age), but it's difficult for me to say whether I've enjoyed one view of the field more than others. What I can say for sure is that while Miller Park is unquestionably gorgeous, I sometimes long for the days of my youth when me and my dad would spend hours baking in the sun and frying our thighs on those metal bleacher seats at County Stadium. We were always the first section to start the wave, always the ones singing "Roll Out The Barrel" the loudest. Maybe this recollection doesn't make me the most attentive of sports fans, but it's what keep me going back to the ballgame year after year.
Facebook Comments
Disclaimer: Please note that Facebook comments are posted through Facebook and cannot be approved, edited or declined by OnMilwaukee.com. The opinions expressed in Facebook comments do not necessarily reflect those of OnMilwaukee.com or its staff.