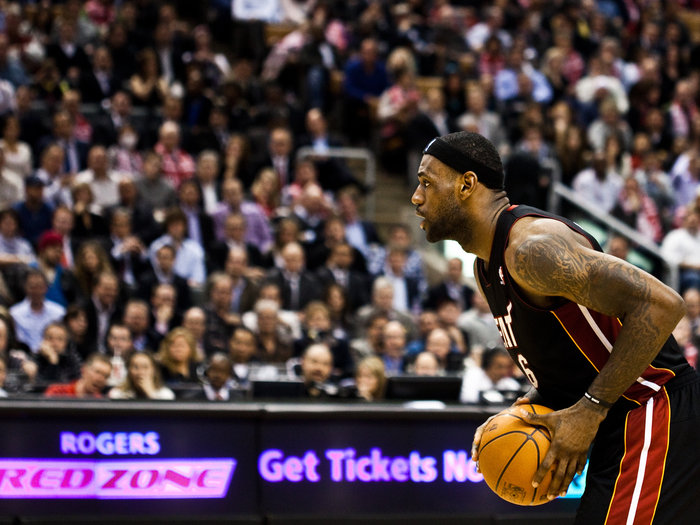 Defending LeBron James is Bucks greatest challenge
Four seasons ago, Marquis Daniels saw a different LeBron James than the one the Milwaukee Bucks are preparing to face in the first round of the Eastern Conference playoffs.
In 2010, the then-25-year-old Cleveland Cavalier was averaging about 20 field goal attempts per game (not including those that resulted in his additional 10 free throw attempts per contest) as he tried to lift the Cavs back to the NBA Finals.
Now, Daniels sees a more polished product, seasoned by two more trips to the NBA Finals and that elusive championship.
Four years ago, Daniels' Boston Celtics defeated James' Cavs in the second round. Last year, James' Heat bested the Celtics in the conference finals.
"He's letting the game come to him more," Daniels said of the difference between James then, and now. "He's posting lot more. He's not really trying to force anything. He's already a great talent so he's letting the game come to him. He's not trying to do anything."
Daniels is one of many Bucks who will be charged with getting in the way of the James freight train during the first round, a man who will likely win his fourth league Most Valuable Player award after averaging 26.8 points (on 56.5 percent shooting), 7.3 rebounds and 6.9 assists.
The 32-year-old Daniels is giving two inches, four years and 40 pounds on James, and knows how difficult a task it is to corral him. Luc Mbah a Moute, hampered by a balky knee, will likely start on James, while Larry Sanders and Ekpe Udoh may see their fair share of minutes bodying up to the most physically imposing player in the game.
"He's the best player in the world," Sanders said. "It'll take a team effort, the whole team, and the bench, and the coaches, to stop that guy. He's the key piece to their team. It's just about slowing him down. We're not going to stop him. It's just whether he's going to go 13 for 16 or he's going to go 13 for 27. That's really the difference in the game."
Mike Dunleavy, an 11-year veteran, took Sanders' assertion a step further.
"There are these three new planets out there right now that they're saying there is extra terrestrial life on it," he said with a smirk. "Maybe he's from one of those."
While 8-time All-Star Chris Bosh and 2006 Finals MVP Dwyane Wade are perfectly capable of dominating any game at any time, James is the one who presents the Bucks with its greatest challenge. The backcourt trio of J.J. Redick (6-4, 190), Monta Ellis (6-3, 185) and Brandon Jennings (6-1, 169) simply cannot defend him. That forces Boylan to utilize different, bigger options.
Unfortunately for the Bucks, James is bigger than Daniels and Mbah a Moute and weighs more than Sanders and Udoh.
How to combat that disadvantage?
"You got six fouls and you can't go home with none of them," Daniels said. "You better use 'em all. Would you rather him hit you or you hit him?"
For the Bucks, all they can try to do is make King James' crown somewhat uncomfortable, in whatever fashion that calls for, whether it's pushing the limits of physical play, contesting shots, or closing passing lanes.
"Offensively he's so difficult to contain," Dunleavy said. "If we contain him, he's always making the right plays for his teammates. They've surrounded him with great pieces. It just puts a lot of pressure on the defense. In many ways he just finds the hole in the defense and you're sort of at his mercy. So we've got to see if we can dictate and do some things that make him a little less comfortable."
Facebook Comments
Disclaimer: Please note that Facebook comments are posted through Facebook and cannot be approved, edited or declined by OnMilwaukee.com. The opinions expressed in Facebook comments do not necessarily reflect those of OnMilwaukee.com or its staff.