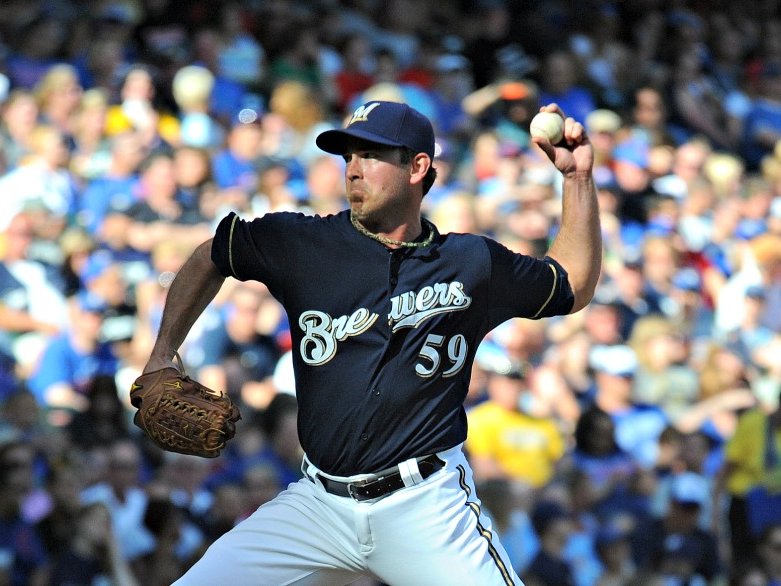 Brewers boast all-star talent across board
The Milwaukee Brewers begin their last series of the "first half" of the season tonight by hosting the St. Louis at Miller Park with the knowledge that they will have three starters in the All-Star Game next Tuesday, as Cardinals catcher – and fan-elected starter – Yadier Molina will miss the contest due to a thumb injury.
Aramis Ramirez and Carlos Gomez were elected by the fans to start at third and in the outfield, respectively, and the players picked catcher Jonathan Lucroy. Closer Francisco Rodriguez was selected by the players, too.
Perhaps late Sunday, after a handful of pitching selections make their starts, Brewers ace Kyle Lohse will also be named to his first midsummer classic.
If Lohse does not make the team at the last moment, the current Brewers clubhouse will feature nine different players who have an all-star selection on their resume.
"They definitely put together a good roster here and I think the performance on the field has really spoken for itself, even in this tough stretch that we've had here lately – it's been all close games," said Brewers reliever Zach Duke, a 2009 all-star while in Pittsburgh. "We're a hit or two away from winning all those games. It just goes to show you that the talent is here and there is a lot of good players."
Now, skeptics might say that doesn't mean much, that it's a "first half" award, and not an indicator of career-long success.
That may be true, but at the very least, it shows the potential of the athlete named – that any given point, he can be one of the best players in his league at his position.
So with 36 percent of the current 25-man roster having an all-star tag hung on him, perhaps it should be no surprise that the Brewers begin play tonight with the National League's best record.
"As teammates we recognize that a lot of times individual accolades are a result of team success, so the fact that the team has played so well, the fact that we've been consistently competitive, puts us in a position where we're able to have multiple guys go to All-Star Games," said Ryan Braun, a five-time all-star.
Good teams have good players, naturally, but when you look around the league you might not assume the Brewers have as many all-stars as Cincinnati and San Francisco, and one more than the Cardinals and the Atlanta Braves.
But then again, perhaps you should assume it. Of the eight teams in the National League that have a winning record, all have at least eight former or current all-stars on their roster.
The Los Angeles Dodgers, with a 2014 payroll of $235,295,219, has 14. Pittsburgh and Washington are tied for second with 10 all-stars apiece.
All told, the Brewers, Reds, Cardinals and Pirates have 36 players with at least one all-star selection on their rosters.
Does this explain why, since 2011, those four teams have four of the top 10 records in the NL? That their collective winning percentage is 53.5 percent?
"I guess it does make sense, but I don't think guys really look at that," said Brewers second baseman Rickie Weeks, a 2011 all-star. "We know what kind of guys we have. Obviously the media might pick out, like, OK, these guys really are good because they've got guys who have been there before and stuff like that but for us, we really don't look at stuff like that."
In fact, what they do look at is who isn't joining Ramirez, Lucroy, Rodriguez and Gomez in Minnesota this year.
"We have a couple players who deserve to be there," Gomez said. "You guys know – Will Smith has been doing great. Zach Duke. And Lohse. I think those players (are) deserving. But, it's tough decision because a lot of players have been doing so good this year and it is what it is.
"We happy we have four represented the all-star and that's all we got right now. We have to continue and go to the All-Star (Game) and represent the Milwaukee Brewers and the National League to take (home field) advantage to the World Series."
Ah yes, home field advantage in the fall classic.
It matters, and the players know it. While this recent slump has many outside the clubhouse wondering not only what's wrong, but who may need to be replaced to stop it.
But that's not how this team thinks.
"I don't care what kind of situation a team is in, but I'm sure the media can kind of pull out, or dig deep, and find something about a team that can (compare) to other things, but for us, I think the biggest thing for us, is knowing what we have," Weeks said. "A lot of times you might go through a situation where they don't have this, they don't have that, but as long as we know we have it, that's all it matters."
"That's the main thing – we know that guys are capable of getting the job done and when the game's on the line we know who we want in there and who we're all trusting," Duke added.
"That means more than any of the recognition or anything like that."
Facebook Comments
Disclaimer: Please note that Facebook comments are posted through Facebook and cannot be approved, edited or declined by OnMilwaukee.com. The opinions expressed in Facebook comments do not necessarily reflect those of OnMilwaukee.com or its staff.