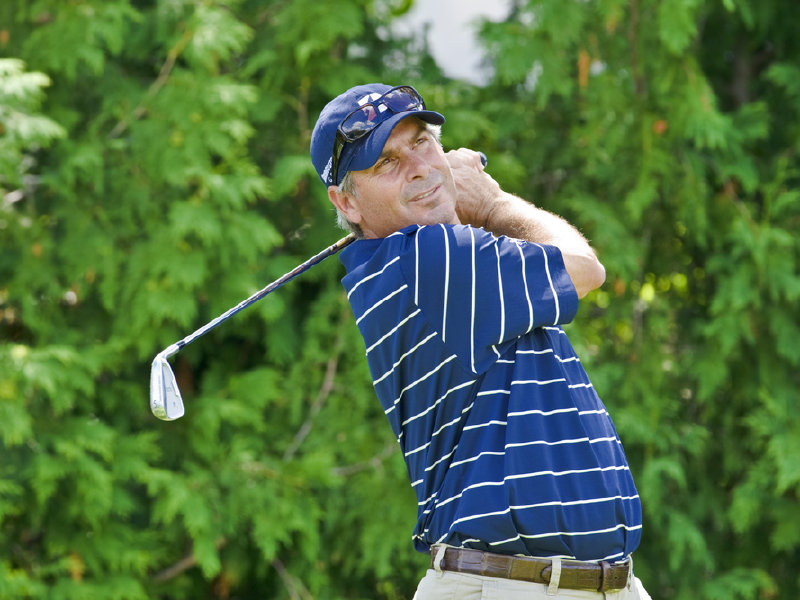 Champions, LPGA tours perfect fit for Milwaukee
Believe it or not, this summer marks the 15th anniversary of Wisconsin becoming the Midwestern hub of professional golf major championships.
We gave a lot of attention – and rightfully so – to the U.S. Women's Open return to Blackwolf Run last summer, but it was the event in 1998 that got the ball rolling.
Since that tournament, the state has hosted four more major championships on the men's tour, the men's senior circuit, and the women's tour. On the schedule are two more men's championships in the next four years, along with a Ryder Cup in 2020.
It's no wonder then that the PGA Tour has not – and likely will not – come back to the state since the U.S. Bank folded in 2009.
But that doesn't mean there isn't room for the Champions Tour or the LPGA Tour.
In advance of this weekend's inaugural Encompass Championship just 74 miles south in Glenview, Ill. Champions Tour president Mark Stevens said he would naturally want an event in Milwaukee or Wisconsin.
So does LPGA Tour commissioner Mike Whan.
"There are four or five markets where we've said, internally, are frustrating that we haven't figure out how to tackle and Milwaukee is high on that list," he told OnMilwaukee.com.
"It's a great golfing town, we've proven it and so has the PGA Tour. We've been there. It's a perfect sized market for us. It's the kind of market where I could view after five or six years the LPGA Tour playing there all of our players would stay with people in their houses and volunteer's homes. It's got that kind of great, hometown sports feel. It's big enough to be big time on the national stage and small enough to have the hometown feel when we play there. So, it's one of those markets where I'm surprised we haven't had more things come to the table.
"But to be real honest with you, but we don't necessarily circle a bunch of markets on the map and say 'go.' That's the part of it that's customer-focused. You've got to play where the customer needs you."
And, like with any professional golf tournament, is the most important thing – the customer (read: sponsor).
"The truth is, we tend to follow the sponsor first and a location second," Whan said. "I need to play where the title sponsor tells me it's most important for their business. Sometimes it's their home town, sometimes it's where their top customer is, sometimes it's where they're expanding their business. I'm driven by where I can do the most value for the sponsor."
While a sponsor does need to come up with millions of dollars to host an event, as well as find a course willing and able to do so, it costs much, much less than putting on a PGA Tour stop.
We've been on record saying the state, and several local potential title sponsors, should attach their brand to an LPGA Tour stop in or around Milwaukee, but as time marches on the Champions Tour might prove to be the first to plant a flag.
Fred Couples, Rocco Mediate, Tom Lehman, Peter Jacobsen, Hale Irwin, Tom Kite and Nick Price are teeing it up this weekend at North Shore Country Club just outside of Chicago and let's face it – that's legitimate "star" power to bring in such a sponsor.
But when it comes to a Champions Tour event, it's not about the present.
The earliest a Champions Tour event could come to Wisconsin would be 2014, but unless contracts have already been secretly signed, or are about to be, it looks more like 2015 would be the soonest the "seniors" would tee it up.
It would also likely have to be played in the Madison area, which would be far enough away from the major championships taking place just north of Milwaukee in 2015 and 2017.
It's a perfect time to set up a new Champions Tour event. Former Greater Milwaukee Open winner Kenny Perry is already on the tour, as is former U.S. Bank Championship winner Corey Pavin.
Vijay Singh, winner of the 2004 PGA Championship at Whistling Straits, is already 50. At 52 or 53, he may be more committed to the Champions Tour schedule.
Other players who will be 50 when the calendar flips to 2015 will be two-time U.S. Open champion Lee Janzen and 1997 PGA Champion Davis Love III. So will Milwaukee native Skip Kendall and the affable two-time Tour winner Paul Goydos.
Andy North will be 65 in the summer of '15, but you better believe the two-time U.S. Open champion from Monona will tee it up to support the event.
That would give the tournament a huge head start, with 2004 British Open champion Todd Hamilton and Appleton native J.P. Hayes eligible for 2016, along with two-time major champion and fan favorite John Daly.
Then, the heavy hitters of Wisconsin golf would be participating in 2017 – Madison's Jerry Kelly and Steve Stricker.
Most tournament contracts are signed for three or four years. This timeline would not only allow for that, but then sets up the possibility of growth and renewal right after Kelly and Stricker get more involved.
It's not a long shot to think the state can support a yearly event on the Champions or LPGA tours, even with many corporate dollars already committed to the upcoming major championships. It's a big state, and there are plenty of companies based here or nationally who are always looking to further promote their brands.
And, Champions and LPGA Tour players are much more engaged with fans and sponsors, so they'll get more bang for their buck.
It just seems that now the time is right to lay the foundation.
Facebook Comments
Disclaimer: Please note that Facebook comments are posted through Facebook and cannot be approved, edited or declined by OnMilwaukee.com. The opinions expressed in Facebook comments do not necessarily reflect those of OnMilwaukee.com or its staff.