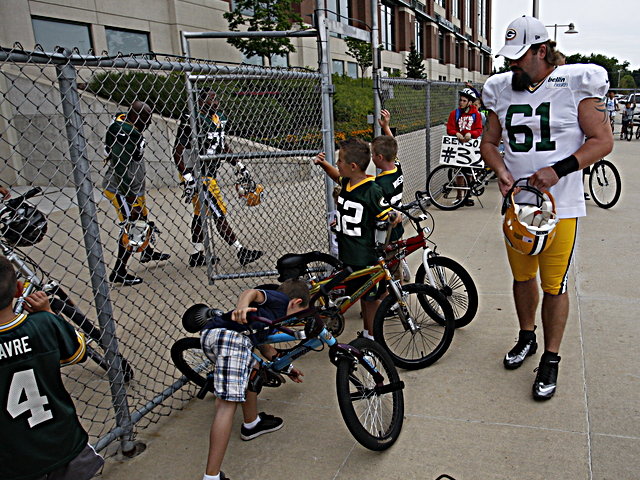 Milwaukee Talks: Packers long snapper Brett Goode
The Green Bay Packers head into the 2012 NFL playoffs having rallied from a tough 2-3 start to win the NFC North and host the Minnesota Vikings on Saturday night at Lambeau Field on Saturday night.
As we head into "wildcard weekend," OnMilwaukee.com caught up with a key member of the Packers' special teams unit – long snapper Brett Goode – for this installment of Milwaukee Talks.
Goode, who signed a 3-year contract extension in October, has been with the Packers for five seasons. The 28-year-old Arkansas native talks about his love of "red dirt" music, dive bars, Bret Bielema and whether or not it's true the Packers really pulled him off a job pouring concrete to sign him.
OnMilwaukee.com: On punt returns, you're a part of the defense after snapping the ball. What goes into your coverage duties?
Brett Goode: Yeah, I notice 'em. The biggest thing for me is just making sure I get down the field and fill my fill lane to help the coverage team out. There's a lot of times where I'm down there and somebody else makes a tackle and I think a lot of people would agree that you want those guys to make those tackles more.
The biggest thing is snapping and blocking and if I'm able to pick for one of the guards to allow them to get out in coverage faster, obviously I'm going to do that first. The big key is to get down there and shut down the running lanes for the returner to be able to run and just make my presence known down there. I've seen sometimes guys make tackles but at the same time it's a 40-yard return and you don't really want to be a part of that group either. The biggest key is just getting down there. Kind of like in kickoff coverage, making sure I'm in that fill lane and making a returner run sideways to one of my teammates.
OMC: Of the 11 tackles you've been involved in, any memorable ones?
BG: I remember one that I had in Pittsburgh, one that I kind of timed it up perfectly. It was one of the few times right as he's catching the ball. I remember the fumble recovery I had against the Texans (in 2008 that allowed the Packers to tie the game). That was my first year and that was obviously a big moment for me. I remember a couple here and there but for the most part I see what I do wrong and see what I do right and try and make it better coverage next time.
OMC: At the high school level there seems to be more specialization with long snapping. Did you see a future in football as a long snapper like that, or did you fall into it?
BG: I definitely see it as a way for younger guys to make an opportunity. Me personally, I did it in eighth grade just because we needed somebody and I wanted to play on the ninth grade team because they traveled. I was playing linebacker at the time and just started doing that so I could travel with the team and then just did it all three years in high school, as well. Went into high school playing linebacker my sophomore year and then moved to center my junior and senior year. Definitely didn't think a whole lot about it. Just started off trying to make the travel squad and then it kind of progressed from there throughout my career in high school.
Then I started getting interest from teams and once Arkansas started talking to me that was a no-brainer. I really wanted to go there. That was a lifelong dream to be able to do that so once they gave me the opportunity to walk on I accepted that immediately.
OMC: You're involved in youth camps quite often – will you point that out to kids that this unique skill can get you on the field or onto a college team?
BG: Whenever I help guys out back home there aren't a lot of guys in my hometown that know how to coach it and teach it, so I'm just trying to give back because I was able to be coached by a guy who played in college. I was blessed to be taught by him on the techniques and everything. I'm just trying to give back because there's not a lot of people that know about that.
In high school, it's rare that you see a lot of people that teach kicking and punting as well. That's the thing about high school, you're trying to help them improve their special teams because being at this level you know how important it is special teams wise to have a good special teams. That's the thing is trying to push that back home.
OMC: Speaking of back home, Arkansas made a big move by hiring away Wisconsin coach Bret Bielema. As a proud alumnus, yet as a player here in Wisconsin, what was it like to watch that unfold?
BG: I was actually vacuuming. I was in my house cleaning up and I just had ESPN on – I like to have something, music, in the background just so it's not dead quiet – and I saw the crawl across the screen. I saw it on Twitter and started looking it up and sure enough he had been hired. I was excited. I think he's a great fit for Arkansas and I think that he can really turn that program around and I think that his leadership qualities will help the young men down there and help him succeed.
OMC: I know you're playing when the Badgers are playing, but any chance you had met him before?
BG: You know, the only time I've ever seen him in person was my last college game when Arkansas played Wisconsin in the Capital One Bowl. I wouldn't consider it running in to him but that was the only time I've been in the same area as him that I know of.
Page 1 of 2 (view all on one page)
Next >>
Facebook Comments
Disclaimer: Please note that Facebook comments are posted through Facebook and cannot be approved, edited or declined by OnMilwaukee.com. The opinions expressed in Facebook comments do not necessarily reflect those of OnMilwaukee.com or its staff.