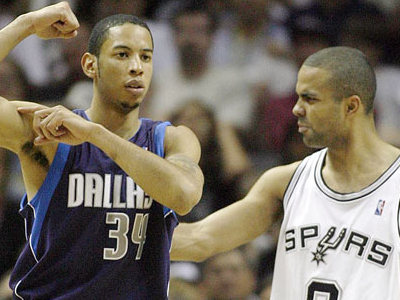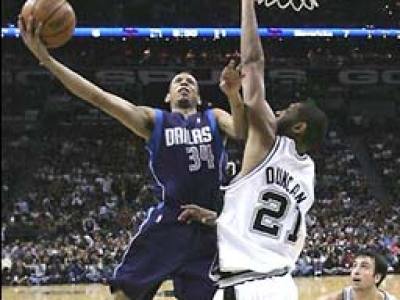 Milwaukee Talks: Dallas Mavericks guard Devin Harris
Life is good for Devin Harris.

It might get better very soon. Harris, the 23-year-old Milwaukee native who played his high school basketball at Tosa East and his college basketball at the University of Wisconsin, is considered a rising star in the National Basketball Association. Entering his third season with the defending Western Conference champion Dallas Mavericks, Harris was one of the big reasons why the Mavericks advanced to the NBA Finals for the first time in franchise history in June. In the championship series, Dallas was up on Miami, two games to none, and led by 13 late in the third game. It looked like a possible sweep. But, the Heat came back to win Game 3 and the title, four games to two.

Harris' athleticism helped the Mavericks get past San Antonio in the playoffs, but he's not a finished product. His shooting is still a work in progress. Harris was at the Bradley Center Saturday night, resting his hamstrings as the Mavericks lost a preseason game to the Bucks. Before the contest, Harris reflected on his young pro career and what motivates him.

Enjoy this Milwaukee Talks interview with Devin Harris.

OMC: You might have been the difference in the Spurs series. How much did you grow from the whole playoff experience?

DH: It helped me tremendously, my confidence and just understanding that playoff basketball is a whole different level. To learn that on that stage and being in only my second season, it really helped me blossom and take a positive step.

OMC: How do you compare playing in the NBA Finals with playing in the NCAA tournament?

DH: You got one game in the NCAA tournament. In a series, you got best of seven. Even if you lose a couple of games, you got a chance to rebound. We came out really strong in the Finals but we faltered in the last four.

OMC: Do you still have flashbacks form the NBA Finals?

DH: Game 3 and Game 5. Those really stick out as games we could have won. We really didn't execute toward the end. Until you start the next season, it's something you continue to think about.

OMC: This year, is it a matter of "win it all or bust?" Is anything less than a title a disappointment?

DH: Pretty much. We've focused in on all of the goals. We completed every one last year besides the ultimate one and we just really want to finish what we started. That's the motto of the season.

OMC: Do you feel like now you're no longer a young pup or the young kid, that you're an established pro now?

DH: I would hope so but I'm still learning. I'm only in my third year and hopefully I'm going to get a lot better. Obviously, I took some positive steps in the right direction.

OMC: I read somewhere that this summer you spent a ton of time practicing shooting.

DH: Yeah, just really focusing in on the shots that I get in the game to make sure that I'm comfortable with those shots and be comfortable that I can make them at any time at any point in the game.

OMC: How do the Mavericks view using you this year? I know Avery Johnson has talked about using Jason Terry more at shooting guard so the starting point guard job is open.

DH: We're an up-tempo team and when Jason and I are in the game, we really can push the tempo. We're two of the quickest guards in the league. But we have a deep team and we have a lot of options.

OMC: How often do you stay in touch with Coach Ryan? (Bo Ryan at Wisconsin)

DH: I just got off the phone with him not too long ago. We talk probably once or twice a week.

OMC: What do you talk about? Is it more 'How are you doing?' or is it basketball?

DH: Both. Check in with the family, see how they're doing. This summer, we talked a lot about how to handle his situation and what I think about him running certain things, changing up a little bit. He kind of trusts me with my basketball IQ, about making different changes.

OMC: When you come back here, I'm sure you spend a little bit of time in Wauwatosa. You're a big deal now. Is that uncomfortable or do you like that feeling?

DH: I don't even worry about it. I just go out and do what I do. I can't worry about feeling uncomfortable. I'm comfortable with myself, so I just really live and don't worry about the things that are around me.

OMC: How do you not change when the circumstances change so much around you?

DH: You just gotta stay focused as a person and know what you're about and not lose yourself. Just be yourself.

OMC: What advice would you give to young kids playing basketball in this area? They're wearing your jersey and they want to be the next Devin Harris. What would you say to them?

DH: Just continue to work hard. Believe in yourself. Focus in on what you gotta do. It takes a lot of sacrifice and a lot of hard work.
scwefcdu
Talkbacks
OMCreader | Oct. 20, 2006 at 6:51 p.m. (report)
Skippy said: The real question: how did "Coach" Haas fail to get the Tosa East team that had Harris and Scott Merritt to state?
OMCreader | Oct. 18, 2006 at 8:57 a.m. (report)
Chris said: Devin Harris was also an All State volleyball player while at Tosa East.
scwefcdu
Facebook Comments
Disclaimer: Please note that Facebook comments are posted through Facebook and cannot be approved, edited or declined by OnMilwaukee.com. The opinions expressed in Facebook comments do not necessarily reflect those of OnMilwaukee.com or its staff.