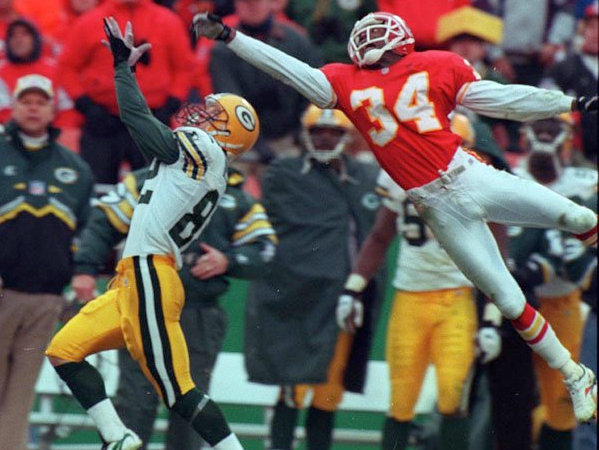 Milwaukee Talks: Former Green Bay Packers receiver Don Beebe
Training camp is just a few months away for the Green Bay Packers, and when the 2012 season officially gets underway it will mark 15 years since Don Beebe retired from the National Football League.
Fifteen years.
It doesn't seem that long ago when the Packers appeared in the second of back-to-back Super Bowls. It was a record sixth Super Bowl appearance for the speedy receiver from Aurora, lllinois, and he remains just one of two players to have ever been involved in that many.
I've gotten to know Beebe fairly well over the years, as he has been the head coach at Aurora Christian High School, a tiny, private school in Aurora that won the first state football championship in that city's history last November.
It seemed appropriate to catch up with the man known affectionately as "Beebs" by his teammates for this edition of Milwaukee Talks, considering the upcoming anniversary of the 1997 season and the fact that his life story may be coming to a theater near you.
After spending the weekend on the West Coast pitching his story to producers, Beebe took some time to chat before taking advantage of the weather and playing golf at Whitetail Ridge Golf Club in Yorkville, Ill. to catch us up on what he's been doing since leaving the game.
OnMilwaukee.com: You were out in California last week pitching a movie about your life?
Don Beebe: They were blown away by the story and they just loved it. They're right now in the works of getting some funding and I think they really want to try and put this thing together. We'll see where it goes. The book is going to come out sometime by May.
I could be the next Rudy I guess (laughs). But for me, I just want to use it as a platform to tell people about my faith and about never giving up and all those cliché'd things I've been fortunate to live. That's kind of my passion and where I want to take that.
OMC: The game of football seems to lend itself to these stories, like Rudy and Invincible.
DB: One of the guys I sat across from, from a publishing standpoint for the book, was the guy who actually did Rudy's book, David Dunham. David and the owner of (The Dunham Group, Inc.) leaned across the table after I told then my story – I talked to them for about an hour - and says 'This is way better than Rudy.' I said 'What are you talking about?' and he said 'Understand Rudy played one down – you actually made it. You actually did it. That is so much more appealing.'
The same thing with Invincible. I know Vince Papale and we've shared stories with each other and he even was like 'Oh my gosh, this is ridiculous.' The other thing they said was your story applies to everybody. Yeah, it's a faith-based story so it'll apply to the Christian sector, but you're every construction guy in America, the 5-11 white guy. You're that guy that never gave up and what everybody strives to do but sometimes can't. He says 'You're that guy.' 'You're a common man,' is what he said, and that is true.
I don't think of myself any different than anybody else. I don't look like a pro athlete. I could walk through a restaurant and they'll say 'He ain't no pro athlete' – unless I'm in Green Bay or Buffalo. It does have that appeal to have people go see it because they're living it.
It's certainly in its infant stages, but it's certainly one that has some momentum behind now.
OMC: You're entering your ninth season as the volunteer head coach for Aurora Christian. How long do you see yourself continuing on?
DB: I have always been a year-to-year guy. I'm getting that question a lot, with 'Well (son) Chad is going to be a senior, are you going to be done?' Well, if that was the case, if I was going to coach for Chad, why did I start eight years ago? I would've taken it up three years ago or just before he got in. That was never my motive. My motive was to impact kids and the school and community. That still is my mission. Until that mission changes, I'm not going anywhere.
There have been many opportunities I've had over the years to go professionally or collegiately, but I've turned them all down. I've had three more offers this offseason and I turned them down. I just feel like until God calls me away from Aurora Christian, I'm not going to go anywhere.
OMC: When Aurora Christian won the state title in November, you said it was a more fulfilling accomplishment than winning the Super Bowl with the Packers. Can you expound on that?
DB: My thoughts haven't really changed a lot in that winning a Super Bowl in a Green bay Packer uniform as a professional athlete in that community and state, it doesn't get any bigger than that from a professional standpoint. But, from a spiritual standpoint, from an impacting a community and kids standpoint, I don't think there's anything bigger than what we accomplished at Aurora Christian. I don't.
I have seen so many people, even outside the school, their lives just changed in seeing the euphoria in kids and parents and the school and community and that can't be matched by a professional sport from my perspective.
My perspective is that it's all about me as a player. Look at what I accomplished, look at this huge ring and all those things, which was a great accomplishment, don't get me wrong, but when you impact people outside of yourself – that's way more powerful. So those feelings are way more lasting for me.
And that team, no matter what – we'll have a reunion in 30 years and people around Aurora forever are going to talk about how Aurora Christian in 2011 was the first team ever. They can never take that away. Nobody can ever take that away from you. That in itself is a huge accomplishment when you're first. It'll always be talked about. It's a great thing.
OMC: I've got to tell you this story - you got me out of a speeding ticket one time. We had just finished talking when I was pulled over, and the police officer said he could tell I was in a pretty serious conversation. So I name dropped you and he said "Don Beebe? Be careful next time. Everyone loves Don up here."
What has that been like for you, to have that impact on people in Wisconsin?
DB: That's hilarious (laughs). You kind of really hit on what really I'm all about, what people should be all about in respect to relationships and just treating people with professionalism and just a kind manner.
It has nothing to do with me. I don't get credit for it because without my faith in Christ it's impossible to act that way because you get so mad and angry sometimes you just lash out and you don't want to sign autographs and just say 'screw you.' In the midst of all of those emotions, that even I have – we all get there – but I'm able to be mature in my Walk and say 'You know what, life is just different.' That's attractive to people. They admire that.
So my relationship with Packer people – that's the way I played, coming across the people and getting your head knocked off and catch the ball and walk back to the huddle – that's blue collar stuff. People love that stuff. What they hate is the guy who has all the talent in the world and it's all about them, and they walk around and they don't want to sign autographs because their agent told them not to. What's that? I don't look at myself as better than other people. I look at myself as we're all in this boat together man and so I think because of that, that's enduring to people, that's attractive.
I've got a lot of great relationships. I don't think I've ever, in a public arena, have ever turned anybody away or was mean to anybody because it's just not right. I'm always swilling to lend a helping hand, be nice to somebody, take a kid aside and try to help them in their Walk and I think people love that.
Page 1 of 2 (view all on one page)
Next >>
Talkbacks
sandstorm | March 21, 2012 at 9:58 a.m. (report)
"I don't get credit for it because without my faith in Christ it's impossible to act that way because you get so mad and angry sometimes you just lash out and you don't want to sign autographs and just say 'screw you.' " i know plenty of non-christians who don't act like a-holes. the fact that bible thumpers like Beebe and Tebow think it's impossible to act responsibly without "christ in your life" is very condescending.
Facebook Comments
Disclaimer: Please note that Facebook comments are posted through Facebook and cannot be approved, edited or declined by OnMilwaukee.com. The opinions expressed in Facebook comments do not necessarily reflect those of OnMilwaukee.com or its staff.