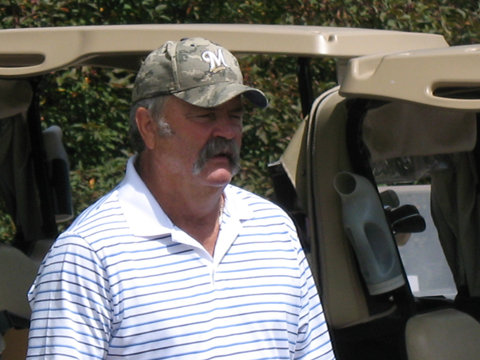 Milwaukee Talks: Gorman Thomas
OnMilwaukee.com catches up with one of the most popular Milwaukee Brewers of all time in Gorman Thomas, who talks about the 30-year anniversary of the 1982 American League Championship team, his love for the city of Milwaukee and the hard feelings he still has about what happened in 1983.
OnMilwaukee.com: Here we are in 2012, a nice round number removed from the 1982 American League Champion Milwaukee Brewers. What do you remember about that season, 30 years later?
Gorman Thomas: I remember a lot about it. I really do. When I say remember a lot, it's not something I did, it's something the team did. We floundered early then we picked up a head of steam. When you're playing during the course of a season, you really don't pay attention to what's going on around you. You show up at the ball park, you focus.
I was on Jack Clark's radio show down in St. Louis and they're doing the same thing, a 30-year celebration, and his show was focused on that we were talking about things that were memorable and basically, the memories that I have, were basically the last part of the season. We're going to Baltimore, we've got a three-game lead and we lose the first three games and we had to win the fourth game to win our division. Then we fly to California and we lose the first two and then we come back and win the next three here. Then we get into the World Series and you get so wound up and so intense you really don't know what's going on.
I remember my first time at bat, I remember getting a game winning hit, I remember catching a fly ball in center field and my knee kind of buckled and two runs scored. I remember two outs in the top of the ninth inning against (Bruce) Sutter and I fouled off four, five, six pitches and I finally strike out on a high fastball. Basically, that's about all I remember of the season. There were never really any high notes, never really any low notes because you just play the game each and every day. You get nine innings to play and you try and focus on that.
Robin had a sensational year for us. Molly (Paul Molitor), I don't know what he hit – he probably hit .330. CC (Cecil Cooper) probably hit in the high .300s as well. And Benjy (Ben Ogilvie), Teddy Simmons, Don Money, Jimmy Gantner, Charlie Moore. And all the pitching staff – (Mike) Caldwell, (Jim) Slaton, Vuke (Pete Vuckovich), Dwight Bernard, Jamie Easterly, Doc Medich, Bobby McClure – it's like it was yesterday. Not 30 years. A lot of great memories. We had a great team. We really had a great team. It's just unfortunate we didn't win.
That's the sour note about it all. Then I get traded in June the next year – that's a whole other ball of wax.
OMC: Three decades later, can you watch that last at-bat in the World Series against Sutter?
GT: I've never seen it. I've never seen it. The only reason I remember it is because I still remember seeing that fastball because I was looking for that split finger because he had a great one. Then I'm always reminded of it by a good friend of mine Kenny Reitz. He played with San Francisco, the Cubs and also St. Louis. And he says "Hey Gorm, hey Gorm – every time I walk by the front offices of Busch Stadium there's this big picture of you swinging at the last pitch and striking out at the end of the World Series." He says, "Man that's great – I see your ass every day!" Kenny, you know what, we don't need to bring that up all the time. That's the only reason why it's vivid in my mind."
OMC: What else sticks out to you about that '82 season?
GT: I remember Robin hitting two home runs against Baltimore in the fourth game. I remember Pete Ladd, more or less taking the bull by the horns and filling in for (Rollie) Fingers is not really the right way I want to say this, but they said, here, we need somebody to step up and be the closer. And Pete Ladd filled it perfectly. Then the unsung guys like I mentioned earlier, they all did what they did and they all did it magnificently. As it turned out, we came down to game 162 and if they hadn't had done what they did, we wouldn't have gotten there.
It was a great bunch of guys. People get tired of hearing that but it's true story. It's a true story. You had 25 guys and a coaching staff ... I saw one of our coaches, Ron Hanson in Baltimore and I hadn't seen him in years and it was like we hadn't skipped a beat. We had 25 guys, coaching staff, training staff, front office staff, the ownership – it was fantastic. It was fantastic. It was just great. You looked forward to going to the ballpark.
Nobody came in dragging in late. Nobody was a prima donna. Everybody was just one of the guys and we never had anybody that was really outspoken. You almost had to pry interviews out of us. Low key. Under the radar if you will. That's why we were successful. I think from '78 and '82, with the exception of the strike year in '81, we won over 90 games. We were a damn good team.
It was so much fun just to come to the ballpark. I couldn't wait to get here. And after the game was over, we didn't leave. We'd hang out, two hours after the game, we'd have a couple cola's and just talk about the game. It was absolute great experience. I miss it. I really do. The camaraderie. The silliness, the stupid little things we would do just for fun. It was fun. I can't embellish it too much for you. It was great. Just great.
Page 1 of 2 (view all on one page)
Next >>
substbzctuzzdavxqfuruvudfeu
Talkbacks
Anon | July 13, 2012 at 12:03 p.m. (report)
Stormin' Gorman, nuff said. If anyone doubts the excellence of those years go to http://www.baseball-reference.com/leagues/AL/1982.shtml and compare team stats. I have to cry when I think of the infield group back then compared to today (what is an error today?). Just a really solid ball club in all facets playing for the love of the game. Now we have phoney money "talent pay" but not much talent because the focus is gone.
Facebook Comments
Disclaimer: Please note that Facebook comments are posted through Facebook and cannot be approved, edited or declined by OnMilwaukee.com. The opinions expressed in Facebook comments do not necessarily reflect those of OnMilwaukee.com or its staff.