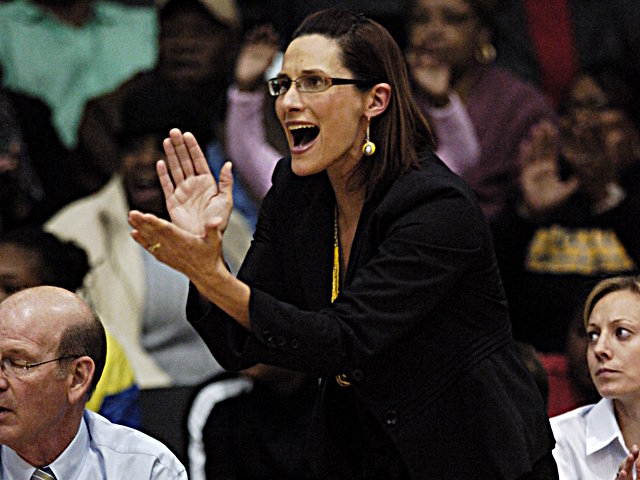 Milwaukee Talks: UWM women's coach Kyle Rechlicz
Kyle Rechlicz is two games into her career as the new University of Wisconsin-Milwaukee women's basketball coach, a career that began with a 82-58 victory over Chicago State in her first game. The Panthers other contest was a 74-56 loss on Sunday to Rechlicz's alma mater, the University of Wisconsin. She came to UWM from the Badgers staff, where she made a name for herself as a recruiter.
As a player at Wisconsin, Rechlicz was a co-captain and helped the Badgers to two NCAA tournament appearances.
This is her first head coaching job, and OnMilwaukee.com caught up with Rechlicz to talk about taking over a program, dealing with the loss of players, and the spot in Milwaukee she took prospective assistant coaches in an effort to lure them onto her staff.
OnMilwaukee.com: What's the most exciting part about being a head coach?
Kyle Rechlicz: It's really exciting to put my own perspective on a team. Every player that I've ever worked with in my college coaching has worked really hard for me but now it's our program, it's my staff's program, and we're putting our own little flavor on it. And to have a team that works as hard as our girls do I think sets the bar very high as far as where our expectations are at.
OMC: As a new coach coming in, the players that are here have concerns about that ...
KR: Oh, yeah.
OMC: So what was that like in the first meetings with the team.
KR: Yeah. For me, you gotta love where you're at. I'm big on that. If it wasn't the right fit for some people I more than welcomed them to go to a different place. I told them this is who we're going to be, this is the culture we're going to build and we really want everyone to be a part of it. If it's not the right fit, then it's OK, and good luck wherever else you go.
But I have a great group. They're very bought in. It makes going to practice and makes seeing them on a daily basis more fun because you know they're invested in what you're saying and what you're trying to accomplish.
OMC: Did you lose anyone off the team?
KR: We did. We lost Courtney Lindfors, who's a center, and Kiki Wilson, who was a point guard.
Editor's note: Lindfors was the Panthers' leading scorer last season at 12.5 points per game and led the Horizon League in blocked shots. She transferred to Loyola University in Chicago. Wilson transferred to Division III St. Joseph's College in Rensselaer, Ind. Both are natives of Illinois.
OMC: Having coached at a few places before here as an assistant, did that experience make it easier to deal with that or is still a disappointment.
KR: It was very different situations for each of them, but one of them was on their way out before I even got there. It just puts yourself in a position though where you say at the end of the day these are the people that want to be here, they want to be successful, they want to buy in to something that's different. So, I don't even think about the past. I don't think about what happened in the previous years or who the previous team was. All I focus on is who we are now.
OMC: To that end – what's the mood, what's the feel like around this 2012-13 Panthers team?
KR: High energy, a lot of intensity and fierce competition would be the biggest three adjectives I'd use for them right now. I mean, they have set their bar very high. We compete day in and day out. Every drill is a competition. We either win the drill or we lose the drill. It's something we've instilled in them.
We're not consistent yet. There's days where it's not pretty, but we're also putting in a whole new offensive system, a whole new defensive system. But I tell them every day you can't always control that, what you can control is your heart and what you put into every drill to get better and they've consistently done a great job of that.
OMC: Hard to put expectations on a first year?
KR: We haven't set a goal of wins and losses. We set more of a goal of did we compete for 40 minutes? Whether we're winning a game, losing a game, if it's close, it's did we compete for 40 minutes? We talk a lot about that. We talk a lot about that in practice. Finishing. You've got to finish. It doesn't matter if you did the drill for the first eight minutes really good if you didn't do so well the last two minutes. You gotta finish. We don't have a lot of expectations, we just have competition.
OnMilwaukee.com: Has it been what you've expected so far? Or is it a little more work than what you thought?
Kyle Rechlicz: No, it's definitely been what I thought. I have a great staff who I trust and who believes in everything we're doing. I have a team that's 100 percent bought in to us and what we're trying to accomplish. It makes the day to day just easy because everybody wants to get better and everybody wants to have our team be successful.
OMC: Does it help that you're familiar with the state and the city of Milwaukee?
KR: It's definitely helped. Having the family support here and my husband (Dave's) family being from the area and having that need for in-laws and sister-in-laws and brother-in-laws, just to be around and help us in those transitional situations have been huge. But even more than that the Milwaukee community has really bought in to us. They've been great. I'm constantly having lunches and breakfasts and dinners with fans and boosters that just want to see that freshness and are excited about the women's basketball program. It's made the transition really easy.
OMC: You've seen your other head coach's do that before when you were an assistant – has all that wining and dining been fun or would you rather be breaking down film?
KR: I actually love it. I'm a people person. I love meeting new people. I love the excitement that's talking about the program. And, I hired a group of individuals that I trust to get other things done. So when it comes to making sure the scouts are ready and making sure that we're prepared as a team, I trust the individuals that I hired to do a great job. I have no fear that we're not going to get it done.
OMC: Speaking of wining and dining – where's the place you like to get to for those meeting?
KR: I really like Sail Loft Downtown. When we had the hiring process and had some interviews I had a chance to take some of my assistants there and now I've gone back with my family. I think that's a great restaurant downtown. Living in the Menomonee Falls area I love Su Casa. Mexican is my favorite. I would probably hit up Su Casa if I could every night.
OMC: Finally, you were brought here to revitalize the program and build it back up. How do you balance the fact that you need to make a new mark in recruiting but also the needs of the women you have on the roster?
KR: Oh, there's definitely a give and take to it. For me, I've invested everything I have into the individuals that are here. For as much as I didn't recruit them, they're our players and we really bought into them as individuals.
Now, we always have to think about the future of the program. What happens when somebody leaves? So, we have a great recruiting plan. My recruiting coordinator Jess Wilhite has done a great job. She was a former player here as well so she knows the expectations of what it takes to win. She was first team all-conference and holds a lot of the records here at Milwaukee so she's been out aggressively recruiting the area and so have my other assistants. We've all been putting an effort into that while also maintaining a great relationship with our current players.
Facebook Comments
Disclaimer: Please note that Facebook comments are posted through Facebook and cannot be approved, edited or declined by OnMilwaukee.com. The opinions expressed in Facebook comments do not necessarily reflect those of OnMilwaukee.com or its staff.