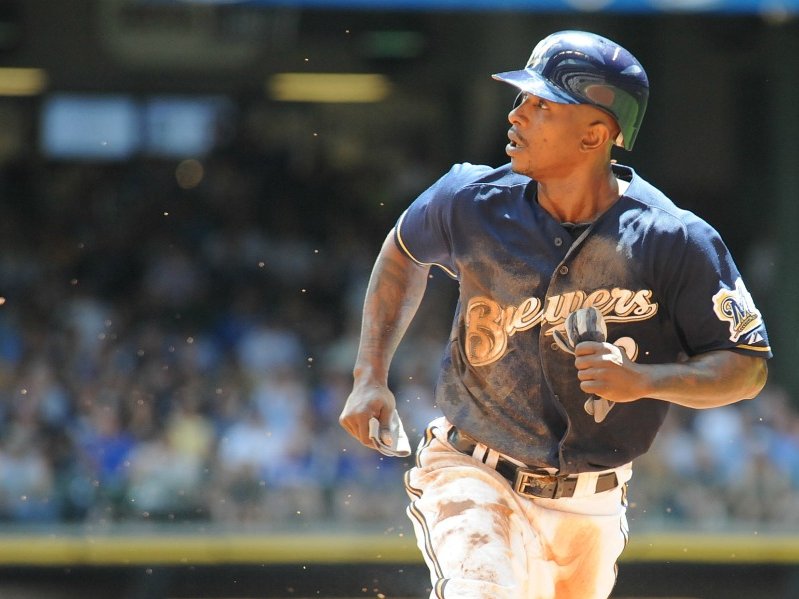 Milwaukee Talks: Brewers' outfielder Nyjer Morgan
Few players in recent Milwaukee Brewers history have ingratiated themselves to the fan base more quickly than Nyjer Morgan.
The 32-year-old outfielder was brought to Milwaukee in late March last year in a deal with the Washington Nationals for prospect Cutter Dykstra, and immediately became a fan favorite both for his play on the field and a gregarious personality.
One of his more notable Milwaukee experiences was when he was forwarded OnMilwaukee.com's 100 Things To Do In Milwaukee list, which included flying a kite. T-Plush took to the idea, and it went viral.
Since that time, he drove in the game-winning run in the National League Division Series, walked the red carpet at the "Twilight" movie premiere, had his own bobblehead day at Miller Park, and adopted a cat.
Despite being in Milwaukee for just over a year, it seems long overdue for a Milwaukee Talks with Morgan.
In uniform, he oozes confidence, swagger. Catch him over a bowl of peaches and cottage cheese, and he's reserved, introspective. The total package is why Milwaukee has fallen for the guy – and in this edition of Milwaukee Talks you see a bit of both as he opens up about the charities close to his heart, why he really adopted a cat, how he might save the life of a loved one, and those hipster shades that were seemingly everywhere, from Alterra to the NBA Finals.
OnMilwaukee.com: In going through your bio, one of the more interesting organizations you're involved with is the Options For Life Foundation, which "promotes alternative and complementary medicine in the treatment of cancer and other life threatening disease." How did you get involved in that unique cause?
Nyjer Morgan: A buddy of mine that I know, his daughter died suddenly. His name is Richie (Fay) and he's the head producer for Summit Entertainment and that's how I got into "Twilight" and stuff like that – it had to deal with sudden death and being able to give back. It helps me give back. Anything I can help out and anything I could do to help somebody else out.
OMC: Was the alternative aspect to that foundation appealing, considering you're a vegetarian and more in tune with organic ideals?
NM: It was just one of those things that I felt like I had to do that just because Richie and I are friends. I just felt like it was a good opportunity to get involved with it and just help out anybody who is in need of something like that.
OMC: You're also heavily involved in the National Kidney Foundation of Wisconsin.
NM: I got involved with that when I was still in D.C. and the reason I got involved was my cousin, she was 3 years old at the time, and she was diagnosed with a Wilms tumor on her kidney and that was another opportunity for me to just help out the cause of kidney disease. I think 700,000 Americans – something like that – African-Americans are diagnosed with kidney diseases and a lot of them don't have the money to get in line and get into the dietary program and stuff like that. It's so people can get in there. There are more serious people who are in need of getting a tumor (removed) and basically it's more for people to get bumped up in line who are in more serious need.
OMC: Along those lines – have you looked into organ donation awareness?
NM: I'm an organ donor.
OMC: You are? That's just as important as raising awareness. Actually acting on it.
NM: Yeah, definitely. I'm an organ donor. It's a thing where I look at myself and I've still got a healthy enough heart and healthy enough body parts and stuff like that maybe I can help somebody else out who is in need.
OMC: Have you always been this way in the sense of being aware of the needs of those around you?
NM: I just started realizing, you know? You just can't take things for granted. It's just that I've got more opportunity. Since I am Major League Baseball player and I am a role model and for anything for me to give back, that's all I can ask for.
OMC: Another unique way in which you created some awareness was your PETA campaign with your cat Slick Willie, which included a video – how did all that come about? Were you looking for a pet?
NM: I just walked up the street and was doing my little research. I always wanted a dog but just with playing baseball and having a hectic schedule it's tough keeping a dog because it's basically like having a kid. So a cat's more independent and you can leave him at home a little bit and he'll be all right. Instead of coming home and talking to myself I'm talking to my cat. I just went out and got a cat and not thinking and not knowing about how they keep kittens and pound puppies for a week and then they euthanize them. I helped out a life, so that's what's cool, man.
Page 1 of 3 (view all on one page)
Next >>
Facebook Comments
Disclaimer: Please note that Facebook comments are posted through Facebook and cannot be approved, edited or declined by OnMilwaukee.com. The opinions expressed in Facebook comments do not necessarily reflect those of OnMilwaukee.com or its staff.