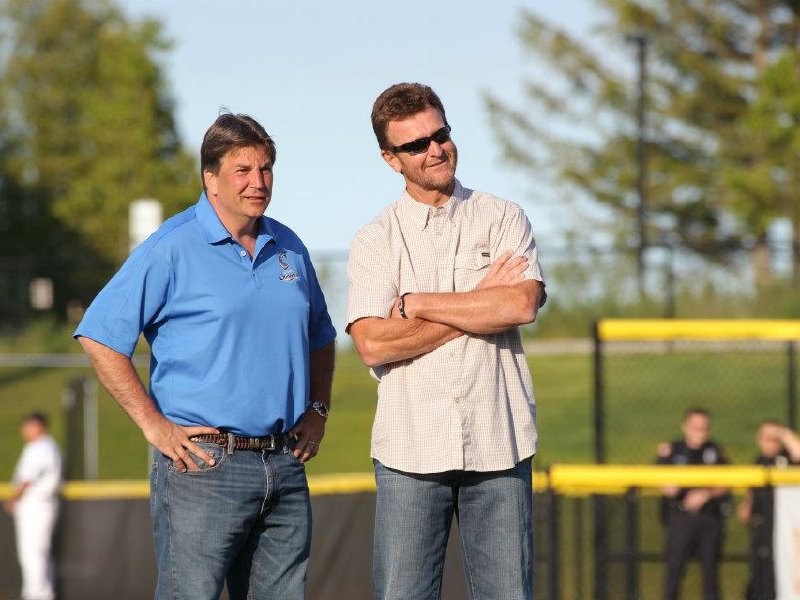 Milwaukee Talks: Robin Yount, 2012
OnMilwaukee.com caught up with Milwaukee Brewers Hall of Famer Robin Yount to talk charity, golf, his amateur baseball team, remembering the 1982 American League Championship season and what's wrong with the Brewers in 2012.
OnMilwaukee.com: Can you tell us about your involvement in the Swing With The Legends charity golf tournament down in Lake Geneva, which is Aug. 12-13 at the Grand Geneva Resort & Spa?
Robin Yount: It's a really big event. The baseball alumni does events all over the country and most of them benefit the same things but it's a national organization and normally a player in the local area takes charge of putting one together with the assistance of the alumni association. In this case, Kenny Sanders has put many, many years of time and effort into this particular event. It's been around a long, long time. It's a great event. It's held at Grand Geneva, a beautiful resort, a lot of players come in – not only Brewers – the alumni always recruits players from all over the country to play in their events.
I do a few alumni events throughout the year and this is one of the biggest ones I've ever been involved with. This year they're trying to get as many of the '82 Brewers team back for this particular event since it's sort of an anniversary year for us. That will be fun. I hope a bunch of guys show up because it's always good to see some of the guys from that team. This year could be a little more special. It's always fun because you see all the old players you used to play against and this one they're putting a special twist on so hopefully we'll get some guys that don't always come.
OMC: You became a public figure 38 years ago when you broke into the major leagues at the age of 18, you easily could have said "I've lived my life in the spotlight, I'm not going to be out in public anymore." What has made you want to stay active in these events and give your time to people?
RY: It's easy – it's the right thing to do. If you have the opportunity to help out the less fortunate, I think most people take advantage of that if they can. I'm certainly not doing any more than a lot of other guys out there and there's other guys out there doing far more than I do. There's a lot of ballplayers – it's more than just ballplayers – it's athletes from all over.
A lot of these events attract celebrities outside the sports world. I certainly don't deserve any credit. It's a way to raise funds for charitable organizations. I'm just being one of many that is being involved in helping to do that. I certainly don't deserve any more credit than someone else. If somebody deserves some real credit in this particular event, it's Ken Sanders. He's the one who has put many, many hours and many, many years of effort into making this happen. Most of us are just showing up to have a lot of fun and while we're having fun we're also helping out good causes. Don't give us too much credit – it's not anything that's putting out in away.
It's bigger than most of these events that I've been to and the best part about it is that it's local to me in that it's the area where I spent all my years playing. In a way it's coming back home again to be involved in something good. I love coming back to Wisconsin, so it's just another opportunity for me to come back and enjoy a few days in Wisconsin again.
OMC: Speaking of charity, Robinade is still out there right?
RY: It's been out there going on four years to benefit Wisconsin's children's charities, mainly the MACC Fund. Every chance I get I try to remind people what that's all about. Every time we get a chance to get it out there it doesn't hurt – trying to sell lemonade for charity.
OMC: You've returned this summer for several charity golf outings – where does golf fit into your life at this point?
RY: I played a lot growing up, played a lot of golf as a kid. These days, 99 percent of the golf that I play is these charity events. It's fallen down the list of priorities quite a ways over the last 10 years or so.
OMC: Do you play to a handicap?
RY: When I was a member at a club you always had a handicap but it has been growing steadily over the last 20 years and I haven't been a member for a while to have an established one these days.
OMC: You're a minority owner of the Lakeshore Chinooks, a wood bat summer league team for college players in the Northwoods League. How has that come along so far in this first season?
RY: It's kind of what I was expecting it to be – the stadium I knew was going to be first class, and it is. The brand of baseball, I had a pretty good idea it was going to be decent, which it is. I wasn't sure how the attendance would go and as far as I know we're where everyone who is running this thing (day to day) says we're meeting expectations there.
Sometimes starting new projects like this, you're going to have some growing pains along the way but I have no doubt that in a very short time, even just few years, when this team gets established and other colleges know about it, I honestly believe this is going to be the place to play as far as the Northwoods League goes. I think the college coaches are going to know about this team fairly quickly and have a pretty good feeling they're going to want to send their kids there.
Page 1 of 2 (view all on one page)
Next >>
cvbubqeduretycddsedsqaabufxtszwsyfv
Talkbacks
BCZF | July 11, 2012 at 7:51 p.m. (report)
Chinooks will fold in 5 years. I dont want them too, but it is such a lousy place for a ball field. And being on the Concordia "campus" makes it worse not very easy on, easy off" ..Plus, ugh, its partly funded by Kapko...
Facebook Comments
Disclaimer: Please note that Facebook comments are posted through Facebook and cannot be approved, edited or declined by OnMilwaukee.com. The opinions expressed in Facebook comments do not necessarily reflect those of OnMilwaukee.com or its staff.