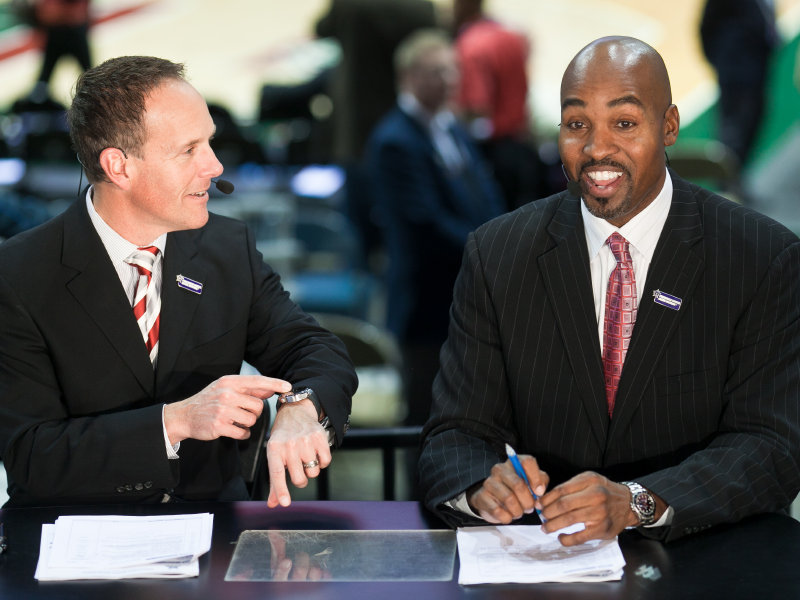 Milwaukee Talks: Bucks analyst Tony Smith
Tony Smith has been a fixture on the Milwaukee basketball scene since he starred at Wauwatosa East High School. He then became an All-American at Marquette University before going on to play in the NBA and overseas.
He is currently a Bucks analyst for FOX Sports Wisconsin, and he sat down with OnMilwaukee.com before a recent Bucks game for this installment of Milwaukee Talks.
OnMilwaukee.com: This is your fifth year analyzing games with FOX Sports Wisconsin, but this is the first time you've filled in for color man Jon McGlocklin during games. What's that been like?
Tony Smith: A little bit different. Everything is obviously a learning situation. Doing pre and post (game), you kind of figure what's going to be important in the game, or what you think is going to be important and you talk about that. Post is obviously dictated by what happens in the game, so those two are kind of simple, no brainers. But then you get into the game and it's totally different. You have to talk about what goes on as it's going on so it's a little bit different. The good thing is it's all still basketball, so as long as you know your stuff.
I think sometimes people think you gotta know a lot of stuff, you have to keep a lot of stats in your head. I don't. I'm the worst at stats. I can't remember any stats. If you asked me right now I can't remember who won the last three championships in the league. I just don't remember stuff like that. But, I don't have to. I just need to talk about what's going on in the game right now, situations that are in hand, some strategies that might be implemented in certain situations, personnel, stuff like that. It's fun. Getting in there with the legendary Jim Paschke. Obviously Paschke's been around forever and that's kind of cool too.
OMC: Is that more difficult, having to analyze live and in the moment?
TS: What's crazy is live TV is much easier than taped. Because tape, you feel like if you screw up you have a chance to do it over. So now you're thinking about what you're saying as opposed to when you're live you're calculating and re-calculating in your head before it comes out of your mouth. When you're taping you're saying whatever and it's like 'Oh, I don't like that, let's do it again.' Live is a little bit easier for me.
OMC: You're from the Milwaukee area, went to Marquette, but then set off on a professional basketball career that took you all over the world. How nice has it been that you've been able to return and kind of re-plant here?
TS: Even when I played I always came back here in the summer. The only time I was away from here was when I was married for a few years and I was out in L.A. full time. Other than that I've always been in Milwaukee. I like Milwaukee. I'm a Milwaukee guy. I was born and raised here, obviously Marquette. I love Milwaukee, especially in the summer. All I do is play golf. It's great for that. I don't know, I'm just a Milwaukee guy.
OMC: Speaking of Marquette – have you been able to watch them at all this year?
TS: No! I'm so upset about my Marquette following right now. I haven't been able to follow much because I'm so entangled with all this stuff. The real problem I have is coming down to the (BMO Harris) Bradley Center too much. They have a lot of double headers where they do Marquette in the afternoon and the Bucks at night and there's no way I can be down here all day long. I just can't. Especially with this schedule. And now that I'm filling in these few games I'm traveling too so it's twice as bad. So when you get back you've got to get some rest. Even on my off days, I'm planning to do other stuff, which is really a bad move. You have to relax on your off days. You really can't have too much going on. A lot of times I will plan stuff in the mornings or afternoons of game days because I figure I'm busy all day anyway I might as well do this and when I have an actual off day I don't have to do anything.
OMC: So you really haven't been able to connect with this recent run for Marquette?
TS: I would say I follow them from afar. That's what it's been so far. I wish I could follow them more. I watch them on TV when I can, catch 'em there. I really have not been around the team as much as I would want to. I've seen (coach) Buzz (Williams) at a few games here – that's the most I've talked to him – when he comes to (Bucks) games here.
Page 1 of 2 (view all on one page)
Next >>
Facebook Comments
Disclaimer: Please note that Facebook comments are posted through Facebook and cannot be approved, edited or declined by OnMilwaukee.com. The opinions expressed in Facebook comments do not necessarily reflect those of OnMilwaukee.com or its staff.