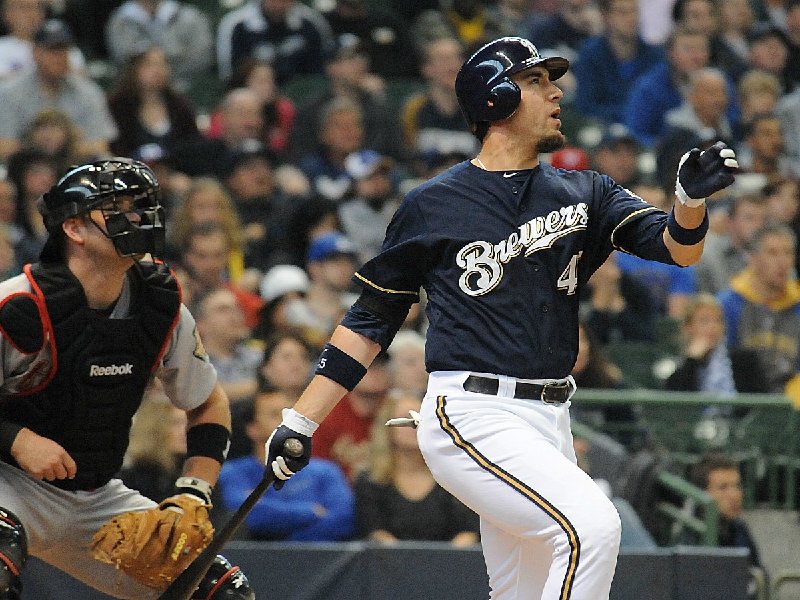 Milwaukee Talks: Travis Ishikawa
The inclusion of 28-year-old Travis Ishikawa on the Milwaukee Brewers' Opening Day roster surprised some as the team headed into the 2012 season, but his addition to the organization and the decision to break camp with him made sense.
He's a slick a glove man at first base, with a .995 career fielding percentage. He is also experienced coming off the bench, is left-handed and has a bit of pop, having hit as many as 22 homers in a season in the minors.
His role has become more pronounced of late however, with the season-ending injury to first base starter Mat Gamel.
Ishikawa took some time to speak to OnMilwaukee.com about the challenges a new player faces in moving to a new city, his impressions of Milwaukee, the Brewers and the seemingly ever-changing role within the team.
OnMilwaukee.com: You signed here as a free agent from San Francisco – can you talk about what a ballplayer goes through in getting himself adjusted to a new city?
Travis Ishikawa: I got spoiled, living in the Bay Area so I was actually living at home (in Danville, Calif.) and going to the field every day so this is not only a new team but just a new experience, as far as just being away from family for extended periods of time. We got here, I think it was three days at home against St. Louis to find a place to live.
Obviously, the Brewers are good, (they) put you up in a hotel for a few days while you're trying to find a place to stay. It was just a hassle trying to get ready to play games and at the same time trying to find a place to live. It doesn't help that it's cold over here, too. You get used to the Arizona weather, it's nice – 80 degrees, 90 degrees – so I had to go out and find a coat right away. I'm having a blast over here. It's a great city. Thank goodness there's a roof and it's covered and it's indoors. I've enjoyed my time here so far, the short time I've been here.
OMC: What was appealing about Milwaukee as a free agent?
TI: Without really knowing the city too well, you look at the club. They've had a lot of success here before and I just felt like it'd be a good fit for me. Going into the offseason, I looked at it as this was the best team I had a chance to contribute right away. Obviously nothing is certain and I'm thankful to make the club, but just watching these guys play last year they just looked like they were out there having a lot of fun and played well. I've always heard good things about this organization. A lot of different little things helped persuade me to sing here.
OMC: Any "little thing" in particular that was a deciding factor?
TI: The biggest thing I would say was I felt I could help the club out right away here. A lot of other places it was almost a definite I would start in AAA and just hope something would (happen) to come back up.
Knowing that they lost (Mark) Kotsay and kind of that left-handed presence on the bench knowing I could help fill and it was a spot I was good in. That was a big deciding factor. Other things like I like Arizona for spring training and I'm kind of familiar with that. There were some American League teams that were interested but when it came down to it, I felt more comfortable in the National League. And the National League Central has some great places to play, good competition and again overall, these guys looked like they were having fun. And they're a great group and had a great ball club and I wanted to be part of that last year.
OMC: In talking with Jerry Hairston, Jr., the team made him feel like had been with the Brewers all year last year and it was a good clubhouse – does word like that get around to players?
TI: I didn't really hear a whole lot about (Milwaukee), I just heard it was a good place to play and things like that. I didn't realize until I got to spring training how good of a place it is here. Like Jerry said, within two weeks of spring training I felt like I've been a part of this organization for a few years. Everyone just welcomed me in and was more than accommodating, from the coaching staff and players, everybody. It made the transition of joining a team a lot easier. Page 1 of 2 (view all on one page)
Next >>
Facebook Comments
Disclaimer: Please note that Facebook comments are posted through Facebook and cannot be approved, edited or declined by OnMilwaukee.com. The opinions expressed in Facebook comments do not necessarily reflect those of OnMilwaukee.com or its staff.